2015 Acura TLX production car to debut in New York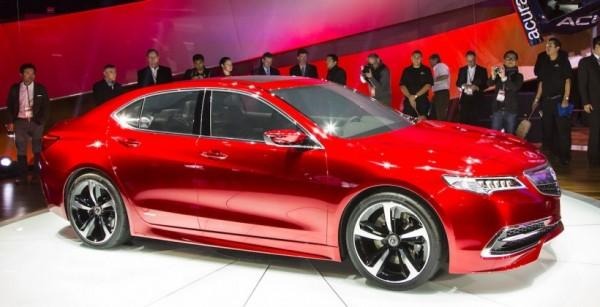 Acura has announced that the production version of the slick prototype 2015 Acura TLX will make its debut in New York. The car will debut at the 2014 New York International Auto Show. The press event for the car unveil will be held at 1:50 pm EST on April 16.
Acura will be broadcasting the conference for the car unveil live via YouTube for anyone who can't be at the show to watch. The 2015 TLX will be offered with two available powertrains. The car will come with a 2.4L 16-valve, direct-injected i-VTEC 4-cylinder engine.
That engine is paired with a new 8-speed dual clutch transmission with a torque converter. Acura will also offer the TLX with a 3.5L 24-valve direct-injected i-VTEC V6 mated to a 9-speed auto transmission. A two-wheel drive version of the TLX will be offered using either of those engines.
The TLX SH-AWD version of the car will be offered with all-wheel drive and only with the 3.5L engine. The new AWD system is 25% lighter than other AWD systems and has new torque-vectoring control logic. There is no word on the availability of the car or pricing at this time. Those details are likely to be announced during the official unveil of the car next month.
SOURCE: Acura