2014 Mazda MX-5 rendering surfaces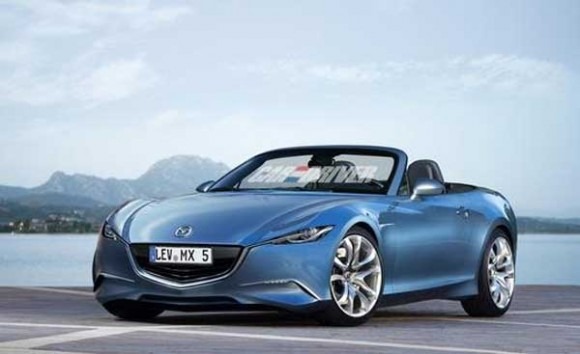 Mazda has been making its Miata or MX-5 since the 1990s, and the little sports car has been crazy popular. The car is set to get a refresh in 2014 and Car & Driver has some details, including a rendering that shows what the vehicle is expected to look like. As you can see in the picture, there's still a lot of Miata/MX-5 family resemblance in the new rendering.
However, it does look as if Mazda decided to graft an RX-8 front end onto the MX-5. This will be the fourth generation of the MX-5, and it looks very nice. If the renderings and photos are accurate, it appears only the front end will change with most of the car remaining the same. The new 2014 model will retain the two-seater roadster formula with a folding roof and rear-wheel drive. One thing that's interesting is that the 2014 model will lose a bit of weight.
The Miata/MX-5 has long counted lightness as one of its main assets and the 2014 version is said to lose 200 to 300 pounds bringing the car to a curb weight of about 2200 pounds. The car will ride on a new rear-wheel drive architecture that will also be shared between Mazda and Fiat as well as an Alpha Romeo roadster. The car is expected to get a small displacement four-cylinder engine of about 1.3-liters with a turbocharger to make in the area of 167 HP.
[via Car & Driver]