2014 Ford Focus Electric gets a 10% MSRP reduction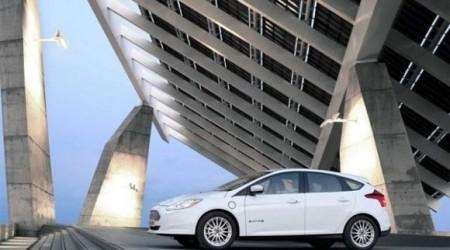 Ford is dropping the price of their new 2014 Ford Focus Electric by a whopping 10%. In what appears to be an effort to stay competitive in the electric vehicle market, Ford dropped the price of its 2014 Focus EV down to $35,200. The car previously had a sticker price of $39,200, making that a $4,000 drop in price.
In a statement from Ford, the company said that "the new starting MSRP of $35,200 keeps us competitive in the marketplace and is an important part of our commitment to provide customers with a range of electrified vehicles to choose from." Affordability is a huge factor when it comes to buying any new car, and electric vehicles certainly can't be a part of the exception if companies want them to fly off dealer lots, but Ford says they're "really committed" to electric vehicles, and making lower-cost EVs is a big goal of theirs.
Car companies are getting desperate and want to sell their electric vehicles before they end up making too many and have tons of inventory on the back burner. General Motors announced plans back in May to cut the price of the Chevy Volt plug-in hybrid by as much as $10,000. This is despite the fact that GM is actually losing money on every Volt that it sells.
Nissan also dropped the cost of its 2013 Leaf by a cool $6,000, bringing its price below the $30,000 price point, which Nissan says is the lowest-priced five-passenger electric vehicle sold in the US. It doesn't take much convincing for drivers to pick electric vehicles over gas-guzzling ones, but the price is still a huge concern for most people.
Of course, Tesla Motors is doing a decent jobs at spreading awareness of electric vehicles. The Model S definitely isn't a cheap car, but it has convinced drivers that electric vehicles don't have to be tiny compact cars, but also mid-sized four-door sedans that can fit the entire family.
VIA: PC Mag