2014 Ford Fiesta To Come Equipped With MyFord Touch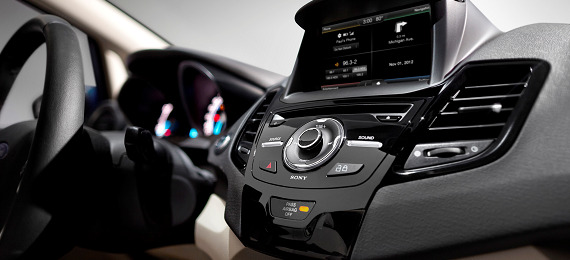 If you've been shopping around for a new car, it's understandable that the Ford Fiesta might not be at the top of the list. However, today Microsoft and Ford are giving us a reason to take a second look at the 2014 Fiesta, announcing that it will come equipped with MyFord Touch. This isn't exactly the same MyFord Touch we've seen in other vehicles, as it will make use of a new 6.5-inch touchscreen.
That's exciting enough, but Microsoft and Ford have also made a few improvements to SYNC. This includes "more natural" voice recognition, which means that you'll no longer have to say things like "Radio" or specify the genre when you tell the system to play music. Instead, you'll be able to simply say the frequency or Sirius name of the station your after, which is a pretty handy tool to have on board.
Add streamlined Bluetooth connectivity and improved navigation controls that make it easier to enter the address of your destination, and you've got a new version of MyFord Touch that's worth getting excited about. Of course, we're sure that new 6.5-inch screen will make on-screen navigation easier in general, so that's something to consider too if you've been thinking about getting a connected car.
Sadly, this new technology is a little while off, as it will be making its debut in the 2014 Ford Fiesta, which won't be arriving until next year. The good news is that the Ford Fiesta is a pretty affordable car all things considered, so you shouldn't have to break the bank just to get a car that has a pretty cool feature in MyFord Touch. We'll undoubtedly be hearing more about this as the 2014 Ford Fiesta gets closer to release, so keep it here at SlashGear for additional details.