2014 Civic Hybrid and Natural Gas get boosted trim and MPG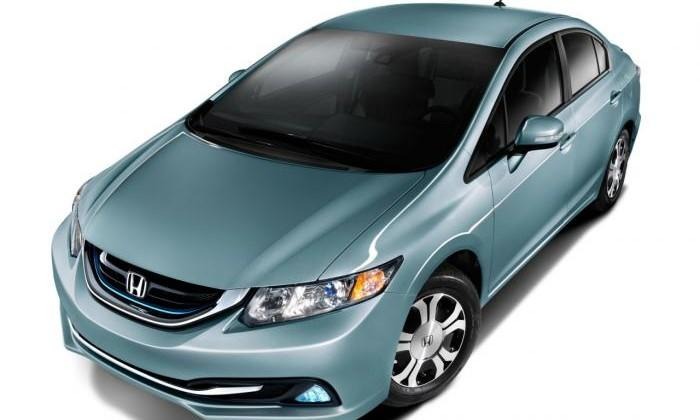 Honda has outed a pair of alternative fuel Civic models for 2014, tapping hybrid and natural gas power to boost mileage to as much as 47mpg. The 2014 Civic Hybrid hits forecourts today, also debuting a number of aerodynamic tweaks, a new fuel pump and ignition coil, and higher-efficiency regenerative braking – which feeds power back into the batteries when the car is slowing – which help it hit a 44/47/45 mpg trio for city/highway/combined driving.
The 2014 Civic Natural Gas, meanwhile, will follow on in a little over a week's time, arriving at dealers from February 15th. It will be offered across 37 states, though doesn't quite achieve the same high mileage as its hybrid sibling, with a 31mph combined rating.
Inside, Honda has opted to polish things up a little, with a higher standard spec-list than the outgoing models. The 7-inch touchscreen with HondaLink app support is now fitted by default, as is the Expanded View mirror.
The Civic Hybrid, meanwhile, also throws in keyless entry too as standard, with a CVT transmission. It'll also be offered in "Leather Navi" trim level for the first time, which means leather seats (heated upfront), heated side mirrors, and a six-speaker audio system. The Civic Natural Gas has a 5-speed auto gearbox as standard.
Pricing for the 2014 Civic Hybrid starts at $24,635 for the base sedan, rising to $27,335 for the top-spec "Leather Navi" version. As for the 2014 Civic Natural Gas, that's priced from $26,640.