2014 BMW X5 revealed plus meaty M Performance diesel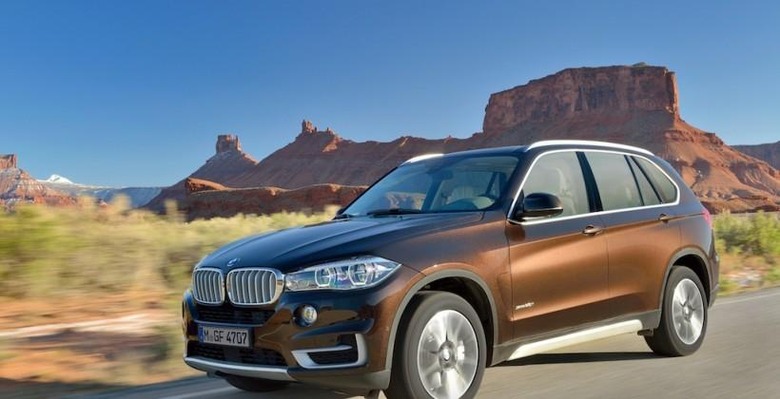 BMW has taken the wraps off of the new BMW X5, the company's third-gen full-sized SUV, complete with a more aggressive exterior, more luxurious interior, and a fresh range of personalization options. Set to arrive on forecourts in Q4 2013, the new X5 will come with a choice of gas or diesel engines (depending on country) and more in-cabin tech than you could feasibly play with, including Facebook and Twitter integration, speech-recognition for dictating emails and text messages, streaming media, and night-vision.
On the outside, BMW describes the front end as looking "alert" with a new, tauter grille that sees the headlights extend into its frame. A new crease line runs across the wheel arches, and the rear has been redesigned to make it more aerodynamic.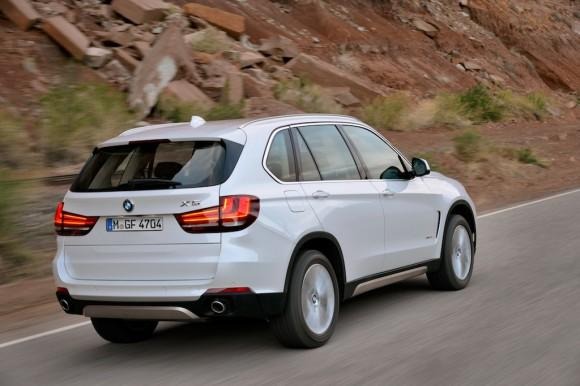 However, there's also the option of BMW's Design Pure Experience and Design Pure Excellence add-ons, which change the exterior and interior in various ways. An M Sport package will also be on the spec-sheet.
Inside, BMW has gone with a huge display in the center console, measuring in at 10.25-inches. It's controlled with the company's iDrive wheel, though there's also touch-sensitive buttons for the optional navigation system. Other options include a Bang & Olufsen audio system (with 1,200W and 16 speakers) and twin displays for the rear passengers, as well as rear "comfort seats". A head-up display can project full-color driving information onto the windshield.
Safety and driving features include Night Vision with automatic human and animal detection, warnings on lane drifting and speed limits, BMW's Parking Assistant that can help with both length and width of gaps, and 360-degree surround video feeds direct to the dashboard display. There's also Active Cruise Control, which can keep pace with traffic around the car, including bringing the X5 to a full stop, while Traffic Jam Assistant can even handle speed and steering without any driver input.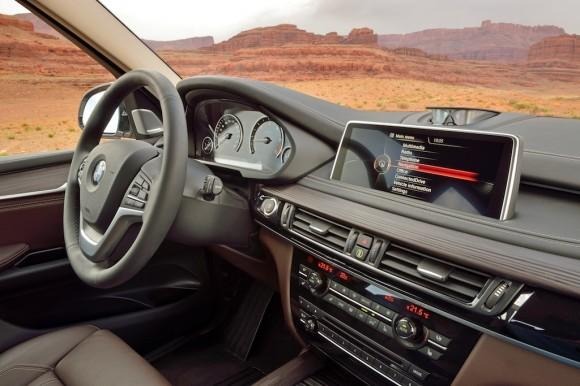 Internet connectivity is used for Facebook and Twitter access, emails and SMS, pulling in online streaming content, and browsing. However, it also enables BMW's Concierge Services, as well as real-time traffic data.
Under the hood, the range of engines depend on where you're buying. For the US, things will kick off with the X5 sDrive35i (the first X5 to have rear-wheel drive) and the X5 xDrive35i (AWD), which each use BMW's 3.0-liter TwinPower Turbo inline-six. The X5 xDrive50i gets the 4.4-liter TwinPower Turbo V8. In early 2014, the X5 xDrive35d will arrive, with a 3.0-liter TwinPower Turbo inline-six diesel engine.
In Europe, meanwhile, the diesels will arrive from the start. There'll be a single petrol option, the X5 xDrive50i, with the V8 (good for up to 155mph, 450HP, 479lb-ft of torque, and a 0-62mph run in 5.0 seconds) engine, and then two diesels. The X5 xDrive30d will have a six-cylinder in-line Turbocharged 3.0-liter, good for 258HP and 413lb-ft of torque, along with a 6.9s dash from 0-62mph.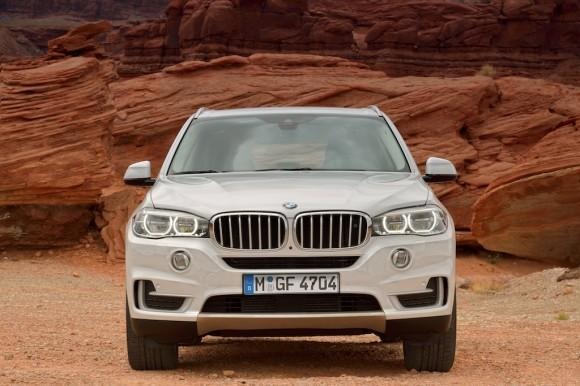 However, it's the X5 M50d that's perhaps most curious, packing a six-cylinder in-line diesel with three M Performance TwinPower turbochargers, squeezing 381HP and 546lb-ft of torque out of the 3.0-liter engine. It'll do 0-62mph in 5.3 seconds, but can apparently still manage 42.2mpg (Euro).
No word on pricing at this stage.