2014 Acura RLX Sport Hybrid SH-AWD rolls into LA Auto Show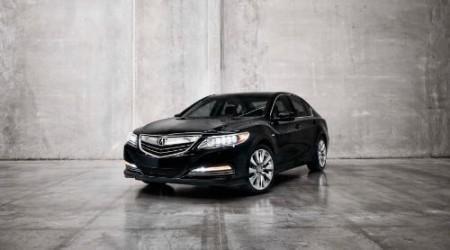 Acura has announced that it will be showing off its all-new sport hybrid at the LA Auto show. The car is called the Acura RLX Sport Hybrid SH-AWD and Acrua says that the car is its most technologically advanced vehicle in its history. Acura promises V8 levels of performance in a V6 car using a three motor hybrid system.
The 3.5-liter i-VTEC V6 engine and three motor hybrid system will product 377 hp. The engine is paired with a 7-speed dual clutch transmission that has its own electric motor inside. The car also features an idle-stop system to improve fuel efficiency by turning the engine off at idle.
The EPA fuel efficiency estimates for the RLX Sport Hybrid are 28 mpg in the city, 32 mpg on the highway, and 30 mpg combined. The 7-speed transmission has a manual mode that allows drivers to switch gears using paddles. The hybrid system the car uses eliminates the rear drive shaft and rear differential.
The back wheels of the car have a pair of electric motors for power that automatically distribute torque based on the driving conditions. Each of the rear electric motors are 27-kilowatt units. The electric motor inside the transmission that boosts front wheel power is 35-kilowatts.
The battery pack for the hybrid system is a 260v unit that can be recharged using regenerative braking. Acura is mum on the performance numbers for the car saying that the hybrid V6 powertrain provides V8 levels of acceleration. Perhaps more details on performance will be announced at the LA Motor Show.
SOURCE: Acura