2013 Shelby GT350 gets new options and colors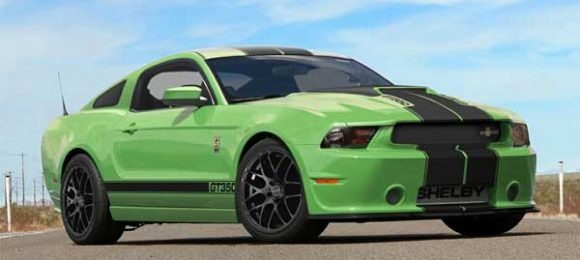 Shelby American has announced changes in available options for the 2013 Shelby GT350. One key change is that Shelby American will be limiting the production of the 2013 GT350 to only 350 units constructed at its Las Vegas facility. Buyers of the 2013 model year car will get a lot more color options to choose from.
Shelby American is now offering the GT350 in all colors available from Ford on the Mustang. In 2011, the first year for the GT350, the car was only available in white with blue stripes. In 2012, the car was available in red, blue, and a black/gold version and a convertible option was added. For 2013, users can pick from nine different colors.
Buyers will also get an option on stripe color between satin black and gloss white. Buyers of white or silver GT350s will also have the option to choose azure blue metallic stripes. Buyers can also start from a 2013 Mustang that uses the glass roof option, and choose Recaro seats, and a modified custom rear valance. The 2013 Shelby GT350 is far from cheap starting at $26,995 for naturally aspirated version, and $33,995 for supercharged version. That dollar amount is for the conversion only. Buyers have to provide the car at approximately another $34,000 depending on options.