2013 Hyundai Santa Fe Sport first drive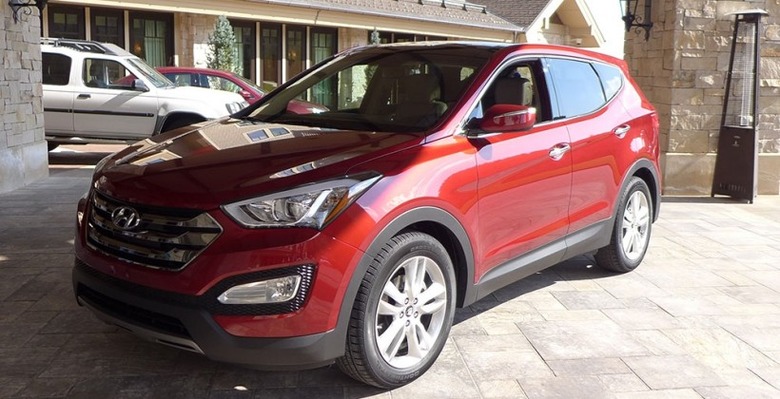 Hyundai is showing its commitment to recycling, using the same name for two pretty different attempts at the crossover SUV market. 2013 sees not one but two Hyundai Santa Fe models: one – the "Santa Fe" – with seven seats and intended to replace the Veracruz, and the other – the "Santa Fe Sport" – trimming the wheelbase, dropping two of the seats and taking on the Ford Escape and other midrange crossovers. We caught up with the Santa Fe Sport, the first to hit the forecourt, to see whether the brand can handle two personalities.
Design
Some crossovers want you to think they're really coupés. Some encourage you to feel like an urban commando. Hyundai's strategy with the Santa Fe Sport is to dilute some of the company's "fluidic sculpture" design language until it could come up with a mass-market pleaser. No gouged slashes or over-sculpted cladding, just a few deft creases and a striking trapezoid grille.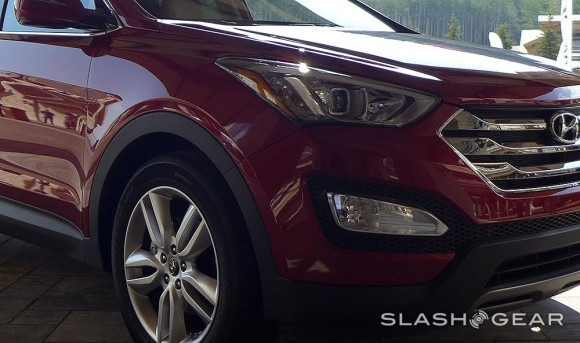 That's not to say it's an ugly car, though certain colors flatter it more than others. Silver is a good choice, helping disguise the slab-sides and diluting the over-chromed grille, and the steeply angled rear-quarter window works if only because there aren't third-row seats to obscure. From the rear it's the usual SUV stack of metalwork, some silver trim partially alleviating the swathe of plastic across the bottom edge.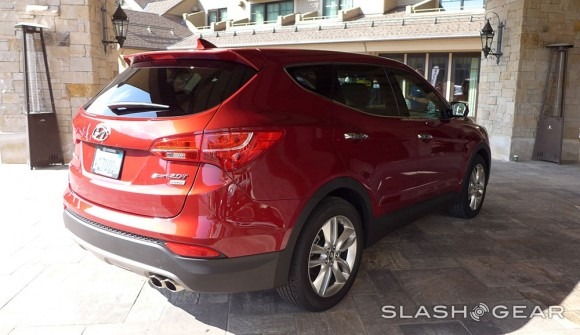 The Santa Fe Sport comes in at 184.6-inches in length – the seven-seater will extend that by 9-inches – and has a 106.3-inch wheelbase, the same as the 2012 Santa Fe it replaces. However, it's considerably lighter than the old model, with Hyundai's liberal use of high-tensile steel making for a crossover that's both torsionally stiffer but 266 pounds lighter than before.
Engines and Performance
Hyundai has a pair of engines from the outset, adding in a third powerplant when the seven-seater hits the market. The entry-level is a 2.4-liter mustering 190 HP and 181 lb-ft of torque, with direct injection and a 22 mpg city efficiency rating and 33 mpg highway rating for the front-wheel-drive (FWD) model; optional all-wheel-drive (AWD) sees knocks 1 mpg and 5 mpg off those figures respectively.
Unfortunately, Hyundai didn't bring its base-spec engine along to our Park City, Utah test event, instead leaving us with only the 2.0-liter four cylinder turbo. That pushes out 264 HP and 269 lb-ft of torque, with 21/31 mpg city and highway economy for the FWD version and 20/27 mpg if you opt for AWD. Both engines get an Active Eco button easily accessed by the wheel, which Hyundai claims can boost economy by as much as 7-percent by adjusting acceleration and other factors.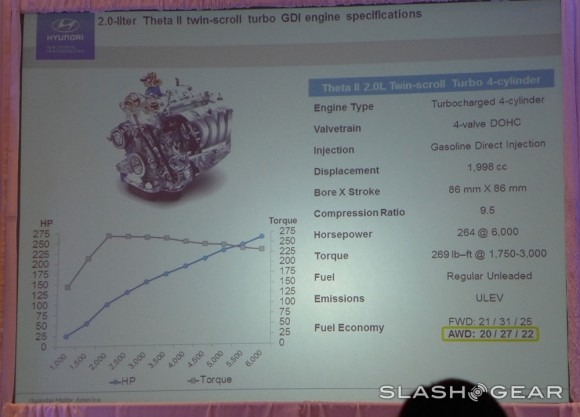 A six-speed automatic gearbox is standard, built by Hyundai itself using a torque-converter system. It's a capable 'box, shifting quickly even when pushing the turbo through the rarified air of the 8,000 feet elevation Park City, and what turbo lag is present is near-imperceptible. Active Eco mode does make changes to its downshifting behavior, however, encouraging the auto to be less prone to dropping down in the interests of better economy. It's a noticeable difference, though not one we struggled to get used to after a few miles driving.
2013 Santa Fe Sport testdrive:
Unsurprisingly it's in a straight-line that the Santa Fe Sport is happiest. Road noise is minimal, aided by twin-layer insulation to the windshield, various suspension muffling elements, and other insulation systems, and there's little in the way of vibration during highway driving. Happily it also avoids bouncing or wallowing, something which can often turn SUVs into boat-like experiences.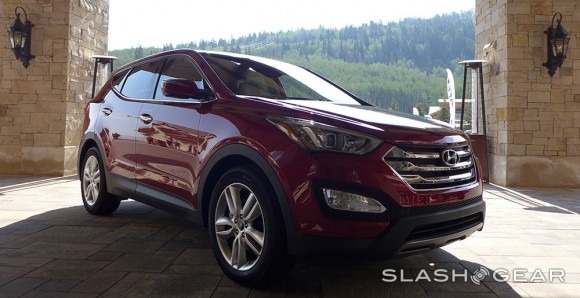 Going round corners isn't impossible, however, even at speed. Hyundai has fitted a three-mode steering system with a straightforward control on the wheel, offering Normal, Sport, and Comfort settings. Often such systems can be near-imperceivable in what difference they bring, but the Santa Fe Sport does in fact show three altered personalities. The company claims that power-assistance varies by 20-percent going from Sport to Comfort modes, and it's noticeable. At its firmest, you really start to feel like you're pitching the Santa Fe Sport directly into turns, while at the other extreme the wheel is so comparatively easy to turn you can do it consistently one-handed.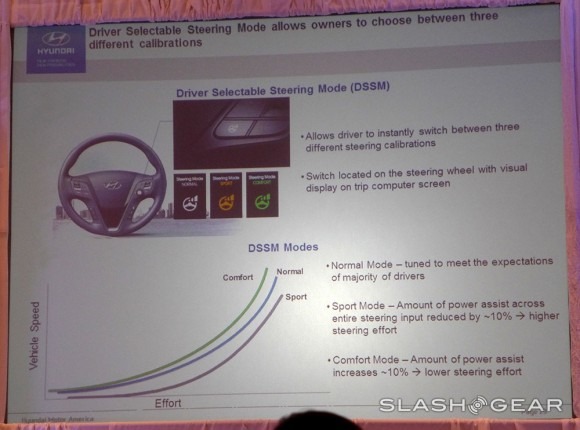 The usual electronic systems and aids show themselves on the Hyundai's spec sheet, with Downhill Brake Control (DBC) one the company is particularly proud of. Although even the AWD Santa Fe Sport is unlikely to be taken offroad with any regularity, DBC makes descending steep hills straightforward by automatically controlling the brakes.
Hyundai will offer a 3.3-liter V6 with 290 HP with the seven-seat Santa Fe, when that model arrives early in the new year.
Interior
Stepping into the Santa Fe Sport is generally a good experience, with a futuristically swooping dashboard clad in plentiful soft-touch plastics. You'll need to tick some of the options boxes in order to get the key good-stuff, however: the 8-inch color LCD touchscreen to handle multimedia and navigation is an option, and you'll need $2,450 for the leather package, though you do at least get a choice of different two-tone colors and finishes.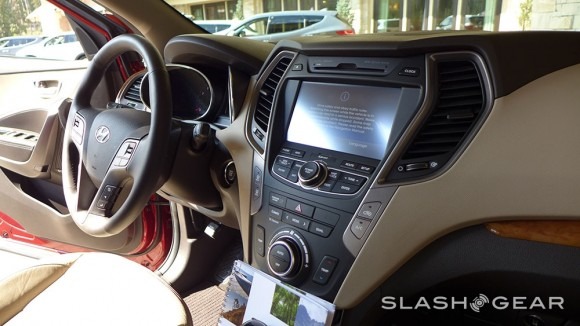 Families with younger children might prefer to stick with the standard cloth seats, however, which use specially-treated fabric that's billed as water, stain, bacteria, and odor resistant. Spill chocolate milk across the rear bench and it will stay floating on the surface of the cloth, rather than soaking in, for easier clean-up.
Unfortunately, not everything quite gels. While there are plenty of good decisions by Hyundai – the easily accessed steering mode control, fuel filler release built into the drivers door handle, and tactile button choices – there are some less than ergonomic decisions too. Making the touchscreen an option means there's some duplication between touch and button navigation, lending the dashboard a cluttered feel at times.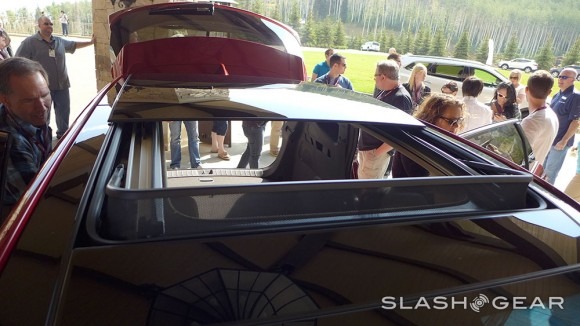 That's a shame, because Hyundai's BlueLink telematics isn't bad once you get to grips with it. As well as turn-by-turn navigation there's Bluetooth support for hooking up a smartphone; then, you can stream music through Pandora and other apps. Hyundai plans an iPhone app which will allow for remote-start and lock control, while if you log into the companion website you can set up geofenced limits outside of which the Santa Fe Sport can't be driven. That's likely to appeal to parents with young drivers on the insurance.
Front and rear seating is comfortable and – with no third-row to accommodate – space for back passengers is ample. In fact, each seat of the rear bench folds independently, with sliding/tilting and integrated heating available as an option. Drop everything flat and there's a reasonably sized load area. On the plus side, the rear wheel arches make minimal intrusion at the sides, though the seats themselves don't fold entirely for a completely flat space. Overall, you get 71.5 cubic feet for your boxes, cases and bikes (or 35.4 cubic feet with the rear seats up), along with a variety of dashboard and underfloor cubbies for salting away bottles and sunglasses.
Pricing
Factor in destination charges, and the entry-level Santa Fe Sport starts at $25,275. You'll spend $27,525 for the 2.0T version, while upgrading to AWD in either model is a $1,750 option. More expensive are the options packages; in addition to the $2,450 Leather and Premium Equipment Package there's a $2,900 Technology Package, which also includes the new panoramic moonroof. In general, if you're content with the base spec, the Hyundai is often cheaper than its crossover rivals, but that advantage is mitigated if you have a taste for extras.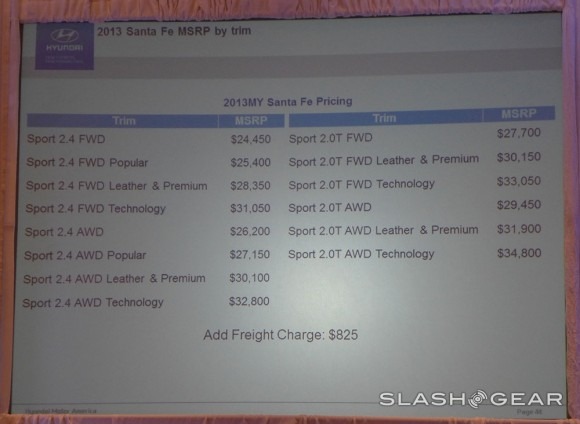 Wrap-Up
Without the seven-seater Santa Fe to compare, it's hard to know whether Hyundai has scored a one-two punch with its new crossover SUVs. Alone, though, the 2013 Santa Fe Sport is a strong upgrade to the 2012 model. Those paying for it will be pleased by the more flexible engines, improved fuel economy and competitive entry price (just as long as they're not too distracted by the options), while those along for the ride get comfortable and spacious accommodation.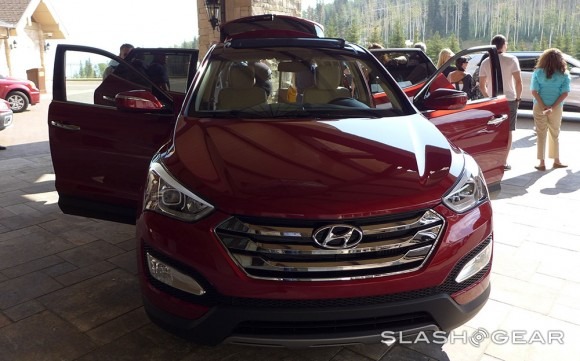 Those placing particular emphasis on aesthetics may find the Santa Fe Sport too bland in its design for their tastes, though Hyundai's designers' restraint should at least broaden its appeal. The 2.0T engine is impressive, punching above its capacity in performance though not sacrificing ride quality. Not, then, a car you buy with your heart, but that's hardly the recipe for a crossover purchase anyway. The Santa Fe Sport is a capable and affordable option in the midrange segment, and those factors count for a lot.