2013 Fiat 500 Abarth Cabrio unveiled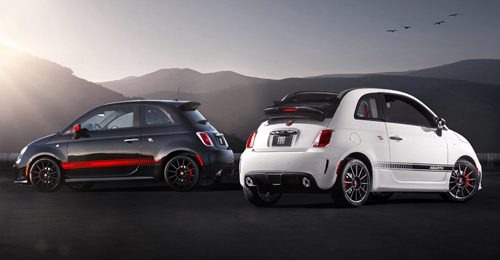 Cool small carmaker Fiat has unveiled the new 2013 Fiat 500 Abarth Cabrio. Fiat says that little turbocharged car is track capable and has a clever open top design offering high-performance four passenger fun. The car promises the most interior space, rear seat legroom, and shoulder room among key competitors in a segment.
The little car uses a turbocharged 1.4-liter MultiAir engine producing 160 hp and 170 pound-foot of torque. The engine is mated to a five-speed manual transmission. The little car has special Abarth-tuned performance hardware and has a lowered ride height, beefier suspension, larger brakes, and wider tires the normal Fiat 500.
The soft top on the new Cabrio is power operated and retracts up to the rear spoiler at speeds of up to 60 mph. While the vehicle is traveling up to 50 mph the roof can be neatly folded all the way open tucking behind the rear head restraints. A middle position that retracts the top above the front passengers can be activated at any time regardless of speed.
Fiat says that the turbo used in the engine spins up to 230,000 RPMs and produces a maximum of 18 PSI of boost. The turbocharger system uses two intercoolers located behind the driver and passenger side air inlets of the special front fascia. The car also features a special fresh air intake system and has a 3.35 final drive ratio. Pricing and availability on the Fiat 500 Abarth Cabrio is unknown.