2012 Mazda MX-5 Yusho concept packs supercharged power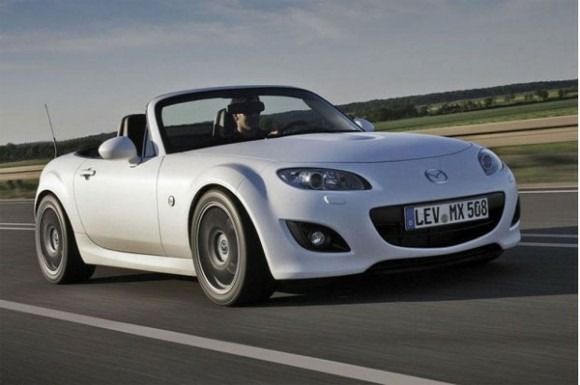 A quick glance at this Mazda MX-5 Yusho Concept that surfaced that the Leipzig Auto Show in Germany this week and it might look pretty much like any other MX-5 sitting on car lots around the world. However, there is a huge difference under the hood of this little roadster concept. The big difference here is a supercharged engine along with some carbon fiber accessories and a sportier interior.
The new engine is based on the standard 2.0-liter four-cylinder, but in Yusho duty, the car has upgraded internals from engine builder Cosworth. That includes new pistons, connecting rods, and a higher flow exhaust system along with the supercharger. The result is a concept that produces 237 hp and 202 pound-feet of torque. That is a gain of 70 hp and 62 pound-feet of torque compared to the base model.
The concept also has a six-speed manual transmission and when combined with the souped-up engine the concept is capable of a top speed of 149 mph. The concept also gets upgraded 17-inch alloy wheels, matte white paint, and suede trim on the dash along with an Alcantara steering wheel and Recaro bucket seats. There is no word of if this concept will make it to production.
[via Motor Authority]