2012 Boss 302 Laguna Seca: The Best Mustang Ever Produced [Video]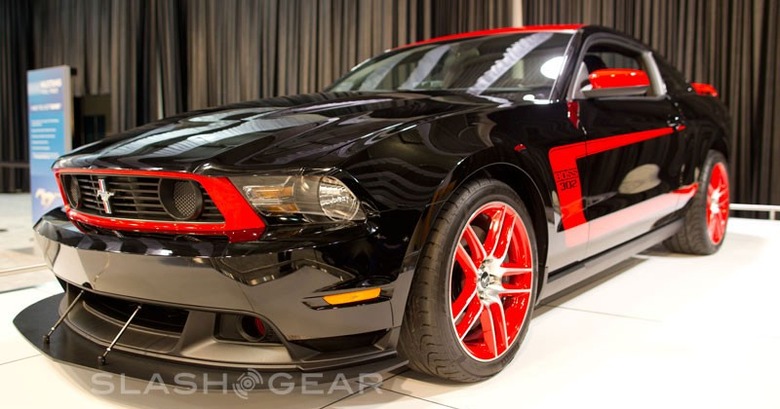 While we were at the Ford booth waiting for the unveiling of the 2012 SVT Raptor truck, I spied a 2012 Boss 302 Laguna Seca sitting in the back of the display. These cars have been around for a while but there are still so few of them on the street that most of us will never have the chance to get up close and personal with one.
I probably know more about the car than any of you ever wanted to know and once I laid eyes on all that awesome, fan boy mode ensued. You can check out the video at the bottom of this post if you have a bit of time and see the walk around where I hit the high points on the car and point out a few key differences between the normal Boss 302 and the Laguna Seca version of the cars. Note that the brake cooling ducts cool the rotors, not the calipers.
The Laguna Seca version has a 444 HP 5.0-liter V8 engine mated to a 6-speed transmission. It has sticky R-comp 19-inch tires all around and this particular car was in the black and red color scheme. Ford also produces a silver and red scheme and silver or black with red trim are the only options for the Laguna Seca this year. The car looks much better in person than it looks in photos or video, but the colors schemes are love it or hate it with most people. Check out the walk around for all you ever wanted to know and probably much more.
[vms b41f57891c48e07c23f5]