2008 Peugeot SUV offers gas, diesel, and electric power options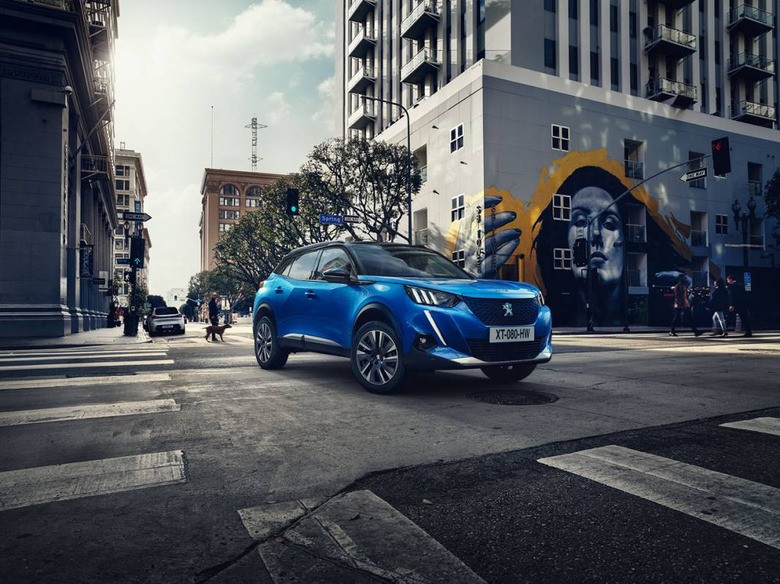 Peugeot is showing off its new 2008 SUV, and it is described as a "sculptural and desirable object." The design features a recessed windshield that makes the bonnet more horizontal and creates a strong body. Peugeot works in LED daytime running lights and has a "proud and straight grille" that is body color on the EV version of the 2008 SUV.
Wheels are 18-inch units sized to "perfectly fill the arches" and have added inserts in the wheels. The inserts allow easier customization and improve aerodynamics. Available LED headlights are offered on all versions.
Peugeot has what is says are distinctive colors for the SUV including Elixir Red, Vertigo Blue, and Fusion Orange, which is exclusive for the SUV Peugeot 2008. Inside the SUV the door panel decorations are in Orange on Active models and Blue on Allure versions. The Allure version offers "Urbanoid" light blue upholstery. GT versions can be fitted with Alcantara leather.
All versions use the Peugeot i-cockpit with a compact steering wheel, large HD touchscreen, and a 3D heads-up receiver. Safety tech includes adaptive cruise control, lane departure warnings, blind spot monitoring, and more. Apple CarPlay and Android Auto are supported.
The electric version has 136 hp and 260 nm torque with a battery pack that is 50 kWh and promises a 310 km driving range. The battery packs has an eight-year or 160,000 km guaranty to maintain 70% of its capacity. Charge speed is 16 hours from a Legrand Green Up plug, under 8 hours from a WallBox, and 309 minutes to 80% capacity from a 100 kW terminal. Other versions use a mix of gas and diesel engines 100 to 130 bhp. The gas engine is a 3-cylinder 1.2-liter offering, and the diesel is a 4-cylinder 1.5L. Pricing is unannounced.