The Annoying Amazon Fire TV Stick Feature You Might Want To Turn Off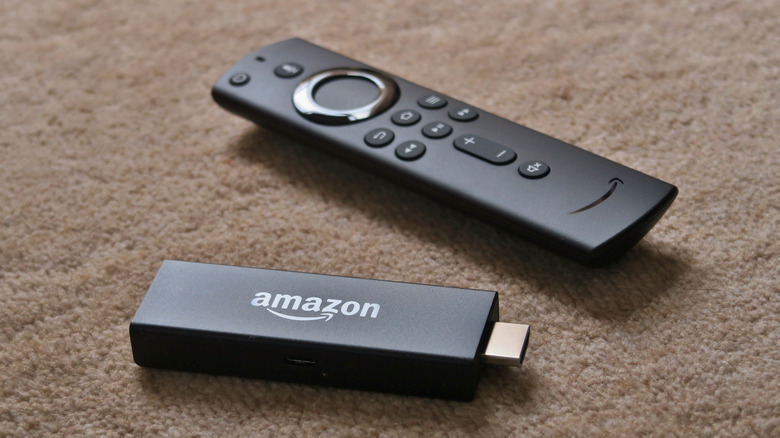 Picturesque Japan/Shutterstock
The Amazon Fire TV Stick's user interface is easy to navigate, thanks in part to the minimalist remote. The remote features a circular navigation pad that can be used for scrolling inside apps and menus, selecting an option, and playing/pausing content. The Fire TV Stick's interface is organized into various tiles, with your most used apps highlighted prominently on the home screen, alongside featured content from Prime Video and other apps.
As with any smart TV, you probably spend a fair bit of time navigating the interface, looking through the catalog of various streaming apps before you find something you want to watch. While browsing, you might have noticed clicking sounds when using the remote. This sound is heard when you're scrolling between apps, in the settings menu, and even when you select something. If the sounds bother you, Amazon offers a way to turn them off in Fire TV Stick settings.
Turn off navigation sounds on your Fire TV Stick
Some Fire TV Stick users don't mind the audio feedback, but for others, the constant clicking sound when you're scrolling through apps or menus can be annoying. It's even worse when you're navigating the interface quickly or using Bluetooth headphones. If you want to turn off navigation sounds on your Fire TV Stick, follow these steps:
Using your remote, go to Settings on your Fire TV Stick.
Navigate to Display & Sounds.
Select Audio.
Go to Navigation Sounds, and press the Select (middle) button on your remote to turn it off.
Once you turn this feature off, you will no longer hear audio feedback when you navigate or select an item on your Fire TV Stick. If you ever want to re-enable the sounds on your Fire TV Stick, go back to the Navigation Sounds option and press the middle button on your remote to turn it back on.