13-inch MacBook Pro with Retina display detailed in full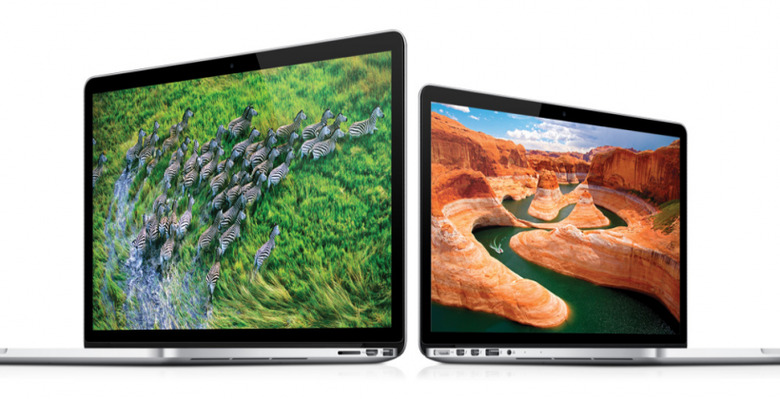 Apple just unveiled a 13-inch MacBook Pro with the company's infamous Retina display. The 13-incher boasts a whopping 2,560 x 1,600 resolution, which is a 4x boost over the regular 13-inch MacBook Pro. Apple's Phil Schiller says the new 13-inch model weighs in at 3.5 pounds and is only 0.75-inches think. That makes it 20% lighter and almost a full pound lighter than the regular 13-inch model.
The new model features some of the same features that you'll find on the 15-inch Retina-equipped MacBook Pro, like the MagSafe 2 power connector, Thunderbolt ports (two of them on the 13-incher), HDMI output, and two USB 3.0 ports. There's also no optical drive in this one, so if you're still relying on CDs and DVDs to work your magic, you'll be sadly disappointed.
Apple claims that the Retina display on its new 13-inch MacBook Pro is the second-highest resolution of any laptop display in the world — the first being the company's 15-inch Retina MacBook Pro that they unveiled earlier this year. It offers nearly two times the resolution of a 1080p display. Plus, Apple says the screen has a 29% higher contrast ratio over the regular model and 75% reduced glare.
Obviously, the new model still has the FaceTime front-facing webcam that shoots 720p HD video, as well as a backlit keyboard, a stereo mic, and stereo speakers that are placed on the sides of the laptop instead of the back like previous models. As far as performance specs, we're looking at up to 768GB of SSD storage, 8GB of RAM, an Intel Core i5 or i7 Ivy Bridge chips, HD 4000 graphics, and 802.11n WiFi with Bluetooth 4.0.
Battery life is expected to be around 7 hours, and the base model will cost you $1,699, which comes with a 2.5GHz Core i5, 8GB of RAM, and a 128GB SSD. Bump it up to 256GB for $300 more. The laptop will ship today and is available for ordering.