Bluetti Celebrates Earth Day 2023 With Sustainable Power Solutions To Go Green And Off-Grid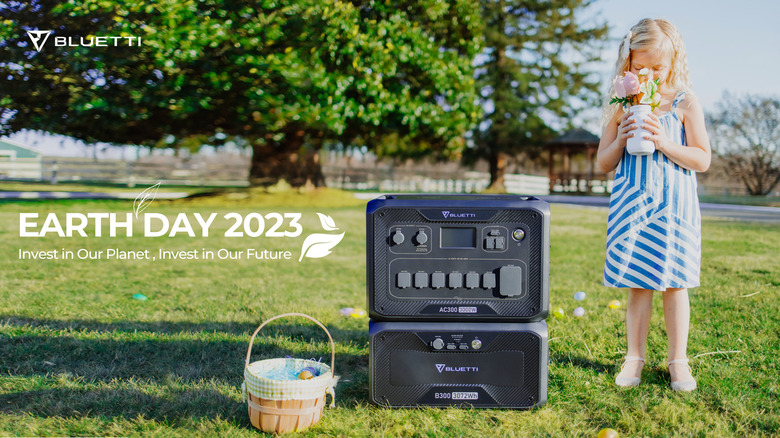 Bluetti
This content was paid for by Bluetti and created by SlashGear.
Earth Day 2023 takes place on April 22, and with the theme of "Invest in Our Planet" it's a perfect time to explore how sustainable energy storage can be smarter and more ecologically sound. Bluetti is among the best-known portable power station and home power system providers, offering everything from compact batteries perfect for keeping smartphones and laptops running while on a camping trip, to energy storage capable of running a whole home during an outage.
Though reducing power consumption is one way to improve your green footprint, being smarter about how you use power — and where you source it — is equally important. That's where systems like Bluetti's generators and solar power stations come in, making it possible to store energy in environmentally-friendly ways, and then use it later on when it's required.
For many people, solar power stations and backup batteries like the Bluetti AC300+B300 combination and the new Bluetti EP900 Energy Storage System are proving their worth as a way to survive power outages. Their potential for reducing our environmental footprint goes much further, however. They feature the ability to store power from solar, the grid, or other sources, and then utilize it later on when energy provider rates might be higher due to overall demand.
Battery technology matters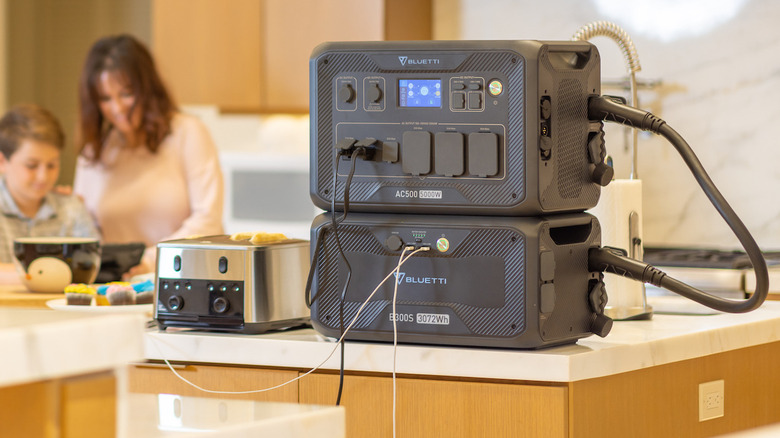 Bluetti
While all batteries may follow the same principle of storing energy, not all battery chemistries are created equal. It's a complicated balancing act of power capacity, cell longevity, efficiency, and overall cost, and the environmental impact of different battery types can vary significantly.
Most of Bluetti's products, for example, use lithium iron phosphate batteries. Known as LiFePO4, they promise a significantly longer lifespan than traditional battery packs, with a service life of 7-15 years. Battery longevity is measured in cycles, with 3,000-5,000 possible for LiFePO4, as well as 100% depth of discharge.
That means the batteries will stay usable even after repeated charge and discharge cycles, rather than aging prematurely and holding less of an overall charge. Lithium iron phosphate batteries are more environmentally-friendly to produce, use, and eventually dispose of, too, with no rare earth metals required. LiFePO4 batteries are also free of nickel, cobalt, and manganese, unlike NCM lithium-ion batteries, which also have environmental implications.
The right power system for the right time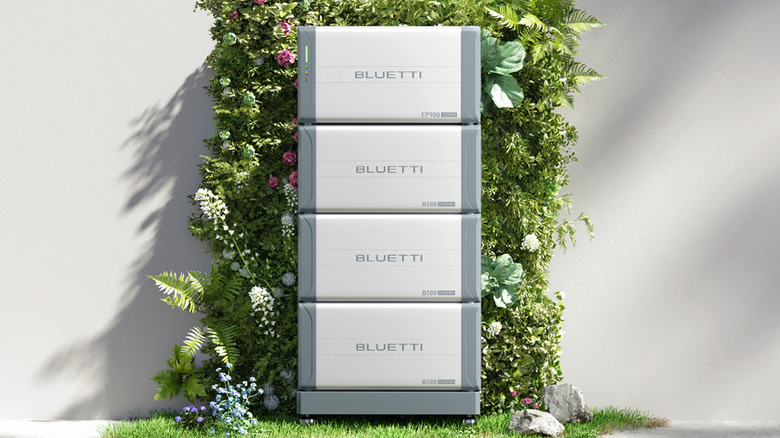 Bluetti
Systems like the EP900 and AC300+B300 have proved their worth at keeping whole homes running during grid outages. However, Bluetti's portable power stations are just as valuable, and also offer impressive flexibility in the energy they store. The Bluetti EB3A, EB55, and EB70 models, for example, are designed for road trips, camping, and other outdoor adventures.
Compact and lightweight enough to take on the go, each is still powerful enough to charge smartphones and laptops, run electric cookers, and more. Although they have familiar outputs like USB and AC, they're much safer than gas-powered generators, with no harmful fumes like carbon monoxide or carbon dioxide. And, while they can be recharged from an AC adapter, they also support solar charging for true off-grid flexibility.
For adventurers with more ambitious needs, the Bluetti AC200P and AC200MAX can power portable refrigerators and CPAP machines, and even keep electric heaters operational. They can be the power hub of a cabin or workshop, and support expansion with add-on batteries to increase output and prolong time off the AC grid.
While everyone's power needs are different, Bluetti's wide range of portable and home backup options mean finding the right way to go green on Earth Day 2023 is easy. For a first-hand look, the company will be attending the Los Angeles County Earth Day Event on Saturday, April 22nd, from 10am to 2pm at the Sanitation Districts' Joint Administration Office in Whittier, California. It'll be an opportunity to go hands-on with Bluetti's portable solar station technology, and see how helpful green energy can be.