Audio-Technica ATH-M50xBT2 Review: Fabulously Flat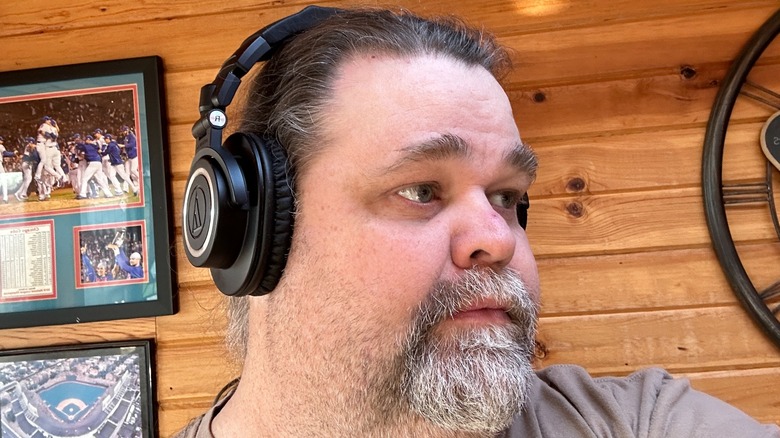 Adam Doud/SlashGear
We may receive a commission on purchases made from links.
As a podcaster, I've been using Audio-Technica headphones for years. My trusty set happens to be the ATH-M40x wired headphones which are a generation older than the subject of our review today. Audio-Technica is no stranger to the podcasting and sound mixing world in general because of its audio tuning, which is to say it's about as flat as it can get. In fact, the "M" in the model number stands for "monitor," as in studio monitors. From an audio engineer standpoint, that's great, but from a consumer standpoint that's not always the best option.
Flat tuning allows someone mixing audio to get as close to "natural" as a sound can get, but it doesn't necessarily translate well to a superior audio experience for consumers. It's not that music and videos will sound bad, but some headphones are tuned for sound with more bass, and others are tuned for more vocal/midrange sound. The ATH-M50x headphones are tuned to be as flat as possible.
Audio-Technica sent over two sets of headphones for me to test, both of which are built on top of its ATH-M50x platform. New to these headphones are Bluetooth LE connectivity on the ATH-M50xBT2 headphones and a gamer's microphone on the ATH-M50xSTS-USB headphones. While I tested both sets, the majority of my time went to the Bluetooth model. I have been using these cans for three weeks connected to my main work PC (and some time on my Honor smartphone) and this is my full review.
A word on variants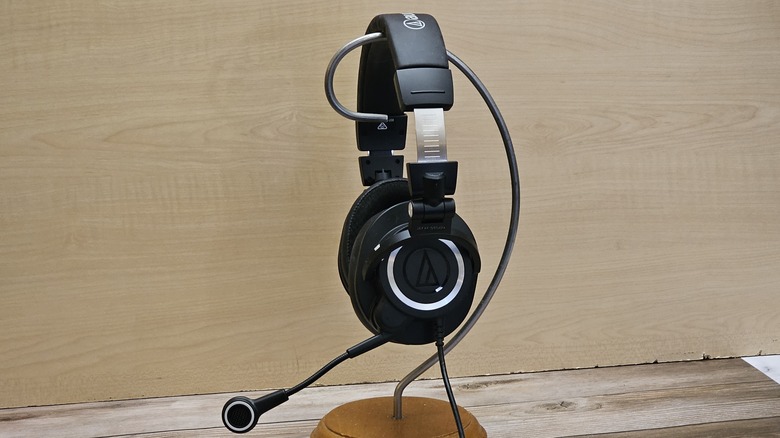 Adam Doud/SlashGear
The two sets of Audio-Technica headphones I'm reviewing here are largely the same. Both sets bring something different to the table, so before we dive in, I wanted to mention the "new" features in the ATH-M50xSTS-USB model. These are geared toward the gamer/work-from-home segment, and you can tell that because they have a built-in microphone. The mic itself is based on Audio-Technica's 20 series of microphones.
Overall, the sound quality on the microphone is better than you'll find on a typical gamer headset, which is an admittedly low bar. You get a good range of vocal sound coming from the mic which almost certainly will be better than anything your current gaming headset or built-in laptop mic will produce. When you flip the boom mic up, it automatically mutes, which is a nice feature that is pretty much standard these days.
The rest of the headphones are the same as the Bluetooth headphones I tested (ATH-M50xBT2) except that they connect to the computer with a USB-A plug. I noticed the sound coming from the headphones in the ATH-M50xSTS-USB model tends to emphasize midrange tones more than the high and low end. 
I asked Audio-Technica about that, and their engineers told me that it's the result of the memory-foam earpads that come with the headphones. The headphones also ship with a standard set of leatherette ear pads and that brought the sound more in line with what I heard on the Bluetooth cans. The alternate earpads make sense way considering their likely use case — gamers and work-from-homers will use these for voice chat more than anything else, but they detract from the flat sound that the company is known for. In this case, more choice is better.
What headphones are those?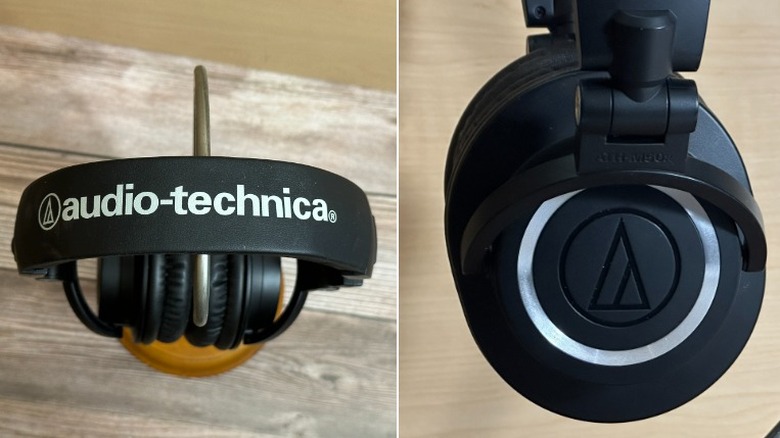 Adam Doud/SlashGear
Both sets of headphones have the same design; one of them sans the microphone. One of the things that I really like about Audio-Technica headphones is the really subtle branding you get all over the headphones. Of course, but subtle, I mean absolutely not subtle at all. 
The top of the headband says "audio-technica" in all lower-case letters. Each ear cup has the Audio-Technica logo engraved on it. Each earcup bracket has the model number engraved on it. Trust me, if anyone ever asks you what headphones you're using, you have a built-in cheat sheet, so you'll never be embarrassed.
The earcups themselves are puffy faux leather that is comfortable to wear over long stretches of time. The headband is similarly soft and comfortable. The headband itself is metal, so it's nice and sturdy and each ear cup bracket has a very highly visible "L" or "R" on it so you can tell which way you're supposed to wear them — and let me tell you this is such a breath of fresh air; every headphone maker should do this — design be damned. Just tell me which ear your bud goes in.
One carryover from the previous generation is the annoying earcup brackets themselves. Each one rotates a full 180 degrees either facing all the way forward or all the way backward. Each ear cup itself spins 180 degrees from facing inward to facing outward. This can sometimes (read: often) result in going to put on the headphones only to realize that the earcups are backward, and you have to work some earcup acrobatics to get them squared away before you can wear them. It's an attribute I've wished Audio-Technica would fix, but here we are.
Going Wireless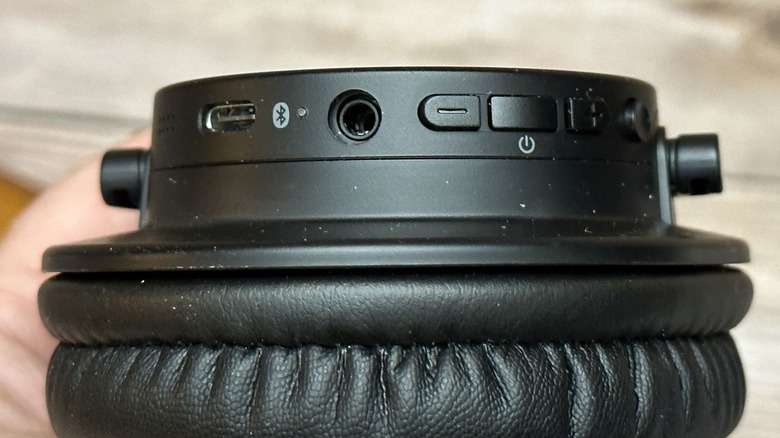 Adam Doud/SlashGear
The Bluetooth headphones have a bit more functionality to them, including a row of buttons on the left ear cup. Those buttons are volume up and down, with a power button in between. Those buttons are all rectangular, and the last button is a voice assistant/Alexa button. The headphones come with built-in Alexa functionality, but you can also choose, via the app (which I will talk about in a moment) to use your phone's assistant instead.
The left ear cup also has a recessed 3.5mm headphone jack if you want to wire up your headphones (with the included cable), rather than using Bluetooth, but for the bulk of my review time, they were Bluetooth. For the vast majority of the time that I have sat at my computer over the years, I have been "tethered" with a wired headphone connection, and I have to say it was quite nice going wireless for a spell. 
Being able to stand up and walk away from your desk without having to hang up your earphones, or even being able to continue listening to a conversation while you refill your drink is pretty great. There's nothing eye-opening about this revelation for you I'm sure, but for me, it was pretty cool, and I will have to have a serious conversation with myself about going back to wired headphones.
But I digress. While most of my time with the headphones revolved around my Windows PC, the real power here is connecting to a phone, so let's dive into that.
More power with the app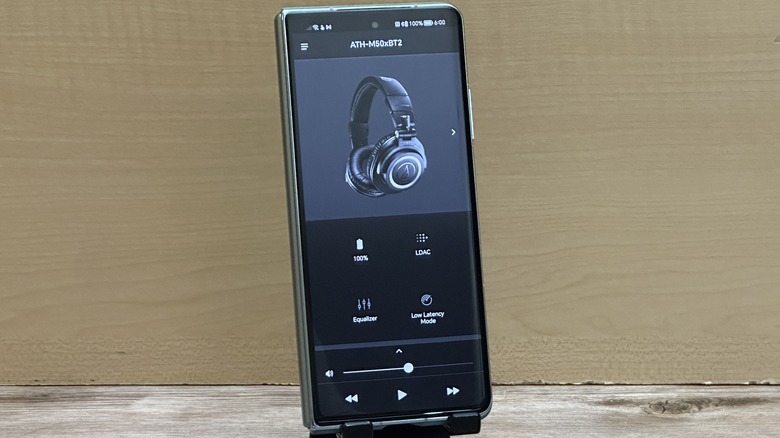 Adam Doud/SlashGear
Audio-Technica built a pretty functional app to go along with all of its headphones, including these. The app lets you control a number of different features including the assistant button. If you go with your phone's assistant, you can do anything you normally can from Siri and Google Assistant. Alexa functionality is built in, and it seems to be snappier and more responsive, but both work just fine. Mine is a Google household, but I'd be lying if I said I wasn't at least tempted to set the headphones to Alexa and leave them there.
Additionally, you can control so much else with the app. This includes the codec you want to use to transmit audio, turning on low latency mode, and setting and adjusting the equalizer. Regarding the equalizer, you only get 5 bands to adjust — which isn't a lot. They'll get you very broad strokes but might not give you the keen edge of control you're looking for. You can use a parametric equalizer which might give you a little more control, but all the same, you'll get generally the sound you're looking for.
As for other app functions, the one that really blew me away was the ability to adjust the number of steps your volume adjustments can have. You can have 16, 32, or 64 steps. Put simply, this allows you to adjust how finely you can change the volume. If you have it set to 32 steps, you get double the refinement you'd get from 16 steps, and so on. If you're someone who really likes to have fine control over your audio, this is a pretty awesome feature. It's also one I'd like to see other headphone makers implement.
How do they sound?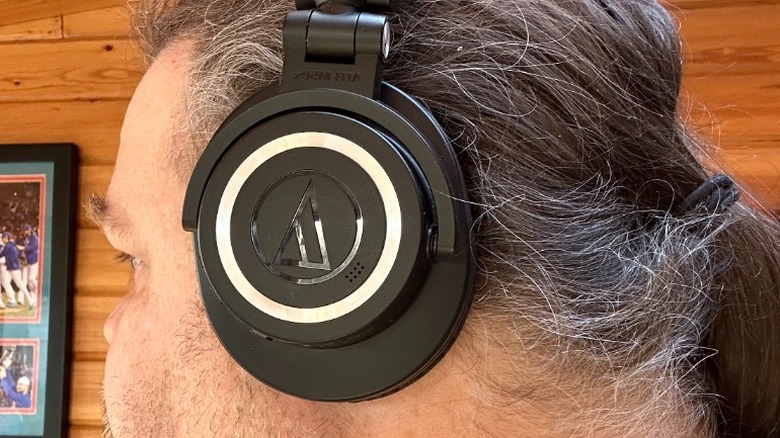 Adam Doud/SlashGear
Going back to the beginning of this review I pointed out how these headphones are tuned to produce the flattest sound possible. That's what makes them great for audio engineers and mixers. Add in the app controls (assuming you're using these with your phone) and you get another layer of control with the equalizer. The headphones are capable of producing a wide range of sounds, from the dubstep violin of Lindsey Sterling's "RoundTable Rival" to the smooth guitar of Shinedown's "Diamond Eyes" to the booming bass and crunchy guitar of Gravity Kills' "Guity."
The headphones won't give you the thumping bass you might be looking for if you like that kind of groove — they're not designed for that. But you can adjust the equalizer (if you're using a smartphone). If you don't, they'll allow you to enjoy the full range of sound "as the artist intended" as the saying goes. I like that versatility in a set of cans, and at the end of the day, I'm an audio mixer at heart, so that's what I prefer. You might look for something different, and that's where the equalizer comes in. Adjust it how you want so your music sounds good to you, and you'll be golden. Just remember — you need a smartphone for that. PC and Mac users need not apply.
Other test notes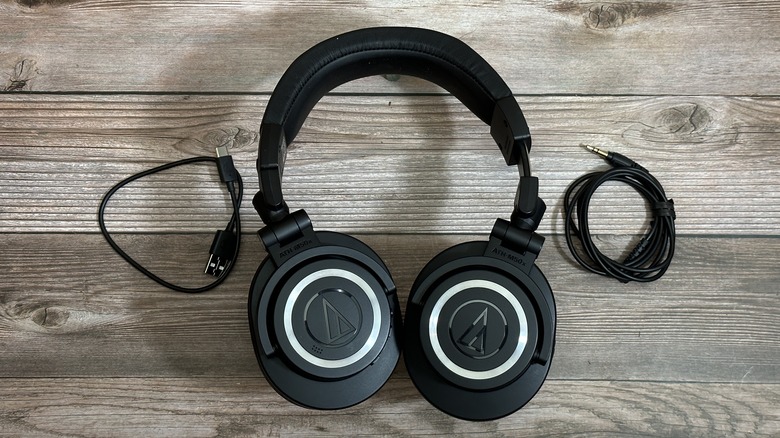 Adam Doud/SlashGear
While I can't speak for the long-term durability of these headphones, I have had my ATH-M40x headphones for almost a decade and they're still going strong. I would suspect these headphones will be quite durable for years to come.
The headphones can connect to two different devices simultaneously, which is always a nice bonus. In my case, I had them connected to my computer and phone. Switching is not terribly seamless — you need to manually stop the music from one before the other will play.
The headphones pass the headbanging test, though my 46-year-old neck no longer does. But I aggressively bobbed my head for several seconds, until I forgot my address, and my wife had to spell my last name for me. It was for science and you're welcome.
Audio-Technica says you'll get about 50 hours of listening time on a charge. That seems optimistic compared to my numbers. I tested these for about three weeks and had to charge them twice, so the battery life is not terrible, but it's also not 50 hours.
The headphones come with a carrying pouch, a 3.5mm to 3.5mm audio cable, and USB-A to USB-C charging cable.
Wrapping it up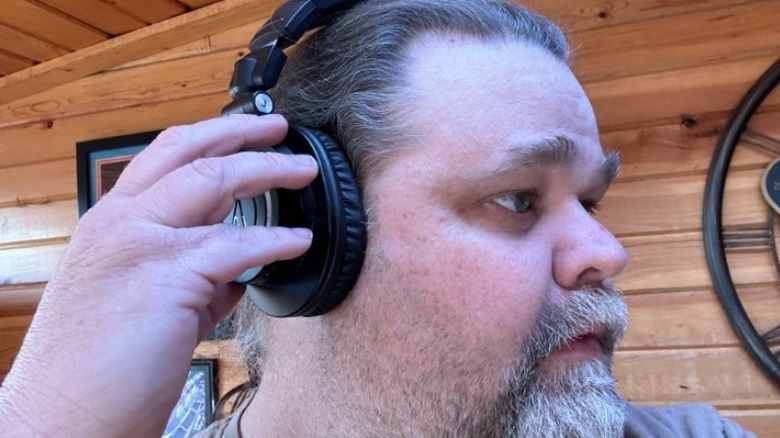 Adam Doud/SlashGear
Overall, these are a nice set of headphones that aren't really for everyone. They're about as versatile as you can get. There's no Active Noise Cancellation, which isn't terribly surprising, but it would be nice to have at this price point. The isolation you get from the comfortable ear cups and the tight band makes up for that somewhat though.
These are going to be best served to an audience that appreciates the flat sound that the headphones deliver. Some companies make their bones with headphones that give you that thumping bass; these are not those at all. They're great for podcasts and really good for all kinds of music. Plus, the app gives you a ton of granular control over your audio experience, which is great if you happen to be connecting to a smartphone.
At $199, these are not the most expensive headphones that you'll find on the market. I wouldn't go so far as to say they're inexpensive, but they are very reasonably priced. You might want to spend a little more and get a generation-old pair of Sony cans that will give you ANC but you won't get the same level of control. At the end of the day, I'm still a little blown away that you can tell the app what codec you want to use. I'm certainly not that kind of consumer, but the type of person who's looking for a flat sound might actually have a strong opinion on that, and I respect that.
Both the ATH-M50xBT2 and the ATH-M50xSTS-USB headphones can be picked up at Audio-Technica's website (or Amazon) for $199.