OnePlus And OPPO Reportedly Consider Leaving Some Markets In Europe
After failing to crack the European markets for several years, two of China's most popular smartphone brands are reportedly considering winding down their operations there. The Chinese brands in question are OPPO and OnePlus — both owned by Chinese conglomerate BBK electronics, which also owns Vivo, Realme, and iQOO. The report comes courtesy of noted leaker Max Jambor, who tweeted about this possibility recently. Jambor, in his tweet, notes that the first European markets these companies plan to exit include Germany, the U.K., France, and the Netherlands.
OPPO and OnePlus have been trying to make inroads into Europe for several years. OnePlus entered the European market almost a decade ago — in 2014. While its smartphones hogged the headlines, the devices never sold in large numbers in Europe. OPPO entered Europe in 2018, which has been a similar story for them. As of 2022, both brands had less than 5% of the European market, according to Statcounter, which continues to be dominated by Apple, Samsung, and Xiaomi. Ironically, even beleaguered Chinese smartphone maker Huawei has significantly more market share than either OPPO or OnePlus in the continent.
The possible winding down of European operations for OPPO did surprise many, given that the company had set up an R&D division for Europe in Dusseldorf, Germany, in 2020, according to Pandaily. OnePlus is also known for having a significant presence in London.
OPPO 'committed' to European markets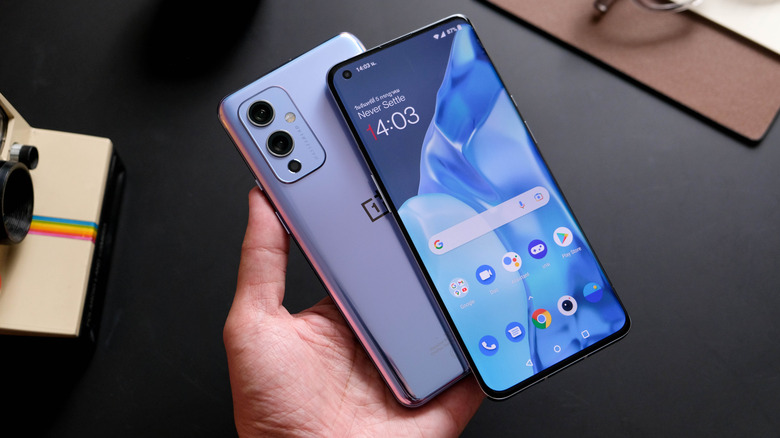 Framesira/Shutterstock
While OPPO is yet to issue a public statement, the company, in an e-mail to blogger Prakhar Khanna, has confirmed that it is "committed to all the existing European markets."
All said it hasn't been a smooth ride for both companies in Europe. Aside from suffering from low sales, both OPPO and OnePlus were embroiled in a patent dispute with Finnish telecom giant Nokia. A court ruling in connection with this case favored Nokia, following which both OnePlus and OPPO had to suspend sales of their phones in Germany. In its statement, OPPO also said it is in talks to "resolve the matter with Nokia."
It is also unclear if BBK's recent decision to merge the R&D departments of OPPO and OnePlus has anything to do with the possible decision to exit Europe. This merger has already resulted in OnePlus's much acclaimed OxygenOS looking and feeling like OPPO's ColorOS. This happened after BBK decided that these once separate platforms would share the same codebase — a decision that didn't go well with OnePlus's global fanbase.
The possible decision to exit Europe comes when OnePlus has expanded its product lineup beyond smartphones. The company has been trying to make inroads into the wearables and smart TV segment, albeit with limited success. OPPO, on its part, also recently confirmed that its flagship smartphone for 2023, the OPPO Find X6 Pro, will not be sold outside of China.