Steam Deck Gets Anniversary Discount In Steam Spring Sale
It must be blooming season, because hundreds of games inside the Steam Store are heavily discounted for the next seven days as part of the Spring Sale — where you'll find games as much as 90% off. How does a full copy of "Cities: Skylines" for $8.99 sound? Even penny-pinchers on a budget can appreciate just $1 for the classic zombie survival co-op shooter "Left 4 Dead 2."
Even newer games are down to some of the lowest prices you'll see all year. For instance, "Marvel's Midnight Suns" is at the $29.99 price point many anticipated before jumping into this "XCOM"-like turn-based tactics RPG, and ditto for the DC brawler "Gotham Knights," falling to $23.99. For sports fans, "NBA 2K23" is even cheaper at $14.99, just in time for the NBA playoffs, and you can snag "FIFA 23" for $34.99 as well.
If it's the hardware you're after, you're in luck. The Steam Deck has gotten its first-ever official discount. There's been no cheaper way to get one directly from Valve (not counting a Game Awards giveaway sweepstakes requiring extreme luck).
Valve is taking 10% off all SKUs of the portable gaming PC to celebrate its one-year anniversary on the market. It's not a massive chunk of savings, but if you've been waiting on an opportunity to own one for less — without dealing with the pitfalls of preowned gear — there's no better time to buy it.
Save as much as $65 on a Steam Deck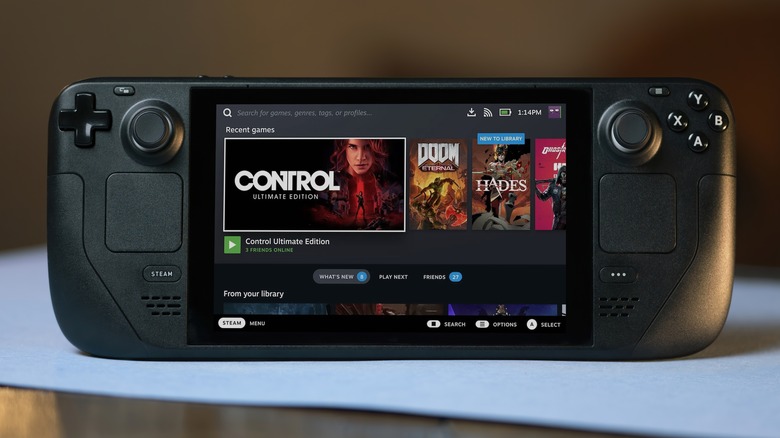 Mr.Mikla/Shutterstock
All SKUs of the Steam Deck are on sale for 10% off. You can order the 64GB model bundled with a carrying case for just $359.10 today — about $40 in savings. You won't be able to hold more than a few larger titles with just 64GB of storage (some of which the system claims for its OS), but all models come with a microSD slot to expand storage later on.
Normally $529, the 256GB model quadruples your effective space for $476.10, and because this uses a much faster NVMe SSD instead of the eMMC of the 64GB model, it's probably the sweet spot for most people. You'll also get some digital profile items to stunt on the rest of the Steam community.
If you want to tote as many games as possible, you'll need the 512GB model, which is $65 cheaper at $584.10. In addition to the freebies of the other two models, you'll also get an exclusive keyboard theme, a different exclusive carrying case, and premium anti-glare glass to give you the best viewing experience possible.
The sale is on from now through March 23 at 10 a.m. Pacific, and as of writing, all SKUs show an expected delivery timeframe of 1-2 weeks. There's no telling when or if we'll see another sale on the Steam Deck, so if you were planning on getting one, be sure to get your order in while you can.