Audi's RS E-Tron GT 'Project_513/2' Stands Out In Its Wild Camouflage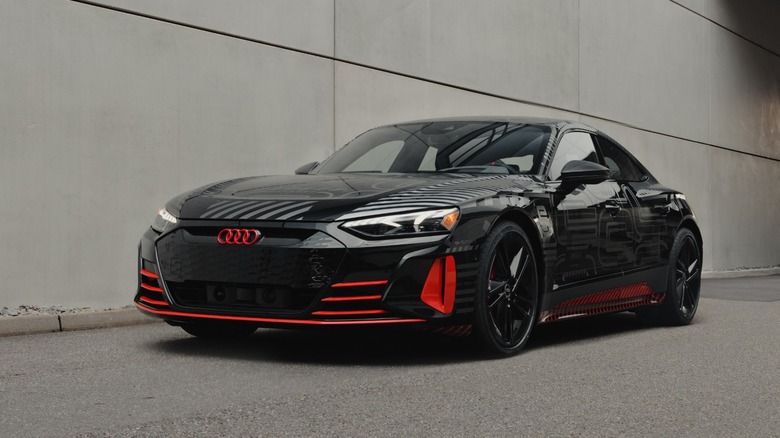 Audi
Audi is no stranger to producing luxury vehicles, but the German automaker has recently stepped into the world of electric vehicles, producing the e-tron range of vehicles. Of Audi's electric vehicles, the RS e-tron GT leads the charge; delivering a comfortable, luxury electric vehicle that has enough power under the hood to blow your socks off in the best way.
The production Audi RS e-tron GT delivers a whopping 637 horsepower that takes it from 0-60 mph in just 3.1 seconds. While it might not be quite as fast as its Porsche cousins, the family-friendly Audi sports EV is a mean package for those looking for something that's as comfortable shuttling kids to school as it is carving up the canyons.
As if the Audi RS e-tron were somehow not special enough, Audi decided to take things a step further with a special, limited edition "project_513/2" version of the RS e-tron GT.
Only 75 'project_513/2' e-tron GTs will be produced for the US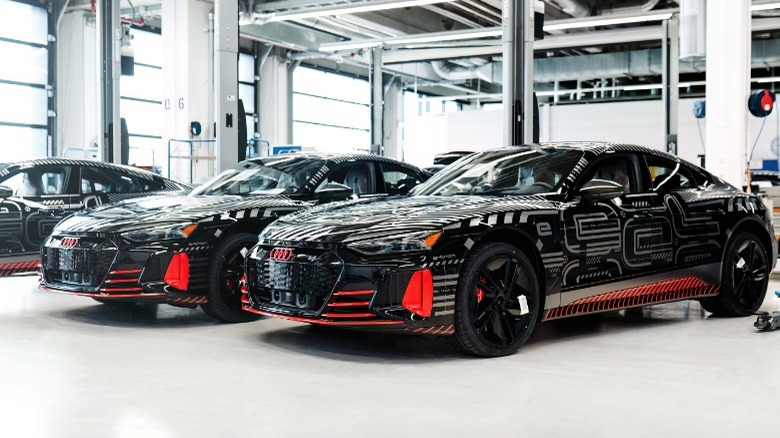 Audi
The Audi e-tron GT project 513/2 — as the internal project name of the e-tron GT suggests — is a special, limited run version of the e-tron that bears visual resemblance to the test vehicle used to develop the production RS e-tron GT. As you might imagine, this means a number of changes to the vehicle's paint and interior. 
That includes the aggressive red-and-black camouflage graphics wrap similar to what you'd see on a development prototype, and red Audi rings, adding even more dramatic flair to an already startling design. The other exterior changes come in the form of special gloss black 21-inch aero wheels and "project_513/2" wording etched into the rear glass.
The interior continues the project_513/2 trend of elevating the original RS e-tron GT aesthetic with bold graphics and color choices. The interior is clad in fine Nappa leather, with the seats featuring honeycomb stitching, while the dash features patterns and red trim matching the exterior wrap and Audi rings.
Cyberpunk aesthetic aside, the rest of the project_513/2 rips all of its important mechanical components — from carbon-ceramic brakes to rear-wheel steering for maneuverability and stability — from the RS e-tron GT, making it about as aggressive a vehicle as the new color scheme looks. The 2023 Audi RS e-tron GT project_513/2 will start at $179,900 — $40,000 more than the MSRP of the "standard" RS e-tron GT.