The 4 Million Dollar Porsche Used As A Camera Car For Steve McQueen's 'Le Mans'
Most movie camera cars aren't worthy of a feature article, let alone one suggesting they are worth millions of dollars. But a Porsche race car owned and driven by Steve McQueen makes for a fascinating exception.
This is the story of a Porsche 908.022, purchased and subsequently raced professionally by the Hollywood actor. The open-top Porsche was then used as a camera car in the movie "Le Mans," for which it was fitted with three cameras and entered into the 1970 24 Hours of Le Mans. McQueen is even rumored to have driven it himself during the night and under the cover of darkness.
Starring McQueen as fictional racer Michael Delaney, "Le Mans" is known for its lack of dialog (no words are spoken for the first 30 minutes) and how its chaotic production ran over both time and budget. Although arguably flawed as a mainstream movie, it has since earned cult status among race fans who see it more as a documentary than a work of fiction.
The camera car was later given a new body, and its role in a McQueen movie was all-but forgotten. It was later restored to its original condition in the late-90s, driven at the Le Mans Classic in 2010, and displayed as a curious piece of movie memorabilia ever since.
[Featured image by ZANTAFIO56 via Wikipedia Commons | Cropped and scaled | CC BY-SA 2.0]
Actor-turned-racing driver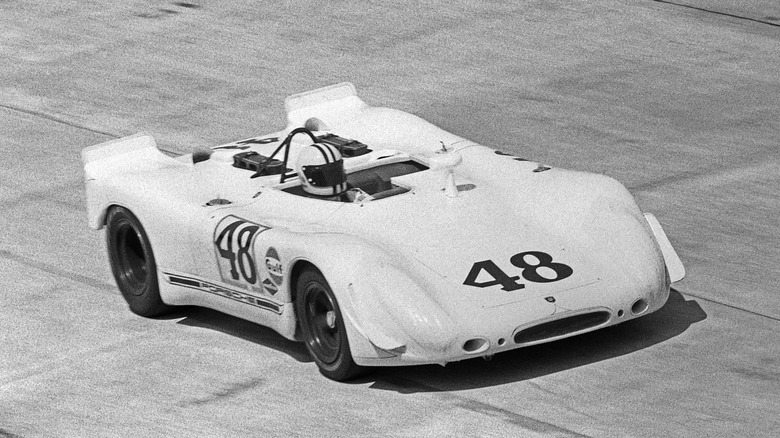 Bernard Cahier/Getty Images
Having starred in "The Great Escape," "The Thomas Crown Affair," and "Bullitt," Steve McQueen had become one of the biggest actors of his generation by 1969. But aside from acting, he also had a love for cars, motorbikes and racing.
This passion led to his purchase of a Porsche 908/2 — specifically chassis number 22. Built in 1969, the car was entered in that year's 24 Hours of Daytona by the Porsche factory. Driven by Kurt Ahrens and Rolf Stommelen, the 908 failed to finish the race, having completed 626 laps. It was purchased by McQueen in December 1969 and decorated with the logo of his film company, Solar Productions.
Converted to an open-roofed Spyder body, McQueen drove the car (pictured above) to a second-place finish at the 12 Hours of Sebring in 1970 — beaten only by Mario Andretti, who would go on to become the 1978 Formula One World Champion.
The Le Mans camera car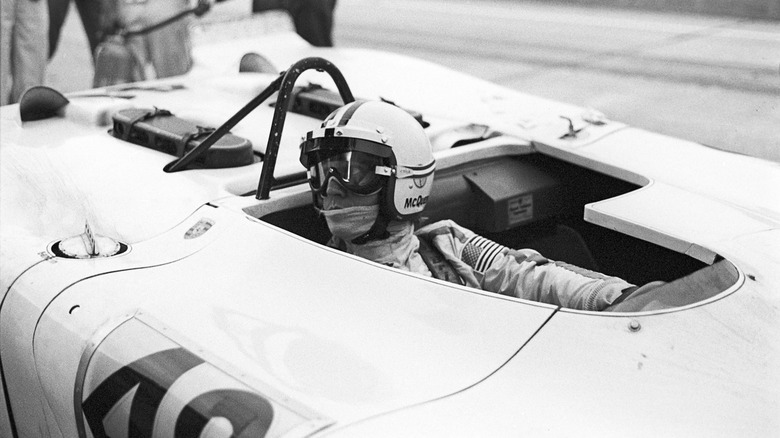 Bernard Cahier/Getty Images
McQueen scored two race wins with the Porsche in 1970 before it was fitted with cameras and entered into that year's 24 Hours of Le Mans. Driven by Herbert Linge and Jonathan Williams, the car was painted blue and entered with race number 29. It was fitted with three Arriflex movie reel cameras with one facing forwards and two looking to the rear.
Describing the camera equipment, Porsche magazine Excellence writes, "The front-mounted camera alone weighed a hefty 66 pounds and was large enough that there was no way it could be made to sit flush under the bodywork, which is why a large, visibility-obstructing cowling had to be made." Additionally, two more cameras were rear-mounted, but the car's rear crossmember was reshaped to accommodate them.
Controls in the cockpit allowed the driver to start and pause recording at key moments, such as when close to other vehicles. Despite the extra weight — and frequent pit stops to change film reels, of which an extraordinary 10,000 meters were used — the car completed the race and finished in ninth place overall.
Unfortunately, due to all of the extra stops, the car didn't cover enough distance to be qualified as a finisher, Excellence magazine added. Although his insurance company didn't allow it, McQueen is rumored to have secretly driven the car during the nighttime.
Sold by McQueen to a race team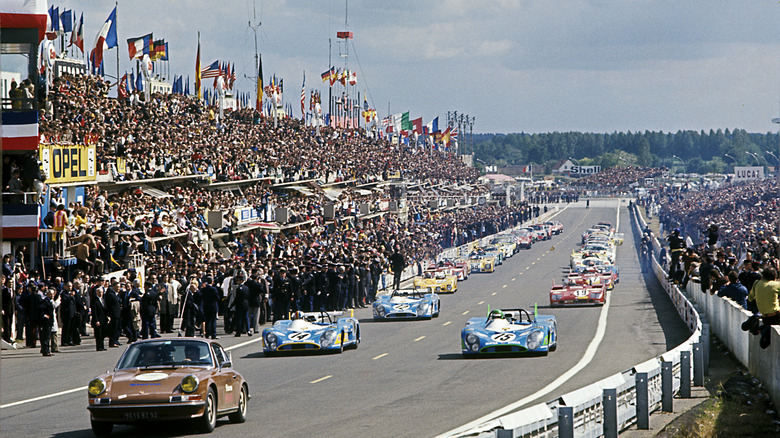 Bernard Cahier/Getty Images
Having completed its duty as a high-speed camera car, McQueen sold the Porsche to Team Auto Usdau, who used it to compete in the 1971 European World Sportscar race series. It also appeared at Le Mans in 1972 (race start pictured above), but retired due to an accident.
The Porsche fared better in 1973, finishing Le Mans in seventh place overall, but bad luck struck again in 1974, with it crashing out of contention. It was then sold — damaged and without its engine and transmission — to a German team called Deutsch Brothers Racing, headed by a man called August Deutsch.
According to Porsche, Deutsch brought the car back to life in 1980, but had a "slightly lax policy when it comes to authenticity," and fitted the ex-McQueen car with a different body, engine, and transmission.
Fast-forward to the year 2000, and after a two-year restoration, the car took part in the AvD Oldtimer Grand Prix at the Nürburgring. Still owned by Deutsch, the car was returned to its blue camera car livery for the 2010 Le Mans Classic.
Writing in 2020, Excellence states how the car "is now displayed more than it is raced," and wears the white livery and 49 race number from when it was raced by McQueen — a time August Deutsch considers to be the car's finest hour.
What is it worth today?
Valuing race cars is tricky at the best of times, let alone when the car in question was owned and raced by a Hollywood icon like Steve McQueen.
Add in this particular Porsche's role as the "Le Mans" camera car, and it would simply come down to who is in the room and what they're budget is, should it ever come up for auction.
That said, we can use past sales of other Porsche 908s to make an informed guess. A 1969 example raced by Porsche at Brands Hatch, Targa Florio, and the Nürburgring — described by classic car auction house Gooding & Company as "uncommonly authentic" — sold for $4,185,000 in 2022, meeting its estimate of between $4m and $5m.
As an interesting aside, that car was once driven by Richard Attwood, who won the 1970 Le Mans driving a Porsche 917 — the very race entered and filmed by McQueen's 908 camera car.