10 Cars That Went From Major Flop To Massive Fortune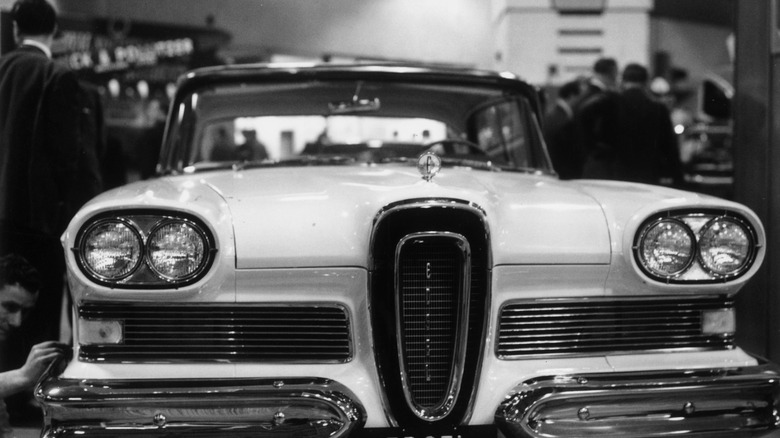 M. Mckeown/Getty Images
Not every car can be a best seller. Better in theory than when in production, cars flop. Yet these cars can hold a special place for people and become popular again. Cars aren't received how they are predicted to, and they get canceled. Although held back by initial failure commercially, these cars can be worth more than you can imagine, with some people going to great lengths to obtain them. 
These cars may be innovative but unappreciated, the victims of financial downturn when they came into production, or just plain ugly, proving even successful car manufacturers will occasionally fail to meet expectations. Designers spend time and money and set high goals for their new cars that, unfortunately, go unmet. Even great designs might not transfer well into production. 
These cars are now highly coveted by collectors. They represent something unique and special for each buyer and can go for prices that might bulge your eyes. And people will pay. The idea that hindsight is 20/20 applies here. People realize after the fact what they missed out on and try to reclaim it before it's gone completely, not wanting to miss out on it now that they have been given a second chance.
These are cars that, for a multitude of reasons, have gained popularity long after they were supposed to. Due to the historical value or the nostalgia they foster, people want some cars again, even when no one has wanted them before. They can be trophies. symbols of success, or something else, but each has its own, massive value or it will. Whether or not you agree, these cars drive the market and steer people toward them.
1929-37 Duesenberg Model J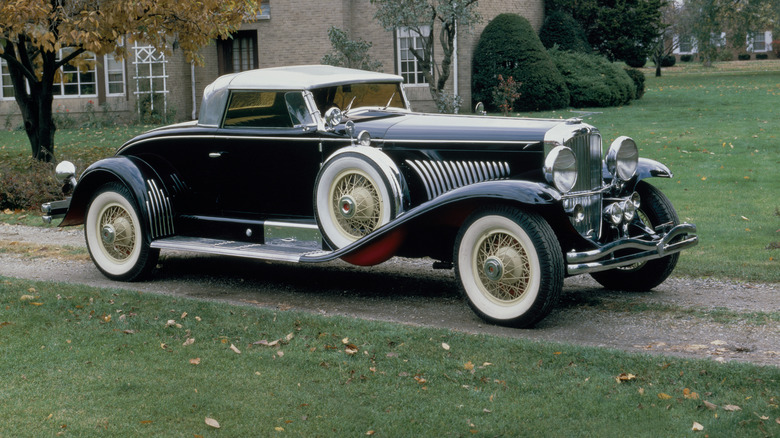 Heritage Images/Getty Images
The Duesenberg is a car you might think of as the car Cruella de Ville drove. With menacing exhaust pipes out of the hood, the Model J had a massive inline eight-cylinder engine with nearly seven liters of displacement. It cranked out 265 horsepower and had a top speed of 116 mph in third gear. They were ultra-expensive, which is why only people like Clark Gable and the Wrigley Brothers could afford them.
Duesenberg's came to prominence as racecars. The only American car ever to win the French Grand Prix, a Duesenberg also crossed the finish line first at three Indianapolis 500 races in 1924, 1925, and 1927. Eventually bought by E.L. Cord, with his design helping to create the Duesenberg as we know it. And to streamline the car from the original chassis before the Model J.
With a chassis that cost $8,500 alone, most Duesenbergs could end up costing their owners nearly $20,000, a huge price tag in the early 1930s and one of the reasons only about 500 were produced. Now, at auction, these go for a crazy price tag. People will fight it out bidding at auctions for one of these beautiful cars. The average auction price is jaw-dropping $1.692 million, meaning they are still a car that only the richest individuals can afford.
1934 Chrysler Airflow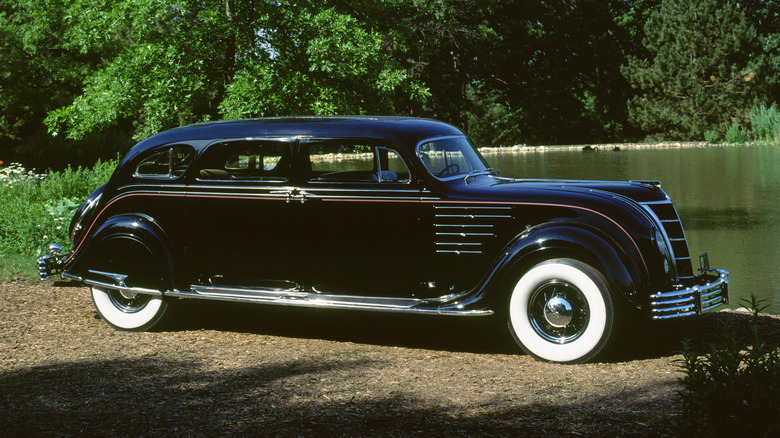 Heritage Images/Getty Images
The 1934 Chrysler Airflow was well-received at the 1934 New York Auto Expo. The car featured revolutionary design changes that helped develop how cars are made. Preorders poured in, and the car's manufacture was rushed, leading to the sales numbers being less than exuberant and only around 10,000 units sold in the four years it was in production.
The Airflow was a stunning and revolutionary new type of design that Carl Breer, the head of engineering at Chrysler, led the charge on. He even got the help of Orville Wright, using his facilities to test the streamlined design in one of the first wind tunnels. This streamlining is the first time the industry saw any attention paid to aerodynamics and marks the beginning of aerodynamics being applied to vehicles. He also moved the engine over the car's front axle and placed the passengers between the two axles, providing more interior space and better ride quality.
The innovation was not a seller in 1934 and even priced reasonably at $1,345, the car didn't sell. Now, they are coveted, with many found only in museums. An airflow has an average price of $72,130, which is well below the price of the 1935 model that went for $117,700 at a Barret-Jackson auction. One of these is a great find, especially as fewer and fewer are available.
1958 Ford Edsel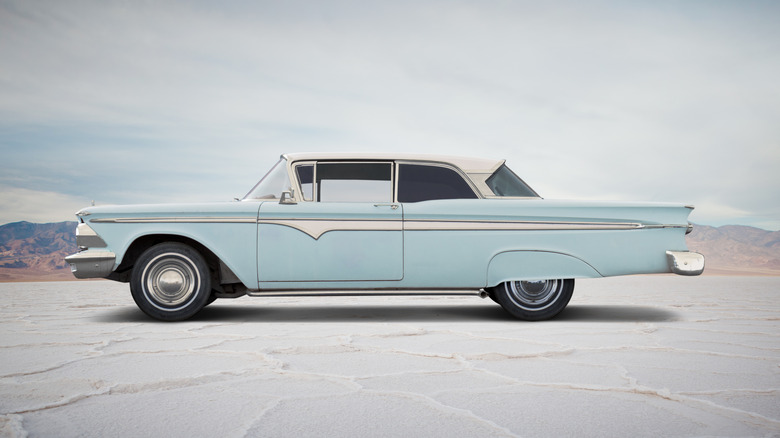 Anton_sokolov/Getty Images
The Ford Edsel is a vehicle meant as a tribute to Edsel Ford, the son of Henry Ford, but it is remembered as one of the most epic failures in the history of car production. With expectations for the Edsel that were incredibly high, it was a terrible blow to the company and its budget when the Ford Edsel failed on the market. Henry Ford Jr. was upset that the car he wanted to be the future of Ford did so poorly.
Henry Ford Jr., the grandson of Henry Ford, wanted to create a car that would bring new life to Ford. It was the first new model in years and was designed to find a place in the market between the cars that the younger, faster crowd liked and the family cars of the middle-aged buyer. Ford spent a whopping $250 million on market researchand developing this new car that came in 18 different models and originally sold for between $2,484 and $3,766.
The problem was that Ford didn't anticipate the market shift to compact vehicles and the company Ford hired to do market research had overlooked the new market for cheaper, smaller cars. On top of that, the Edsel was considered incredibly ugly and oddly designed at the time. So the projected 400,000 cars that Ford sought to sell was nowhere close to becoming a reality, and the car was ditched. These valuable collector cars have a special place in car history for being a total failure and can go for over $100,000 at auction. Edsel would be proud.
1958 Plymouth Fury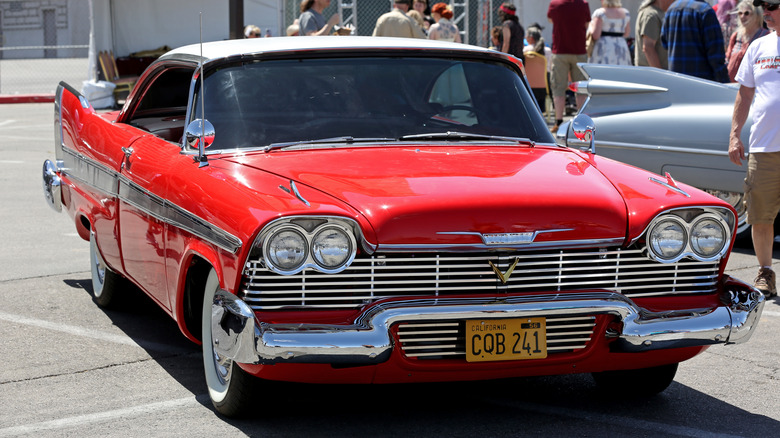 Gabe Ginsberg/Getty Images
The Plymouth Fury was a car that originally started life as a trim variation for purchase on the Plymouth Belvedere. The Fury soon became an individual vehicle and was the most expensive Plymouth at the time, selling for $3067. It came in five different iterations, among them a four-door sedan, a two-door convertible, and a four-door wagon.
The Fury was a stylish muscle car with an engine shared with the Dodge Coronet, a car used by police at the time. A sizable, well-powered vehicle with a 5.2-liter produced 290 hp was standard, with an upgrade to a 5.7-liter producing a whopping 305 hp under the hood. The 1958 Plymouth Fury was projected to do well. It was stylish, reasonably priced, and fun — and should have sold.
Unfortunately, this Fury came at the same time as a recession, which effectively leveled the market for these types of cars in favor of cheaper, more economical models. The movie version of the Stephen King novel, "Christine," revived the car's popularity when it premiered in theaters. These are coveted and fetch an average price of $50,000, though they have been known to sell higher given the correct group of buyers at auction.
1967 Pontiac Trans Am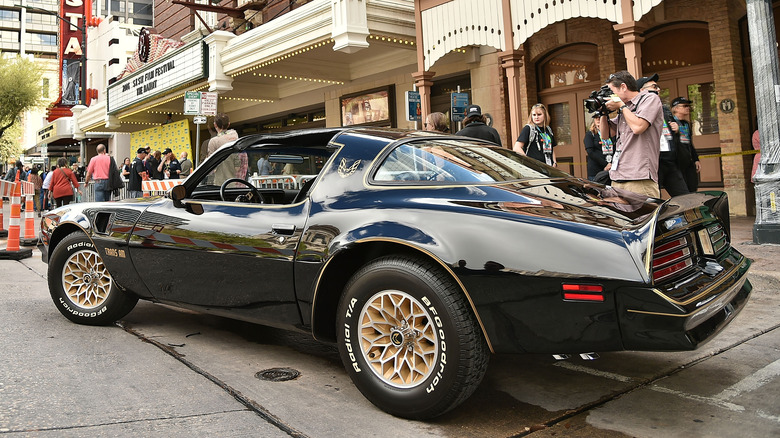 Mike Windle/Getty Images
This one's a bit more about the brand than it is about specific model years — depending on how you look at it. The first-generation Pontiac Firebird Trans Am (1967-1969) did alright for itself, with production totals of 82.5k, 107k, and 87.7k units for each model year, respectively. The second generation, starting with model year 1970, started off a bit more modest, with production totals (including Base, Esprit, Formula, and Trans Am models) staying under 100k each year.
Year-over-year, the most massive jump in production totals for the Pontiac Firebird was between model years 1976 and 1977. The production total (for all four models) of model year 1976 was 110,755 units. The very next model year, the production total reached 155,735. According to Hagerty, in 1978, Pontiac gained 25,000 "extra Trans Am sales" courtesy of the release and popularity of "Smokey and the Bandit."
The movie was filmed just before the release of the model year 1977 Trans Am, necessitating the use of model year 1976 Trans Am vehicles for on-screen action. Cars used in the film were modified to match what model year 1977 Trans Am vehicles would look like. Despite this, it's the 1977 Trans Am that collectors look for — this vehicle has sold at auction for anywhere from a few thousand dollars in fair condition to $495,000 (for the most prized of iterations, sold by Barrett Jackson auctions.) 
1970 Plymouth Superbird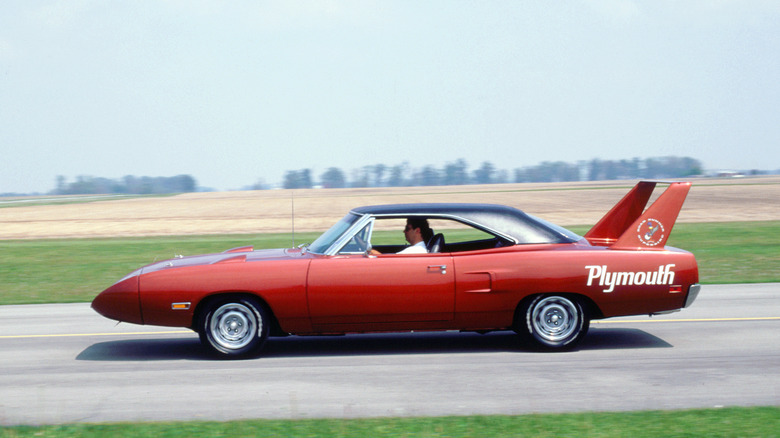 Heritage Images/Getty Images
The 1970 Plymouth Superbird is best known as the first muscle car that allowed itself to utilize aerodynamics in the body design to create a car that relied on more than a massive engine for speed and performance. This is the car that Petty drove to victory an amazing 18 times during the NASCAR season that it debuted. This alone has given it a special place in the heart of many.
The production version was a massive disappointment — and only 1,920 were produced. The car failed to sell, and it took a long time to get the numbers needed for Petty to drive it to victory. It was a considerable investment at the time with a price of $4776, but you got a whole lot of engine power at that price. Propelled from 0-60 in a smoking 5.5 seconds, the Superbird was powered by a 7.2-liter 440 cubic inch V-8 and had a top speed of 150 mph.
This car is now a piece of NASCAR and Plymouth history. People who want it will pay a lot to add it to a collection. The wing might look goofy, but it is an icon and could cost a buyer upwards of $250,000 at auction or through a private sale.
1976 Aston Martin Lagonda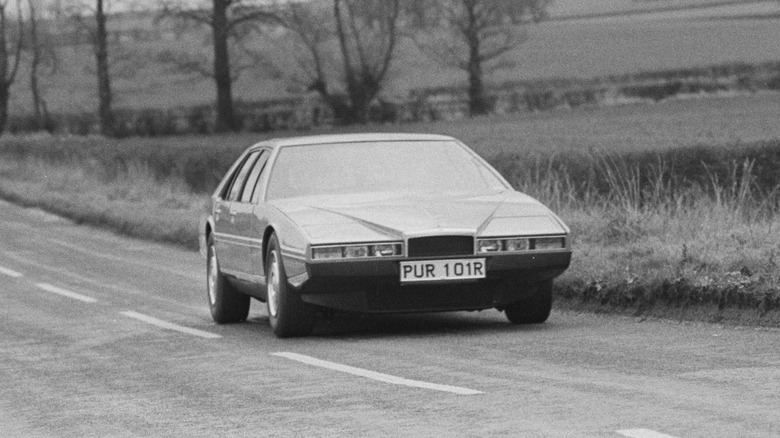 Evening Standard/Getty Images
An oddity now as much as it was then, the Lagonda is one industry insiders still joke about. The 1976 Lagonda was downright ugly. No one cared that it was an Aston Martin; it was a long, oddly proportioned, and boxy design that said nothing about the sophistication we now associate with Aston Martin.
The '76 Lagonda was the second version of the Lagonda and is fondly called "the wedge." The nickname was an accurate depiction of the car's aesthetics. It was meant to infuse much-needed capital into Aston Martin, which was struggling financially at the time. With a 5.2-liter V-8, it had a top speed of 230 mph. But the price tag of $75,000 new was far more than people wanted to pay for an ugly car, and a scant few were produced.
Now the Lagonda is a collector car that reminisces about a time when ugly was still ugly, even for an Aston Martin. Now, these weird duck-billed four doors are a considerable investment still, with some going at auction for well over $300,000. A tidy profit for the ugly duckling.
1975 Rolls-Royce Carmague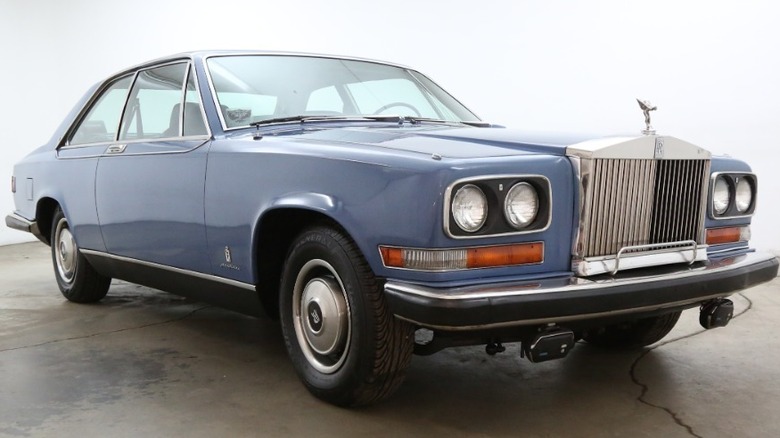 Beverly Hills Car Club
Very few people have even heard of this Rolls-Royce, even though it was meant to be a Rolls more accessible to the normal folk. It was odd, though, handled poorly and only found success among die-hard fans. It was produced for many model years, but sadly, it never succeeded how Rolls Royce had hoped and has fallen by the wayside in car history.
It had a solid pedigree as it was designed by Paolo Martin at Pininfarina. It also had a massive 6.75-liter engine that it needed to move the boxy beast that weighed in at over two and a half tons. Famously known as the most expensive production car ever when it debuted, the luxury four-seater coupe was priced at $65,500, and since few could afford it only 531 were ever made.
Now a rare Rolls-Royce to find on the market, this fact has led to the car's popularity in the car collections of the most exclusive collectors. The car has lost some of its value, with an average price of around $95,000. Still, more than you or your neighbor can probably afford. It may gain some value moving forward, so keep your fingers crossed if you own one of these behemoths.
1981-83 DMC DeLorean DMC-12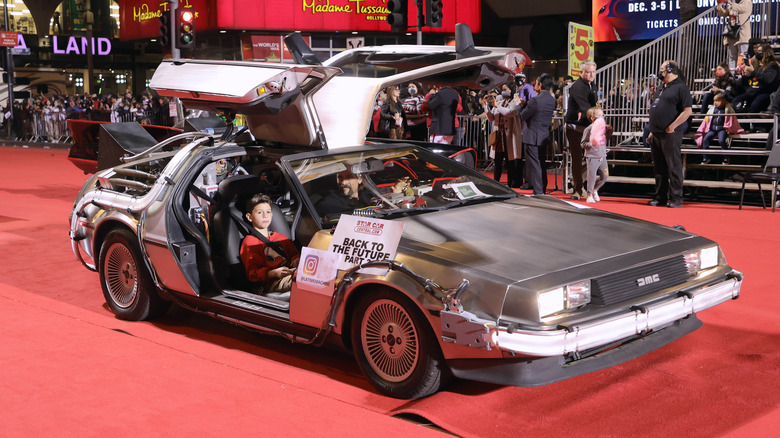 Kevin Winter/Getty Images
The DeLorean DMC-12 was a complete laughingstock when it debuted in 1981. Though it had a great pedigree and was designed by the brilliant John DeLorean, who had helped General Motors with some of its most iconic cars, it all ended in disaster.
How the designer of the Pontiac GTO and the Trans Am came up with the odd DeLorean, no one is sure. The car was purported to have a top speed of 130 mph, but no one could ever seem to get it there with the undersized engine and gullwing doors. The same things that made it such a joke in the 1980s would make it capable of a comeback in the 1990s.
Immortalized forever in the movie "Back to the Future," all you needed was some flux capacitors and 88 mph to get to where Christopher Lloyd was headed, helping to renew interest in the failure of DeLorean. The base price of $25,000 (absolutely absurdly expensive for the time) has been more than doubled, and an original DeLorean can run you $40k on upward if you find one at auction today — so long as it's in good condition. 
2001-05 Pontiac Aztek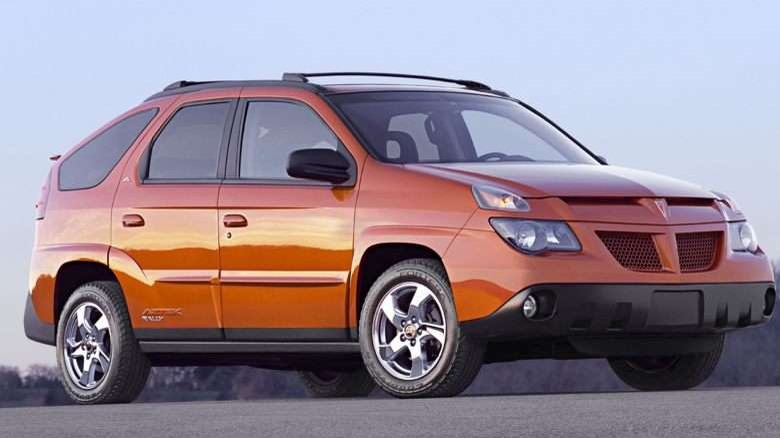 Pontiac
This is a car that everyone can remember from recent history. This is one of those iconically ugly cars. With a weird shape and back hatch that everyone agreed was awful. This Pontiac was considered community-designed, and everyone's idea seemed to find a place. It was awesome on paper, but someone should have edited this one down a bit.
Why is it experiencing a revival? According to Edmunds, we can thank one very angry Walter White for that. He began driving an Aztek on the beloved show "Breaking Bad" and sold it on his 51 birthday for a measly $50, one for each year of his old life. This has firmly cemented it in the TV vehicle hall of fame and created an interest in one of the ugliest cars ever.
An original MSRP placed this car at $21,445, supposedly to make it accessible to a younger crowd. And while this vehicle is worth less than that currently at around $5500 as the median price, prices have been fluctuating wildly. They are iconically ugly and, with Walter White's help, may become one of those disasters that finds a place in car history and be worth a great deal. Don't give up yet!
True Value is in More than Just the Price Tag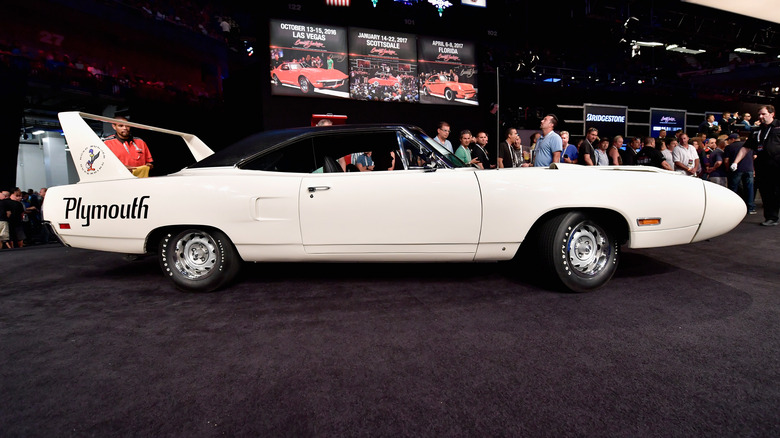 Paul Marotta/Getty Images
A car is so much more than just the price tag. The Aztek, the DeLorean, and the Lagonda prove this. Sometimes the car's value is more than simply how it looks or how much it originally cost on the market. Sometimes the value of a car is in what it represents.
We all value different things in the vehicles we purchase, whether for our daily use or a massive collection. Cars can be more than just a combination of metal parts and gearboxes. They represent how we felt or a time that we are particularly fond of. And they are symbols of who we were or are now. These things give cars value in a way that the market never will.
That being said, these cars, considered flops, can be worth millions of dollars. If you are the proud owner of such a car, don't despair, it could be worth an amazing sum someday. Not every car is a winner right out the gate, but these prove that you can never be too sure who will get a second chance at a future.