Samsung Vs LG: Which Brand 4K TV Should You Buy In 2023?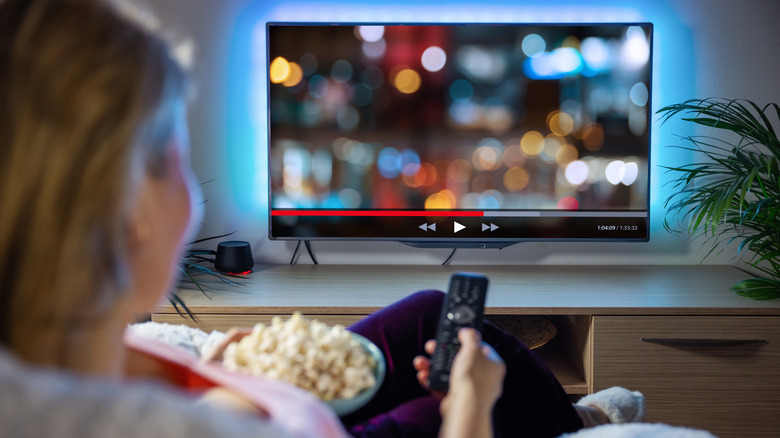 Kaspars Grinvalds/Shutterstock
Samsung and LG have long been juggernauts of the television marketplace. Both companies hail from South Korea, and each makes a stunning television that millions of people around the world purchase every year. Samsung sold almost 9.5 million QLED TVs in 2022. Last year Samsung shipped roughly 42 million total televisions while LG sold about 27 million. These brands are the top competitors by a country mile when it comes to building precision instruments and selling them to a wide consumer base seeking the best in viewing technology.
But there are features that each brings to the table that can make selecting your next television a difficult choice. LG and Samsung each make screens that pack a truly amazing number of pixels into their screens for a dynamic viewing experience and fantastic picture quality. Selecting the perfect TV for your home comes down to a number of factors that each fit within a very personal choice. One good place to begin is with price, but this data point doesn't tell the whole story. If you're in the market for a new TV in 2023, comparing a number of key features between the Samsung and LG 4K TV models is a must. Here's what's available and what you should be looking for.
The Samsung lineup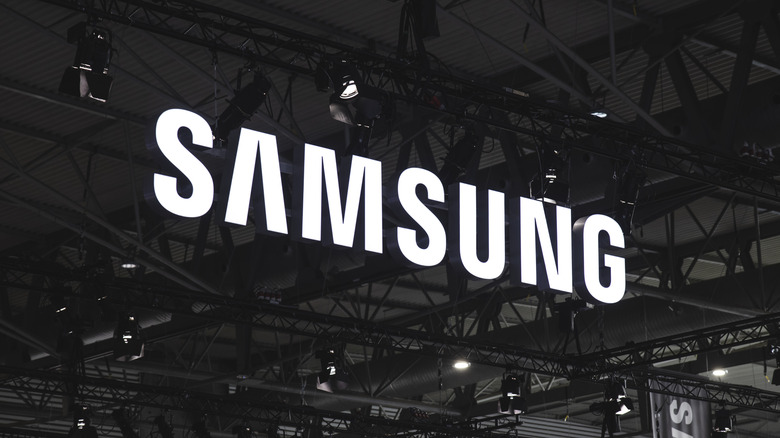 Cesc Maymo/Getty Images
Samsung has brought a few 4K TVs to the market entering the new year. The QN90B QLED is a great option that incorporates a mini LED backlight, 'ultra viewing angle' technology, and supports the 4K resolution format. The S95B OLED adds a blue OLED backlight and quantum dot filter layer that dramatically improves upon the color range the TV can produce.
In more budget-friendly ranges, Samsung also offers the Q80/Q80B QLED and AU8000 models. Neither of these models incorporates the quantum dot technology of the higher-end Samsungs, but both offer native contrast ratio and deliver deep black shades. They each perform well in dark room settings. The AU8000 is an older model, and so this purchase offers a great discount on price while bringing the same 4K experience to your home. It's a good blend of value for those who aren't seeking the most cutting-edge viewing experience at any cost but still want to purchase a quality television.
LG's 4K offerings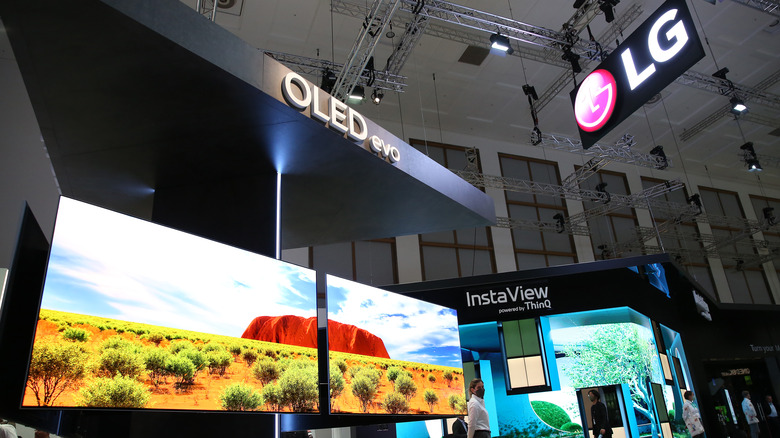 Adam Berry/Getty Images
LG also offers a number of excellent television models that support a 4K resolution. Likely the best LG screen on the market heading into the 2023 buying season is the brand's C2, an upgrade for the C1 model that has performed so well. The C2 enjoys the benefits of LG's OLED Evo technology which enhances the color and brightness of the screen. As well the C2 has a new processor installed (the Alpha A9 Gen 5) that makes the picture crisper and provides better color saturation than the previous version. It's worth noting that while the C2 can be purchased in 42- and 48-inch dimensions, these smaller television sets don't add in the brightness enhancements, so the picture won't be as stunning on a small C2 as it is on a larger one.
LG's C1 remains a good choice for those in the market for a new TV. The C1 uses an A9 Gen 4 AI processor that brings excellent picture quality into any household. The C1 excels at handling fast motion in the image and quality upscaling. The C2 is a step up from the C1, to be sure, and this model doesn't benefit from the enhanced brightness or state-of-the-art crisp image quality that only the newest technology can bring. Even still, the C1 provides vibrant colors and deep blacks that make viewing a remarkable experience.
Another contender in the LG range is the G2. This model is designed for hanging and doesn't come with a stand. As well, the system's sound production is somewhat wanting when it comes to bass tones. Still, the G2 brings the same brightness enhancements and a new A9 Gen 5 AI processor that makes for excellent viewing.
Connectivity, ports, and hardware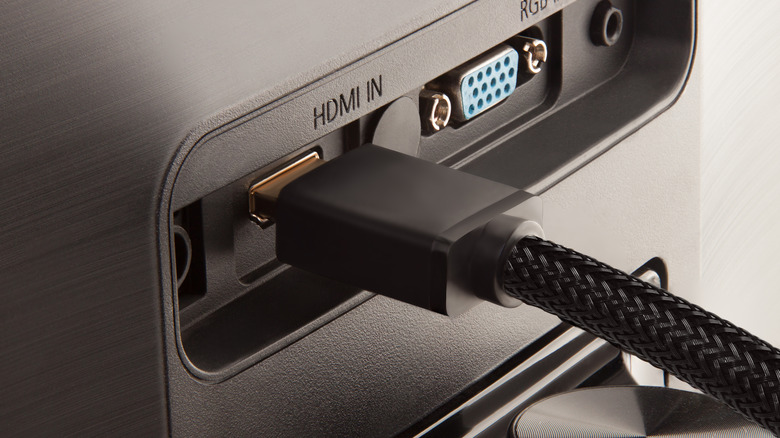 Alexander_Evgenyevich/Shutterstock
The LG C2 comes with four 120Hz 4K HDMI ports and three USB 2.0 ports. It includes an ethernet cable and offers Bluetooth and smartphone connectivity. The 65 inch variety weighs 40.8 pounds with the stand (17.7 inches long). The C1 also utilizes four HDMI ports, one in the rear and three on the side. All four offer the same 4K at 120Hz experience. There's an ethernet connection and three USB 2.0 ports. The C1 also supports smartphone connectivity and Bluetooth. The TV is much heavier, however, with the 65 inch model weighing 71.9 pounds with the stand (measuring 39.3 inches across). The G2 utilizes the same three USB 2.0 setup with four 4K HDMI inputs and Bluetooth, ethernet, and smartphone connectivity. The 65 inch TV weighs 59.5 pounds and the stand is a mounting bracket.
Samsung's lineup is similar. The QN90B includes four HDMI and two USB ports as well as Bluetooth, smartphone and ethernet connections. The 65 inch TV weighs 69.2 pounds and includes a 13.4 inch stand. The S95B offers four HDMI connections and two USB inputs. The 65 inch configuration comes with a 14.3 inch stand and weighs 57.3 pounds. The Q80B provides the same connectivity inputs and weighs 61.3 pounds with a 15.4 inch stand. The AU8000 (43 inch) weighs just 19.6 pounds. Its dual legs are positioned 26.8 inches apart and are each just 1.5 inches wide. It includes three HDMI ports and two USB ports. The same wireless connectivity specs across the range apply to this model.
Stand devices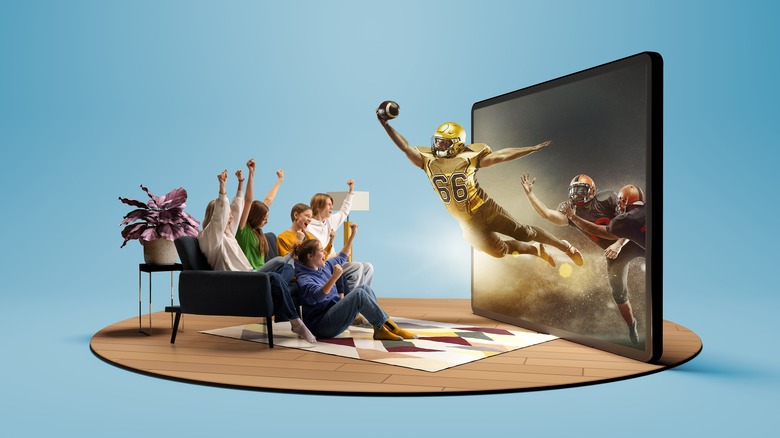 Master1305/Shutterstock
One final piece of the puzzle lies in the mechanism for standing your television up. The type of mounting or stand options you have available can sway the final decision in one way or another. LG's G2 model, for instance, comes stand-less, making it suitable only for homeowners who already plan to mount it on the wall. The TV arrives with a slim mounting bracket though, making it sit nearly flush with the well behind it.
The LG C1 uses a lengthy center stand that extends horizontally across most of the screen's underside. In contrast, the C2 makes use of a shorter central stand feature. A longer stand might be visually distracting for some, but for others who have a short piece of furniture to stand the TV on, this can make the decision for you. Similarly, the Samsung AU8000 is stood on two feet (one on either end of the TV), making it essential to place the unit on a lengthy entertainment center feature. The other three models (the S95B, QN90B, and Q80/Q80B) all utilize variants of the single, center foot, and each one is slimmed down in comparison to even the shorter LG C2 stand.
Dimension options, resolution, and price points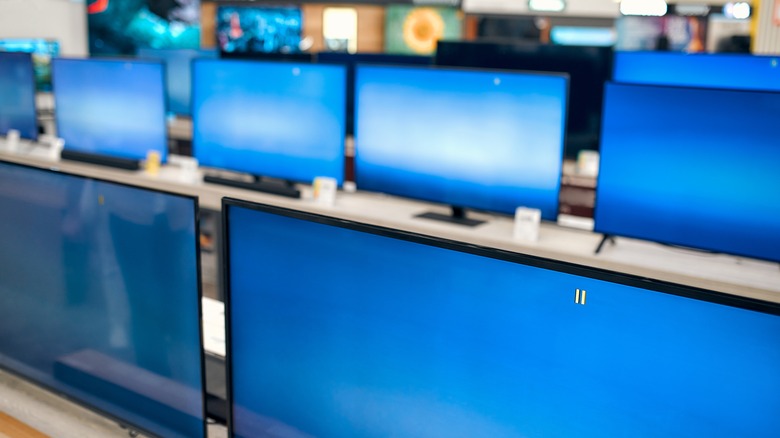 ORION PRODUCTION/Shutterstock
Samsung's QN90B comes in medium and large dimensions. The smallest is a 43-inch option at $1,099.99, there are also 50- and 55-inch (each $1,299.99), 65-inch ($1,699.99), 75-inch ($2,399.99), and 85-inch ($3,299.99). These TVs come with a 4K Neo Quantum, AI processor. All the Samsung TVs have a resolution of 3,840 x 2,160. This model is designed to support low-latency HDR gaming and tear- and stutter-free image production. This makes it great for gaming and watching movies in the crystal clear resolution of a 4K experience. The S95B is an OLED model and comes in three sizes: 55-inch ($1,599.99), 65-inch ($1,899.99), and 77-inch ($4,499.99). This model includes a Neural Quantum 4K processor. The Q80B can be purchased in a few varieties. It comes in a 50-inch ($899.99), 55-inch ($949.99), 65-inch ($1,099.99), and 75-inch ($1,599.99). Because the AU8000 is older, size options are somewhat limited. The 43-inch costs $379.99, and an 85-inch is also available at $1,499.99.
LG offers a similar lineup of selections offering the same 4K resolution of 3,840 x 2,160. The C2 can be purchased as a 42-inch ($999.99), 48-inch ($1,099.99), 55-inch ($1,299.99), 65-inch ($1,699.99), 77-inch ($2,799.99), and 83-inch ($4,499.99). The C1 includes three size options: 48-inch ($1,299.99), 65-inch ($1,499.99), and 83-inch ($3,999.99). Last on the list is the G2. The 55-inch is the priciest of the bunch at $1,699.99. It also comes in a 65-inch ($1,999.99), 77-inch ($3,599.99), 83-inch ($4,999.99), and a whopping 97-inch model that costs $24,999.99.