The 3 Best iPhone VPN Apps To Use In 2023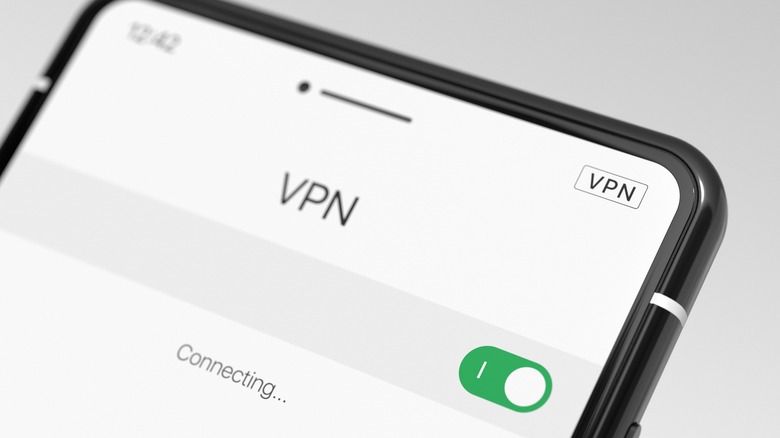 hodim/Shutterstock
Securing your internet traffic is a crucial task for many data users. A virtual private network (VPN) offers this protection, and the App Store is brimming with free and paid options as a result. For those that may not know, a VPN can help protect you from profile-building efforts by third-parties. With so many options out there, it can be challenging to find one that suits your needs. Typical internet usage sees you connect through your broadband service, placing geographical and IP markers on you. Trackers and ads are tailored to these signatures and can wreak havoc on your browsing experience by polluting your sytem with advertisements, malware, and other unwanted junk. As well, a malicious actor can scour webpages and internet connectivity devices for key datapoints, potentially gaining access to your machine and breaching your phone's security.
A VPN masks your device's signature and routes your internet traffic through a secure server. Instead of arriving at a digital location with all the telltale signs of who you are, your device will cleanse these details and browse with a blank slate, only marked by a national server location that gives you local content access. The encrypted connection blocks your ISP and functionally acts as a go-between, drawing search parameters or site data back to you without exposing your device to third-party eyes. Here are some of the best VPNs that app stores have to offer.
ExpressVPN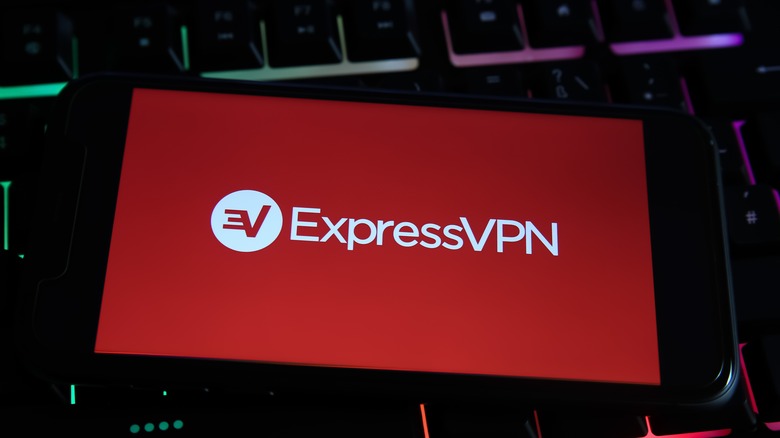 Ralf Liebhold/Shutterstock
ExpressVPN is the best option on the market for iPhone users, as well as desktop and Android internet browsing. ExpressVPN packs everything a person might need into one application that makes securing a connection to the internet simple.
ExpressVPN provides secured access to the internet through an army of servers, about 3,000 of them. The number of available servers is an important statistic when considering a VPN service. In the same way that connecting to a game server with fewer players logged in will likely give you smoother gameplay experience, VPN connections work best when the server isn't too crowded. Therefore, the more servers a VPN provides, the better on-demand coverage you're likely to see. 3,000 is a solid number, but it's only one piece of the puzzle. Another key feature is the geographical variety. ExpressVPN provides connection locations in 94 countries, providing users with one of the best coverage networks on the VPN market. ExpressVPN reports to its customers that the service offers the best in online security and encryption protocols, and also doesn't keep logs of user data. Therefore, in the unlikely event of a data breach, data surrounding a user's personal utilization of the service simply doesn't exist.
ExpressVPN is the gold standard in secure internet connectivity because on top of the brand's sterling performance record, it offers 24-hour support. Users aren't likely to need much help, but in the event of an outage, it's nice to know that ExpressVPN's team can help guide you through the process of reinstating the access you rely on.
Proton VPN
Proton VPN offers what is essentially the same experience as a desktop setup to iPhone users. This is a serious departure from the typical mobile version of a VPN service. Proton VPN has a verified no-log policy, just like that offered by ExpressVPN. This means that while security is paramount for the brand, the exposure you may face in the event of a breach remains minimal. While performance can change without much warning, Proton VPN has experienced a consistency of success in unblocking Netflix and other streaming services for users looking to watch their favorite shows while abroad or engage with a foreign library of available titles. Proton VPN includes additional security and connectivity settings including VPN Accelerator, a tool that Proton VPN reports can increase your VPN's connection speed by over 400%. Proton VPN provides connectivity to 67 unique country access points through 2,169 unique servers. In 2014, the company built the Proton Mail application, designed around internet privacy and security for communication. In the years since, the Swiss team of engineers and developers built out a full-service VPN platform that rivals all of the major competitors in the space.
The modern VPN offers an ad-blocker (called NetShield), which is a DNS filtering feature that protects users from malware and website trackers, while also stopping ads that would otherwise clutter your screen. The Stealth feature also works to mask your signature in the eyes of websites you hope to navigate. Some sites (including streaming services) block content to visitors who are using a VPN to access their content. The Stealth feature makes your digital signature appear as a typical, local user without the telltale signs of VPN security while still including the protective features.
hide.me
The final entrant on this list is hide.me. This VPN service also touts a zero activity log privacy policy, and makes user of AES-256 bit encryption with 8192 bit keys. Hide.me provides secure access in 77 locations across a server network that includes over 2,100 individual servers. Hide.me notes that its service has exhibited an impressive 99.99% uptime with gigabit speeds for downloads and streaming.
What sets hide.me apart from the pack, however, is the customization that a user can bring in to their daily usage of the service. A typical mobile VPN offers a list of servers, some key settings that can be toggled, and a big VPN button. Instead, hide.me provides a fully sortable server list as well as comprehensive ping time information, protocol selection (IKEv2, OpenVPN, WireGuard, and more), as well as autoconnect and kill switch settings. You can also customize DNS servers to tweak your experience for the best in privacy, speed, and security. Hide.me also provides a free version that's more than capable of securing standard internet traffic and carrying out basic user requirements. Hide.me also offers a tool called Multihop. Tunnelling your internet connection through more than one VPN server can give you increased protection as you browse the internet. The system is dynamic and doesn't utilize predefined tunneling routes, making each connection unique and vastly more secure than competing alternatives.
Honorable mention VPNs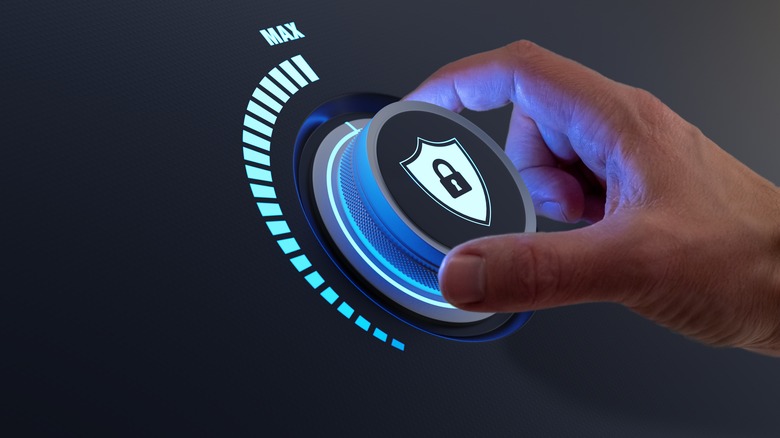 NicoElNino/Shutterstock
Some notable mentions that can't be left out but just don't make the upper echelon include VyperVPN, NordVPN, and Surfshark. This author will vouch for VyperVPN as the most reliable service for use in China. Downtime is extremely minimal compared to others, including ExpressVPN (which is undeniably the king of VPN services on the iPhone and other systems), and the platform is incredibly easy to use. It's especially handy for those living in the country, because it's the best option for unlocking the dual firewall affecting streaming services when accessed through a VPN connection (from the Chinese government and the streaming providers themselves). 
NordVPN and Surfshark both provide excellent security at a bargain price point. Both services offer quality speed ratings and Surfshark also allows for unlimited, simultaneous connectivity on all of your devices. NordVPN provides internet access through a whopping 5,463 servers located in 60 countries and includes darkweb monitoring and threat protection plugins that block malware and ads. Surfshark provides access on an unlimited number of devices and includes CleanWeb, an ad- and tracker-free browsing environment. The provider offers over 3,200 servers in 100 countries, placing it firmly within the same conversation as every other VPN listed.
All three of these services are great options, but don't quite live up to the seamless user experience offered by the three best choices in the App Store.