The Latest Z By HP Workstations Have Some Ridiculous Specs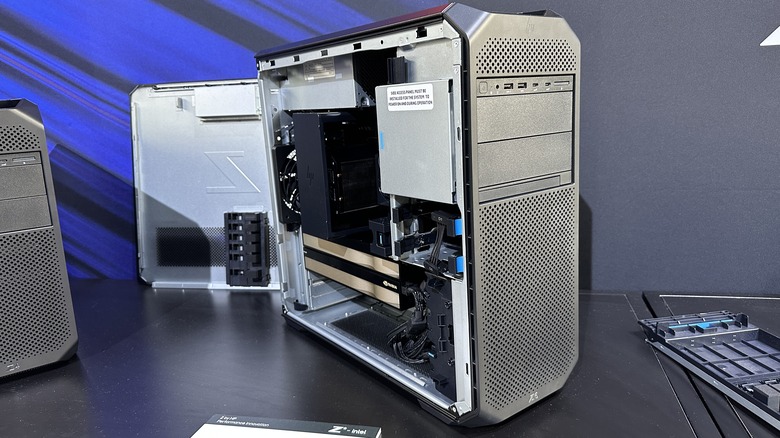 Adam Doud./SlashGear
Hewlett-Packard is known a maker of PCs, or personal computers. But today, it launched a new generation of prosumer computers with its Z lineup of workstations, and I got to attend the launch event at the Classic Car Club of Manhattan. "What does HP have to do with classic cars?" you may ask. I will explain, but first, let's talk about what HP is launching here.
Typical computers have a CPU and sometimes a dedicated GPU for graphics. The typical HP Pavillion desktop will have 8-16 cores in its CPU (for example, a 12th-geneation Core-i7), and maybe up to 4GB of RAM in its GPU. Those numbers can vary depending on the specifications and build that you choose, but the'yre about average. The Workstations HP launched today have up to 64 processing cores in the CPU and up to a terabyte of RAM from up to four double-wide, high-end GPUs. These are powerful machines built to deliver insane processing.
The announcements from HP include a number of new workstations including the Z8 Fury G5, the HP Z4 G5, the HP Z6 G5, and the HP Z8 G5. Along with that hardware comes HP software in the form of HP anywhere remote system control. That remote system control allows users to remote in from anywhere in order to control the workstation, even down to remotely powering the workstation on and off and adjusting BIOS settings.
Z8 Fury brings the fury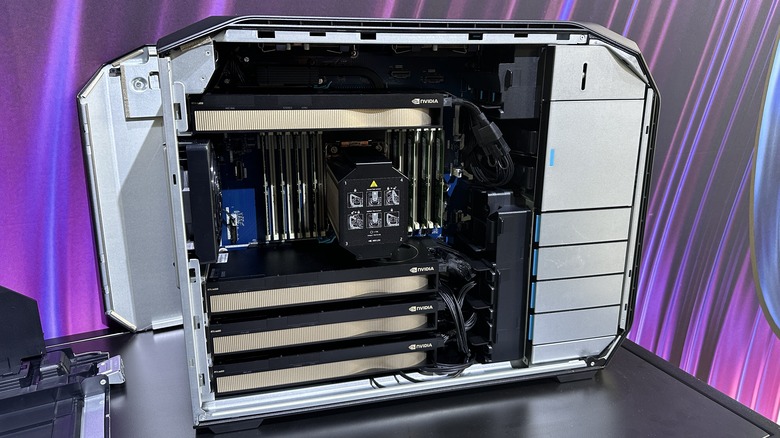 Adam Doud/SlashGear
At the top of the pyramid is the Z8 Fury, the flagship of the Z series. This workstation is highly configurable and can deliver massive power to any task you throw at it. The workstations HP had on display utilized 56-core processors designed by Intel and featured four Nvidia RTX A6000 graphics cards, each with 48 GB of RAM.
Further, HP and Intel designed a system code-named Sapphire Rapids, which allows a user to utilize either a CPU-heavy workflow, or a GPU-heavy workflow on the same workstation. HP explains that in the past when configuring your workstation, you had to choose between those two options. Now, you don't have to choose. You can unlock the power of your CPU and GPU at the same time to bring even more processing power to bear.
Additionally, you can configure up to four front-accessible, removable M.2 storage devices so at the end of the day, you can take them out and put them into storage or into a safe to protect your data. Finally, you can configure dual 1125W redundant or aggregate power supplies. Basically, if you want 100% uptime, you can configure the power supplies to be redundant so if one fails, the other kicks in. Otherwise, if you want to run full bore, both power supplies can work together. HP is really emphasizing flexibility in this lineup of workstations.
So, what can these workstations actually do? These aren't meant to be supercharged gaming rigs. That's where the classic car club comes into play.
Powering massive workloads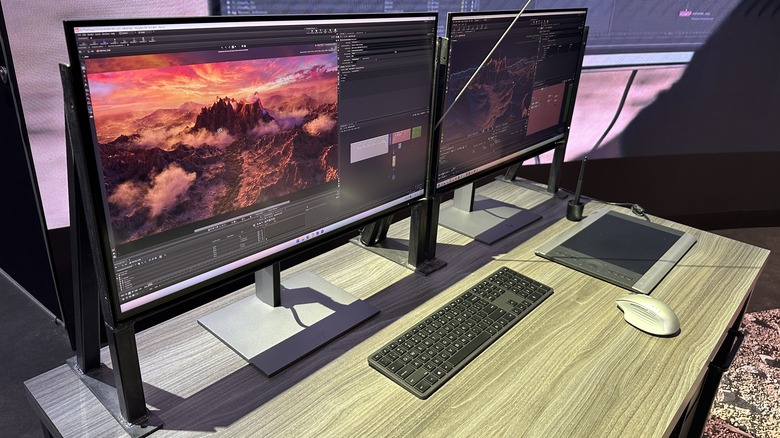 Adam Doud/SlashGear
HP wanted to show off the capabilities of these workstations in realistic scenarios. So, three companies came to see how it use the workstations. The first, and by far the most dramatic, was Tim Kafka from the Mill. The Mill is a VFX company based in the UK that uses the Z by HP workstation to build its visual effects and to demonstrate that capability, it showed a video of one of its designers rendering a scene in under 30 seconds. Kafka indicated that in the past, the scene being rendered would have taken 4-5 minutes on a year-old workstation. "Why 30 seconds?" you might be wondering. Well, it's because the Mill pushed this workstation out of a cargo plane and didn't allow the parachute to deploy until the scene was done rendering. Like I said, dramatic.
Next up, I spoke to Matt Cochran from Hendrick Motorsports, a NASCAR racing company that uses the Z workstations to process the data coming out of a live NASCAR race, in order to find advantages within the race to pull ahead. In the past, multiple workstations were required just to crunch the terabytes of data coming out of NASCARs feeds. Further, Hendrick can remotely access the data using HP anywhere to access data from the home base.
Enabling new capabilities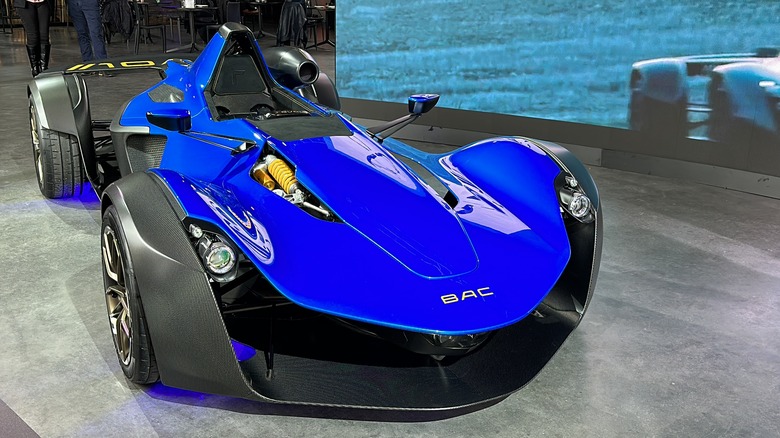 Adam Doud/SlashGear
Finally, I met with Ian Briggs of Briggs Automotive company. Briggs developed and sells the most advanced single-seat, street-legal supercars. Briggs works one-on-one with customers to tailor its vehicles to each individual person down to the form-fitting seat and steering wheel and custom paint jobs. In the past, Briggs was limited to showing rendered images of the car to the customer before it went into production. Today, using the Z Workstation, Briggs can create full 2-minute videos complete with ray tracing to show customers what their multi-million-dollar car will ultimately look like before it even goes into production. 
All three of these scenarios demonstrate the sheer power of Z by HP and they all do it in different ways, which is pretty cool. The Mill showed off super-fast rendering that used to take a long time. Hendrick showed off massive data crunching allowing the company to reduce its workstations and on-site staff. Briggs demonstrated new capabilities that simply weren't possible before.
None of these computers are for you or me. But they could be game-changing for businesses that need a ton of raw processing power in a relatively small package.