12 tips to make the most out of Surface Pro 4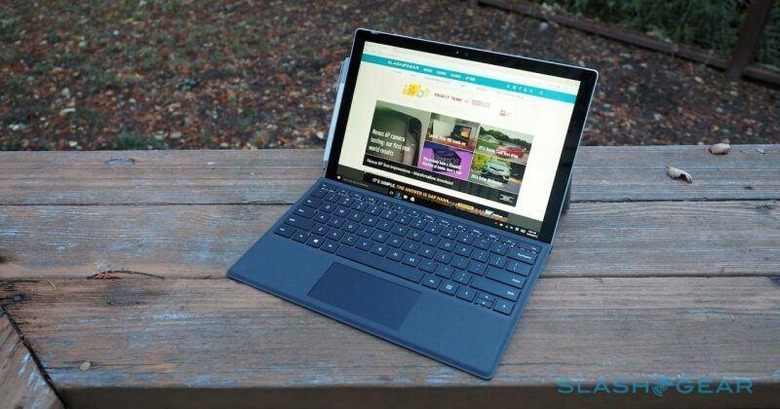 If you are anything of a tech lover, chances are, you got a new toy this season. Or maybe you're still planning on buying one while deals are still hot. And maybe, just maybe, you've got your eyes, and heart, set on Microsoft's not so latest but still current Surface Pro 4 "tablet that can replace your laptop". Whether you're already holding one in your hands or have booked an appointment with Microsoft Store, there are a few things you'd want to immediately do to start on the right foot with your new work, creativity, and entertainment partner.
Change privacy settings
As nice as Windows 10 may be, Microsoft botched its upgrade in many ways. One of those ways was with Windows 10's default privacy settings. Long story short, Windows 10, by default, isn't exactly very privacy-friendly. So before you connect to the Internet, or before you proceed further, double checking those settings isn't just a good idea, it's a necessity. Particularly the options for sending out Wi-Fi information to friends or turning your shiny new Surface Pro 4 into a BitTorrent-like peer for distributing updates should be given deeper thought. Or disabled in their entirety.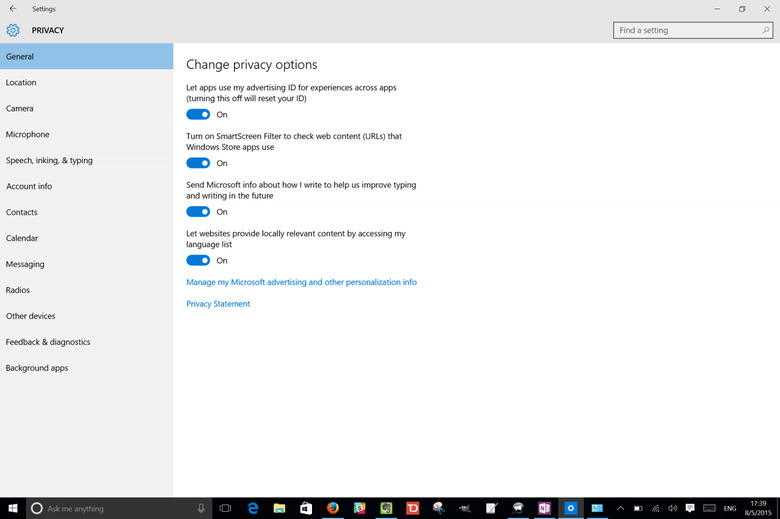 Update everything
Before you proceed with anything else, you'll want to run Windows 10's updates first. Chances are, there'll be a lot of them by now, so it give it some time. Not only does it get the repeated reboots out of the way as early as possible, it also gives you ample chance to put out fires, or get some help, if you run into issues early on.
Turn on Windows Defender
Much to the consternation of major anti-virus makers, Microsoft has started to develop and ship its own anti-malware software. If you have no other valid, working anti-virus software or subscription, the built-in Windows Defender is definitely better than surfing the Web or plugging in external storage stark naked. Of course, it does assume you put a bit of trust and faith in Microsoft, who doesn't exactly inspire confidence as far as malware protection goes.
Stock up on AAAA batteries
When you're out and about running errands, you might want to add AAAA batteries to your list. These power the Surface Pen and, depending on where you live, might not be readily available. Of course, it might not be a good idea to have too much, so at least be aware where you can buy some when the day comes. When all else fails, there's always Amazon. Just be sure you have a spare or two handy, just in case.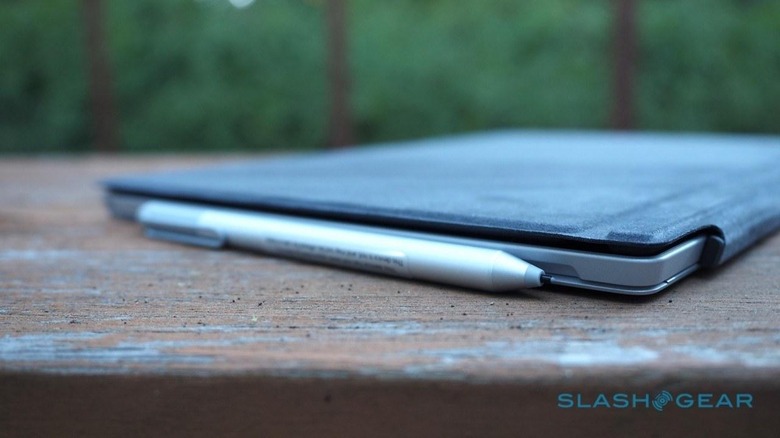 Enable device tracking
If there were one reason you'd risk even a little of your privacy, being able to locate your lost or misplaced precious device would be one of those. A clarification about this feature is in order. The Surface Pro 4 doesn't have a GPS radio so its location tracking basically uses Internet connections. And to make it even useful at all, you need to allow the Surface Pro to regularly update its location.
Microsoft, of course, promises to be really, really careful with your location data. One major drawback is that Microsoft has not yet implemented a way to remotely lock down or wipe a device in a worst case scenario.
Get comfortable with Ink Workspace
The Surface Pro 4 was designed with the Pen in mind, even if you yourself don't end up using it a lot. That said, you'll be missing out on some of the best things about the device if you ignore it. In the Anniversary Update, Microsoft introduced the Ink Workspace to make the Surface Pen more useful even for those who doubt their artistic and creative inclinations. Whether it be doodling directly on the screen for annotations or scribbling a note to yourself (or to Cortana), the Ink Workspace promises the best of both digital and analog worlds at your fingertips.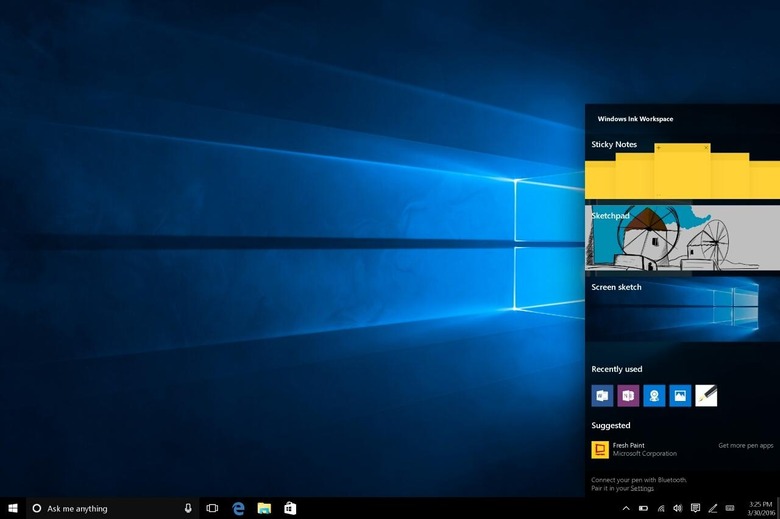 Bridge your mobile with Cortana
The one strange but welcome thing about Microsoft's mobile strategy is that it isn't greedily keeping its treasures to itself. Take for example Cortana, its virtual personal assistant, which is also present on Android and iOS, at least in the US. This fact allows Cortana to be more than just a glorified search engine on those mobile platforms. Cortana is the technology that bridges the gap between your Windows 10 PC, like the Surface Pro 4, and your smartphone, mirroring notifications, appointments, notes, and sometimes even allowing you to reply to messages right on your computer.
Configure desktop or tablet mode by default
Windows 8 introduced the duality of desktop and tablet in one OS but it was Windows 10 that refined it. Users have greater control in the experience they want, even on a tablet-like device like the Surface Pro 4. Whether you want to always be using it as a laptop or start out as a tablet, that choice is up to you. Of course, the magic happens when you let Windows 10 switch between the two modes as the occasion warrants.
Personalize your Start Screen/Menu
Connected to the previous point is controlling how your Start Menu, or Start Screen, behaves. Whether you want it to popup full screen even in desktop mode or make room for more tiles is, again, under your control. There aren't as many toggles available for the Start Menu, but those that are there are significant. You might, for example, want to turn of Windows 10's recommendations of apps, which borders on advertisement.
Setup Windows Hello
The Surface Pro 4 has one feature very few Windows 10 PCs have, even the newer ones. It was the first to debut Microsoft's facial recognition authentication under its new Windows Hello system. It's definitely faster and feels more futuristic having you device open up at the sight of your glorious face. But don't worry, you still have a PIN to fall back on, in case the Windows Hello camera isn't able to easily recognize you. For best results, make sure there's ample light around you.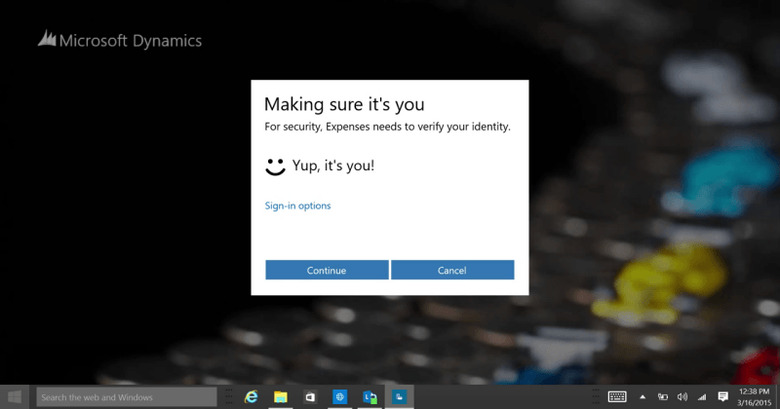 Grow (buy) a Skin
The Surface Pro 4's sleek and industrial design is definitely one of its most striking visual traits. Sadly, like many pretty things, it isn't impervious to damages, scratches, or even stains. If you value longevity over flaunting the Surface Pro 4's rear, you'll want to get some protection for it. Unlike a full case, a skin would at least let you show off some design taste so you won't be completely sacrificing looks for utility.
Install these apps
A personal computer wouldn't really be useful without software that makes it personal. For your new Windows 10 Surface Pro 4, you'll definitely want a team of Windows 10 apps to take you through the day. Admittedly, the list of Windows 10 "Universal Windows Platform" apps isn't that much yet, though it's certainly better than the last Windows platform. Fortunately, you can always install those "legacy" but still ubiquitous win32 programs. But for a roster of some particularly useful Windows 10 apps, here's a few to get you started.
• Todoist – There are tons of productivity tools and todo lists out there, but few offer a complete set of cross-platform apps like Todoist. Yes, it has a native Windows 10 app, not just a wrapper around a Web app. Microsoft's own Wunderlist comes a close second for those who worship lists.
• Nextgen Reader – Some might claim that RSS is dead, but news feeds still rule the Internet. Google Reader may be long gone, but Feedly is definitely more than capable of picking up after it. For Windows 10, Nextgen Reader is the next best thing for a Feedly client, offering similar keyboard shortcuts in desktop mode and a nice "Metro"/Modern design for the touch-friendly version.
• Latermark – Pocket is another popular Web service that sadly doesn't have a native app on Windows. No matter, because Latermark definitely fills in its large shoes. Although some features are hidden behind a paywall, the free version is more than enough for your basic "read it later" needs.
• Sketchable – For the more artistic types, Sketchable is the new kid on the block. Free but with in-app purchases for more tools and features, Sketchable is quickly becoming the poster boy for the Surface line of tablets. Bonus points: it works with the Surface Dial, which will be compatible with the Surface Pro 4 next year.
• Netflix – The Surface Pro 4 is more than just for creating content, it's also for consuming them. And what could be better at kicking back and chilling out than binging on Netflix shows. Fortunately, there's a Windows 10 app for that too!
• Flipboard – Although it has seen better days, Flipboard remains one of the biggest names in curated written content on the Web and mobile. And while there's a less than pretty Web browser version, the Windows 10 app truly brings out what made Flipboard popular: that flipping animation.
• Instagram – Yes, Instagram is finally on Windows 10! At the moment it's a bit limited, but word on the street is that it will soon allow uploading photos and images that aren't on your Windows 10 camera roll. Fingers crossed!
Wrap-up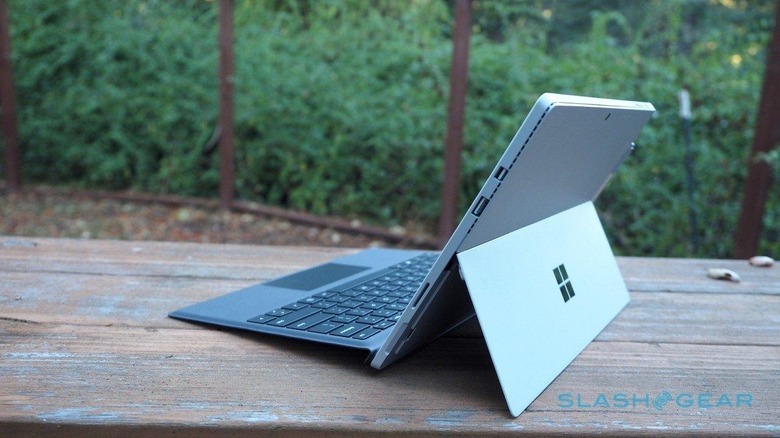 This is just the tip of the iceberg, of course. Windows 10 is almost a completely new beast from previous versions and the upcoming Creators Update promises to up that game even further. For now, though, enjoy playing around with your new toy.