Super Bowl 2023 Flyover Featured An All-Women Navy Pilot Team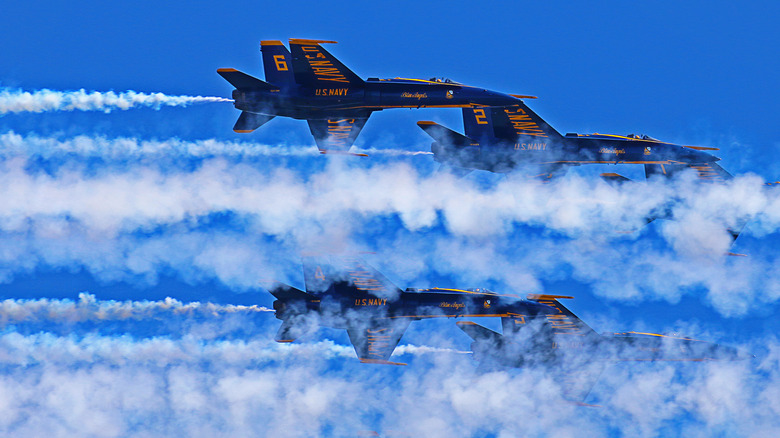 Joseph M. Arseneau/Shutterstock
History has been made in this year's U.S. Navy Super Bowl flyover. Traditionally four aircraft whizz over the venue, which is the State Farm Stadium in Phoenix this year, just as the pre-kickoff rendition of the national anthem ends. This year's flyover took place with the aircraft in a diamond formation, and the timing of the whole event has to be precise in more ways than one.
Our starting lineup is set! ⚓ 🏈

Here are the Sailors making this year's #SBLVII flyover possible. No matter who you are rooting for in the game, America's favorite team always has you covered! 💪 #SuperBowlLVII | #FlyNavy | #Flyover pic.twitter.com/7zMMKaq7mk

— U.S. Navy (@USNavy) February 12, 2023
The historic flight marks not just the Super Bowl, but the 50-year anniversary of women getting the green light to train as pilots in the U.S. Navy. For the first time, every member of the aircrew involved in the flyover is a woman. The first women, eight in total, entered Navy Flight School back in 1973, and the first female U.S. Navy Pilot, Rosemary Mariner, was assigned a jet a year after graduation. Fifty years on, women make up around 15% of all U.S. Navy Pilots.
History was made before kickoff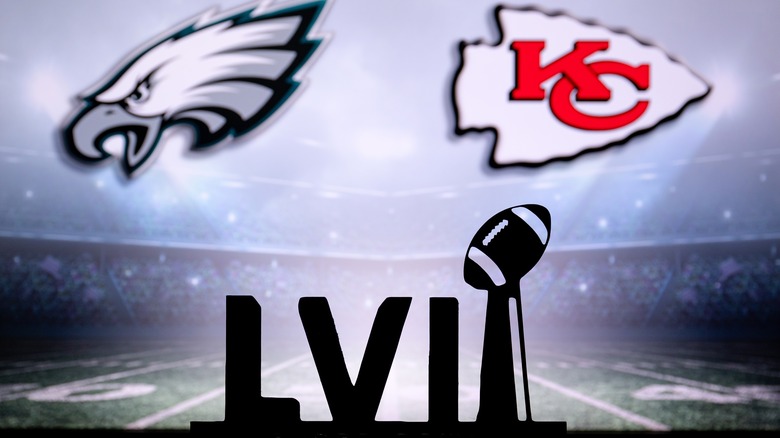 kovop/Shutterstock
Rosemary Mariner may have been the Navy's first female pilot, but there was another pioneering woman in the air this evening. Navy Lt. Suzelle Thomas, one of the pilots involved, is the first woman who qualified to fly the F35-C and was piloting one during the flyover itself. Navy Lt. Catie Perkowski, who was also in the formation, downplayed talk about gender making a difference. Speaking to Good Morning America before the event, she said: "What it boils down to is that we trained to do this job together. I didn't join the Navy to be a female fighter pilot. I joined the Navy fighter pilot, so to me, it makes no difference."
An unbelievable view of the #SBLVII flyover. ✈️ pic.twitter.com/3ccUy8BD4w

— NFL (@NFL) February 12, 2023
But Lt. Thomas isn't leading the formation, that honor falls to Lt. Peggy Dente. Speaking about the honor, Lt. Duente told CBS News: "I think it'd be crazy if you weren't a little bit nervous, but a little bit of nerves keeps you honest, keeps you humble and keeps you focused on the mission." Lt. Arielle Ash, another pilot involved in the flyover, added: "It's definitely a huge honor to be asked to do this and to celebrate those women that have paved this way for all of us." Everything went off without a hitch, and the flyover took place right on schedule — just as country singer Chris Stapleton closed out the U.S. National Anthem.