The 2024 Volkswagen Atlas And Atlas Cross Sport Are Going Upscale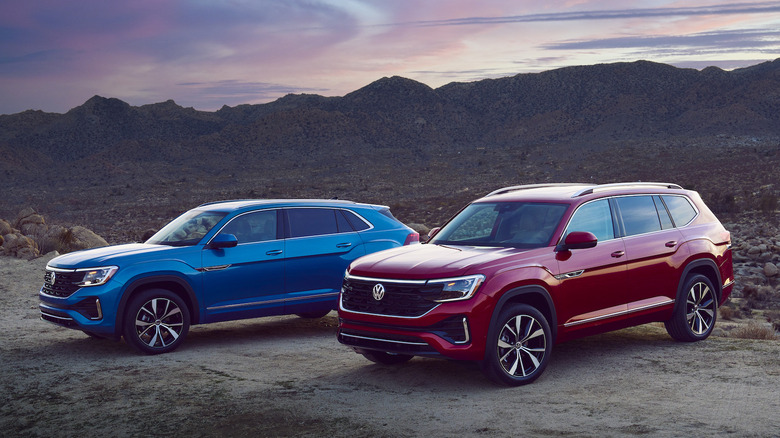 Volkswagen
It may have started as a "people's" car, but in recent years, Volkswagen has been about as middle of the road as you can get. Special editions aside, their hatchbacks are usually slightly better than those produced by likes of Vauxhall and Peugeot — with a higher price tag to match. At the other end of the spectrum, the Passat is a very comfortable car. 
But if you want a higher-end version of that exact same car, you need to pay a visit to another manufacturer operating under the VW umbrella — Audi. So that's where Volkswagen's been; operating in the area between luxury and value. VW has been providing good cars to a large portion of the market, but next year, things are set to change. 
With the release of the new Atlas and Atlas Cross Sport, Volkswagen has set its sights upmarket. We can expect premium fittings and fixtures, along with the improved performance you would expect from a high-end SUV. On top of all this, VW's driver assistance technology has a part to play. 
According to Volkswagen, the Atlas is the "first modern Volkswagen designed, engineered, and produced specifically for American buyers." Americans finally get one back after missing out on a number of highly anticipated releases from European manufacturers over the years. Revealed at the Chicago Auto Show, VW hopes to build on the Atlas' success by taking the vehicle to the next level.
Premium features are coming to the Atlas range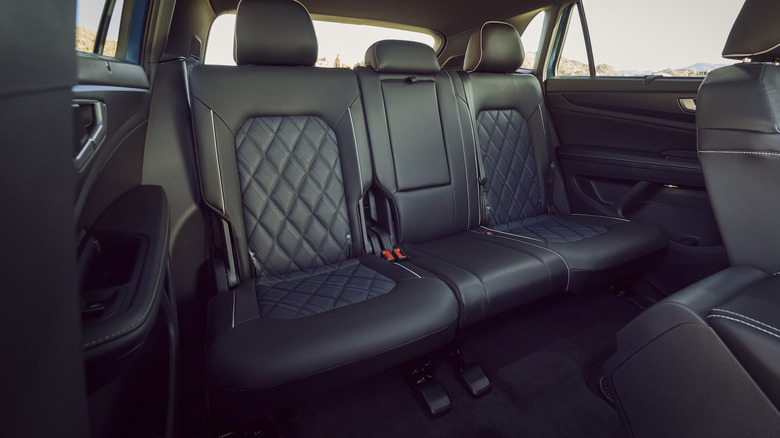 Volkswagen
You can spot a high end vehicle before you've even thought about turning the engine on. The quality comes in the smaller details, though the first thing you'll notice is the new front end, which has been overhauled to make the Atlas and Atlas Cross Sport more distinct. Expect a four bar grille and LED trims. Both vehicles have a spoiler, and a bit more LED lighting at the back too — and all of this sits on a set of 18 to 21 inch rims depending on the exact trim the buyer opted for.
Inside, there seems to be an increased amount of luxury and comfort. The German company's three-zone Climatronic climate control system ensures everyone will be at the right temperature. The heated steering wheel is going to be welcome on those winter mornings, while ventilated front seats should keep the driver cool and comfortable on those warmer days.
"Premium materials" have been added throughout, including a leatherette-trimmed soft-touch dash and center console. This carries on throughout the car, while LED ambient lighting sets the tone. If you really splash out, you can even get diamond pattern quilted leather seats. Other convenience features make an appearance as well, including phone charging ports and a 10.25 inch display to help manage everything.
Torque has been boosted, and the burden on the driver has been eased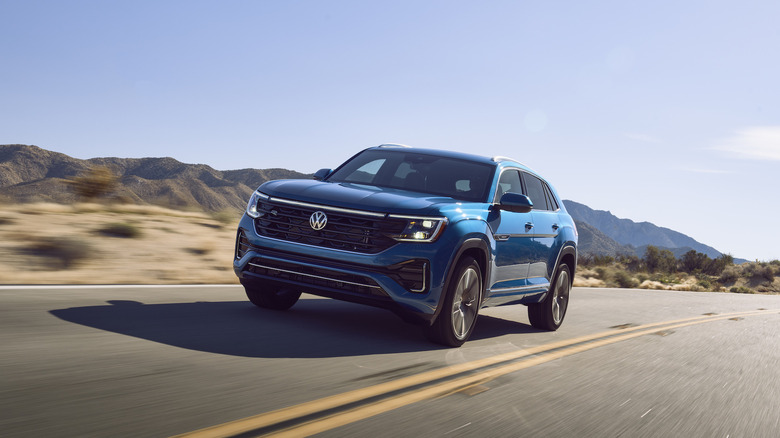 Volkswagen
Volkswagen's IQ.DRIVE technology, which the company describes as a "semi-automatic" level of assisted driving, is also present on the Atlas. The driver-assist program features a number of sensors that alert the driver to danger, along with adaptive cruise control to take a bit of the effort out of those long journeys. 
Of course, performance also plays a part. Under the hood, the previous four-cylinder engine has been replaced by a 2.0 liter turbo four cylinder, pushing out 269 horsepower and 273 foot-pounds of torque.
Offering more torque than the outgoing Atlas model, that power will make its way through an eight speed automatic transmission to the front wheels on the standard edition — with AWD available at a premium. Despite the increased torque, towing capacity remains at 5,000 pounds. Exact specs and pricing details are still to be released, and Volkswagen is expected to keep those cards close to its chest until the third quarter of this year.