Upcoming Metroidvania Games We Can't Wait To Play In 2023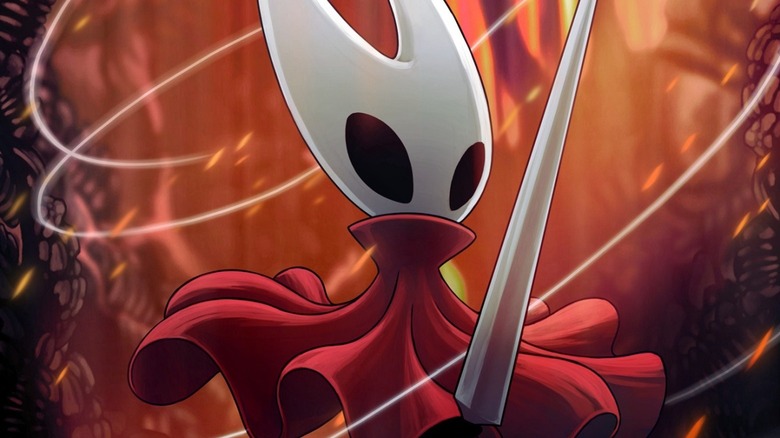 Team Cherry
Action-adventure games were forever changed in the late 1980s with the release of "Metroid" and "Castlevania II." Both of these titles introduced the idea of non-linear platforming, with players able to explore large areas and open new paths as they found additional items. Since "Castlevania: Symphony of the Night," these types of games have also often included role-playing elements so that the protagonist can be upgraded with new skills and abilities as the story progresses.
The popularity of Metroidvania games has exploded in recent years, with dozens of new releases coming out in 2022 alone. Many of these are indie games, but there are also plenty of examples of AAA titles coming from larger studios as well. In fact, some of the best games of modern times have been Metroidvania games.
Looking forward to 2023, one thing that is clear is that the next year is sure to have some very interesting Metroidvania games that any fan of the genre will want to check out. Whether it's a sequel to a critically acclaimed series or a brand new property, there will be something for everyone this year.
Biomorph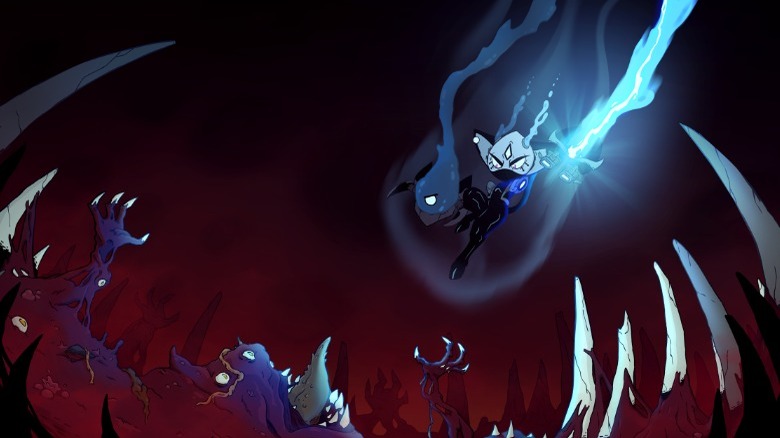 Lucid Dreams Studio
"Biomorph" is one of many Metroidvania games coming out in 2023 that also features soulslike mechanics. Anyone who has played a game such as "Bloodborne" or "Elden Ring" will be familiar with the idea of going out and exploring a large open world, something that "Biomorph" will task players with doing. Along the way, the protagonist will be able to find new abilities, upgrades, and designs to unlock additional weapons.
Perhaps the most compelling reason to check "Biomorph" out is the gameplay's focus on stealing powers from enemies. After defeating a creature, you are able to take on its form and use its unique skills for a short period of time. This opens up a wide range of possibilities in terms of battling other enemies and overcoming potential obstacles or puzzles that block the way. These monsters can even learn new powers of their own as they adapt to your playstyle and actions.
This is an interesting twist on the traditional Metroidvania formula and one that definitely has plenty of people eagerly anticipating the release of the game when it finally arrives on Nintendo Switch and PC later this year.
The Siege and the Sandfox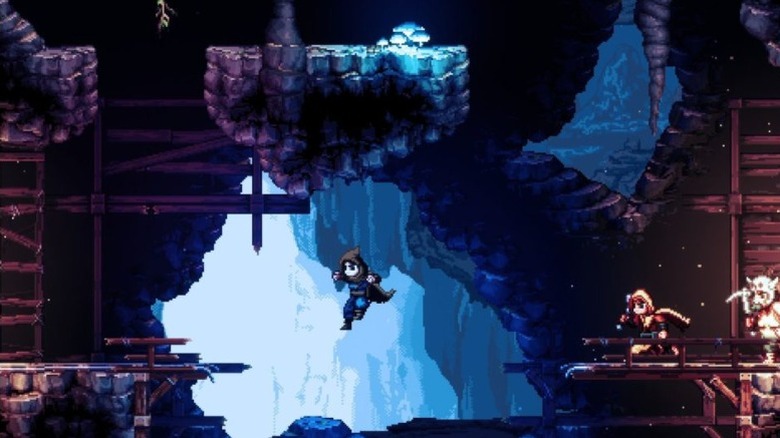 PLAION
Another PC exclusive, "The Siege and the Sandfox" stands out from other Metroidvania games with its focus on stealth. Set in a desert kingdom, the action takes place in the palace of the ancient city and its underground caverns. Using parkour skills to navigate the various environments, the player must do their best to avoid detection and discover ways to quietly dispatch enemies and deal with potential threats. This will require a slow and methodical approach that is very different from most Metroidvania games but will provide a good challenge to those who don't just like to go in all guns blazing.
Don't be fooled by the 16-bit graphics, either, as "The Siege and the Sandfox" features a vast open world that is interconnected through twisting tunnels and secret areas. Players take control of a notorious assassin who is falsely accused of killing the king and thrown in the palace dungeons. He must escape and reveal the truth of what happened to save the city from almost certain destruction by exacting his revenge on the traitorous Queen.
The Last Faith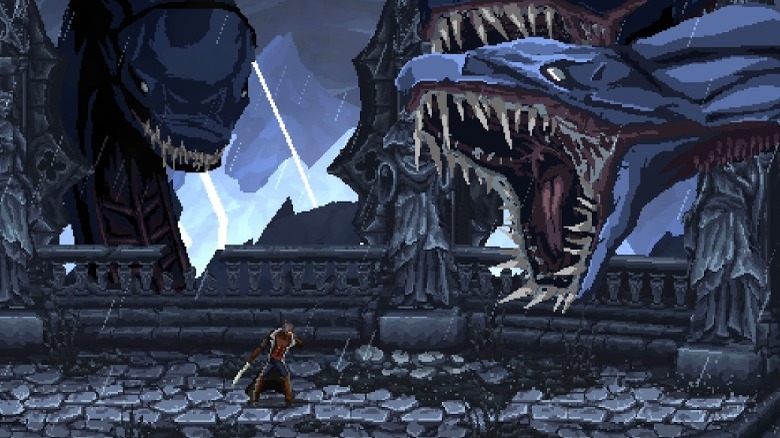 Playstack
"The Last Faith" is a Metroidvania game that has been described as a soulslike by its developer Kumi Souls Games. This means that it contains many of the same elements that games such as "Dark Souls" have, such as intense difficulty levels, a severe loss of progress if a checkpoint is not reached, and an RPG-like improvement for the protagonist. In the case of "The Last Faith," this involves a methodical combat system and challenging bosses that will likely take multiple attempts to beat.
Fans of "Blasphemous" will enjoy the similar art style and religious overtones, although "The Last Faith" does appear to be a very different game in terms of its precise swordplay and graphic executions. There's also a wide variety of weapons to choose from and a wide array of enemies. Taking control of Eric, players will learn more about the character who has lost his memory and slowly sees his mind deteriorate as he traverses the bizarre gothic region that makes up the environment.
Curse of the Sea Rats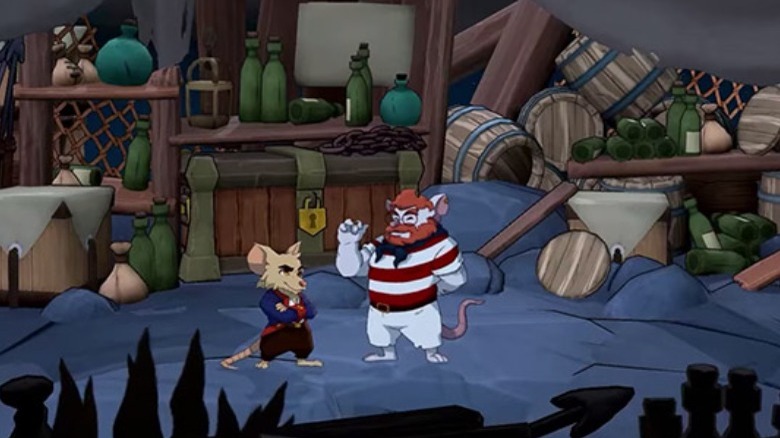 PQube
"Curse of the Sea Rats" is a hand-drawn and animated adventure game. Taking control of a human captain who has been turned into a rat by an evil pirate witch, you and your rodent crew must explore the world and hunt down Flora Burn to end the curse and return to human form. Set along the Irish coast, the four protagonists — Douglas, Buffalo, Akane, and Bussa — will also embark on a mission to rescue the son of an admiral and defeat a wide array of different bosses.
With a nonlinear story, players can also tackle the various areas at their own leisure, choosing where to go and what to do. With hundreds of rooms to explore and dozens of puzzles, "Curse of the Sea Rats" doesn't just focus entirely on combat, either, with secret rooms scattered throughout the mysterious island that hold special abilities and weapons. Unlike many other Metroidvania games, this release also included co-op gameplay, allowing up to four players to work together to stop the evil witch and break the magic spell she has placed.
Coming to stores in April 2023, "Curse of the Sea Rats" will be available on Nintendo Switch, PC, PlayStation, and Xbox.
Fallen Tear: The Ascension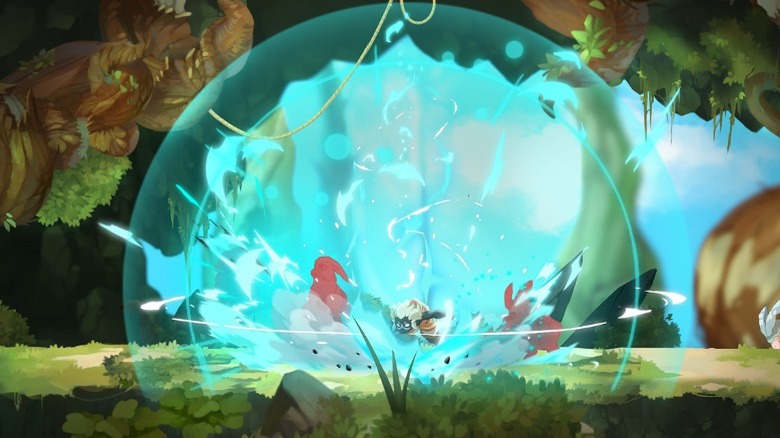 CMD Studios
"Fallen Tear: The Ascension" is a 2D Metroidvania from Winter Crew. Due to launch exclusively on PC, the game combines action, platforming, and role-playing elements together to create a very distinctive-looking experience. Closely resembling "Dust: An Elysian Tail," in terms of visuals at least, it features a hand-drawn animation style that brings the world and characters to life in a vibrant way. The story follows a young hero known as Hira and his attempts to bring balance back to the magical world of Raoah. Along the way, this child will have to fight a series of dangerous monsters and powerful enemies who oppose him.
According to the developer, "Fallen Tear: The Ascension" includes a world that can change depending on your actions and choices, while puzzles and obstacles will block the path. The vast open world of Raoah holds many secrets and characters to meet, some of whom can teach Hira new powers to add to his arsenal. With a colorful style and a fully-voiced cast, this game has a presentation that few Metroidvania games can rival and has enough content to provide up to 40 hours of gameplay when it releases this year.
Crowsworn
Mongoose Rodeo
As the name suggests, "Crowsworn" sees players take on the role of an anthropomorphic crow that carries a scary-looking scythe and several different guns as he explores the underground land of Fearanndal. A once great kingdom, the world is now filled with evil men and terrifying monsters. Exploring deeper in Fearanddal and uncovering the secrets it hides is the only way to find out exactly what happened and how you can be saved.
Developed by Mongoose Rodeo, the studio has promised stylish and fast-paced combat, where players are able to string together impressive combos. Delving further into Fearanddal will also unlock new abilities to provide even more ways to defeat enemies and get the upper hand. "Crowsworn" should offer plenty of value as well thanks to its 30 unique boss fights and the diverse range of more than 120 enemies.
With a soundtrack composed by J.J. Ipsen, the game features a hand-drawn 2D animation style and a mysterious story. Fans of "Dark Souls" and "Hollow Knight" will likely find plenty to like about "Crowsworn" thanks to its side quests and challenging gameplay.
Blasphemous 2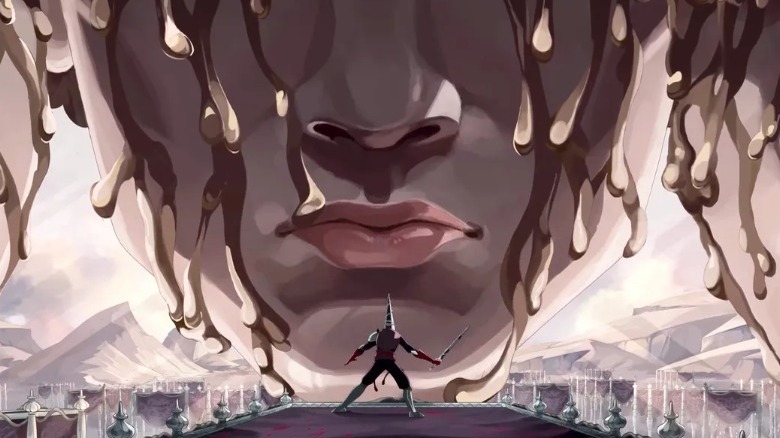 Team17
Developed by The Game Kitchen and published by "Worms" studio Team17, "Blasphemous 2" is a sequel to the 2019 game "Blasphemous." The first game took place in the fictional land known as Cvstodia with a knight who travels through the region as part of his pilgrimage. Using both melee combat and magic spells, this silent hero battles through hordes of enemies and attains a number of upgrades as he tries to overthrow the current leader of the church.
Very little has been revealed about "Blasphemous 2" so far, but if it is anything like its predecessor, then players will be in for a treat. After all, it currently sits with a Metacritic rating of 77 and has sold more than a million copies across all platforms (via Nintendo Life). Speaking to GameReactor, studio director Mauricio Garcia explained that the sequel would be "bigger and better basically, that's the summary." He also promised that more news would be shared in the near future.
The pedigree of "Blasphemous 2" means that even without any trailers or screenshots, fans will be excited to enter the world of Cvstodia again and once again take control of the Penitent One. What we can safely assume is that it will feature similar gameplay, including the ability to find upgrades and have to learn enemy attack patterns to successfully parry during combat.
Doomblade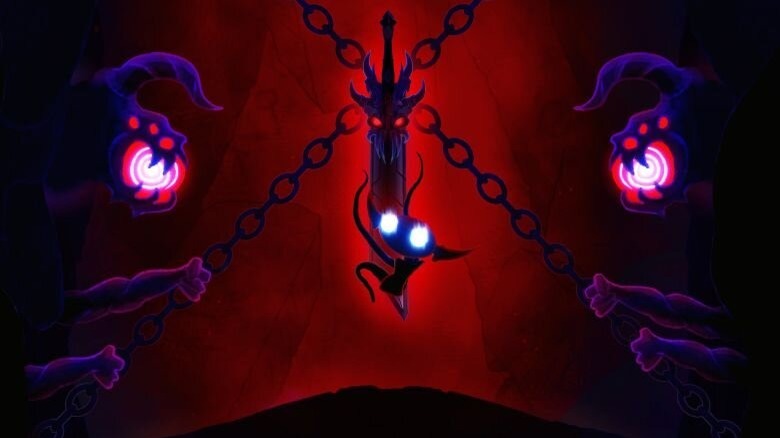 Iceberg Interactive
With an expected release date of sometime in the second quarter of 2023, "Doomblade" is an action platformer that sees a figure known as Gloom Girl team up with a sentient weapon called Doom. Together, the pair go out on a quest to kill the Dread Lords and restore order to the world. The last of her kind, Gloom discovers the ancient weapons and embarks on a journey to restore its powers and exact revenge on those who imprisoned it.
What helps "Doomblade" stand out from the many other Metroidvania games coming in 2023 are its colorful visuals and distinctive combat system. It has a similar animation style to titles such as "Ori and the Blind Forest," only with a more vivid color scheme, while Gloom fights enemies by floating through the air with the Doomblade to precisely target enemies and slice them up.
Developed by Muro Studios and published by Iceberg Interactive, "Doomblade" still doesn't have a specific release date but it should launch at some point in the second quarter of the year. Unfortunately, this also looks like another PC exclusive, meaning that console players may miss out on this game — at least in the near future.
Worldless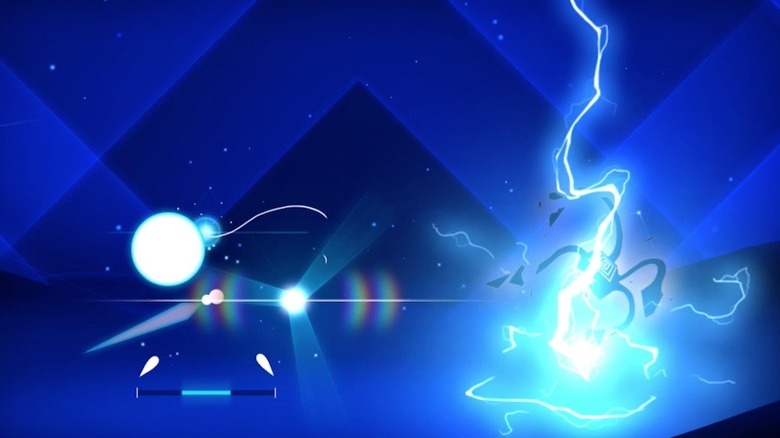 Coatsink
Some of the best Metroidvania games are the ones that don't give you too much information or guidance. Instead, they thrust players into the world to find out things for themselves. That seems to be the approach that "Worldless" is taking, with the minimalistic title dropping players into a strange world where the laws of physics don't apply and the universe has not yet taken form. Featuring highly stylized visuals, the story largely revolves around the astral and physical worlds colliding as they battle to become the dominant force.
"Worldless" certainly appears to have a more contemplative feel to it, with turn-based combat requiring a thoughtful technique and movement being slower than most other platform games. The charming graphics and the soothing orchestral soundtrack should also mean that it is a relaxing affair that won't be quite as frantic as you'd expect from a Metroidvania release. There's still no word on an exact release date but when it does become available, players will be able to experience a truly atmospheric world.
The Last Case of Benedict Fox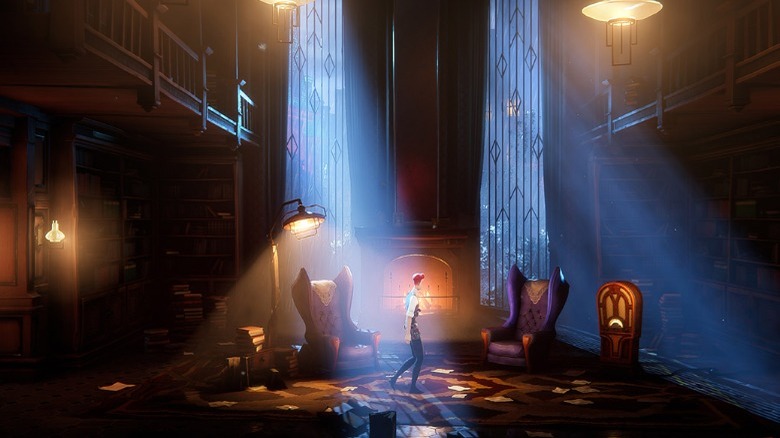 Rogue Games, Inc.
Coming to both PC and Xbox in 2023 is "The Last Case of Benedict Fox." This is a Metroidvania game with a heavier narrative focus than most of the other exciting prospects this year, thrusting players into the role of the titular Mr. Fox as he tries to solve a series of murders. With the help of his demonic companion, Fox is able to enter the memories of recent murder victims, looking for clues that will aid him in discovering exactly what happened to them in their final moments. In these strange dream-like worlds, the player will encounter how emotions and past traumas take on terrifying physical forms.
The story premise of "The Last Case of Benedict Fox" is enthralling enough but the game also has a striking appearance thanks to its Lovecraftian setting. Taking inspiration from Tim Burton's particular style and jazz from the early 20th century, this is a game that has a very different atmosphere to standard Metroidvania titles, especially with its lack of combat and an emphasis on exploring the world and overcoming puzzles.
Last Vanguard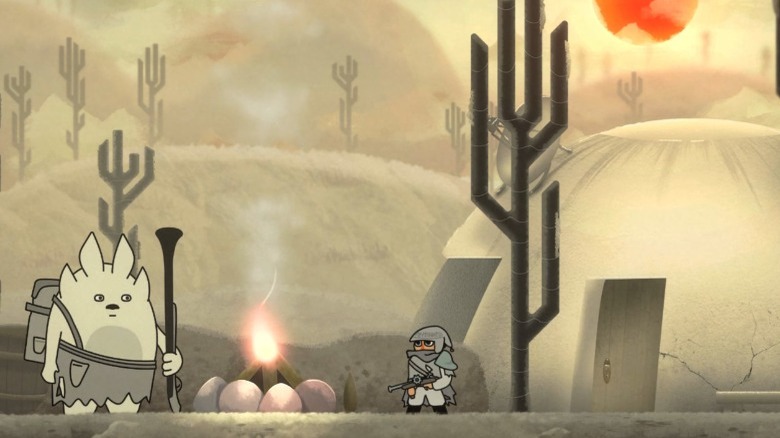 Cool Tapir Studios
From the new development team Cool Tapir Studios, "Last Vanguard" is an open-world Metroidvania game with a distinctive style. Taking a different approach to the standard pixel art visuals of most of the games of this genre, this release has a more comic book and cartoon feel that certainly helps it jump out from the screen and stand out from the crowd. The other way that "Last Vanguard" is unique is in the way it focuses on shooter gameplay rather than traditional melee combat, with players having to constantly find new guns and upgrade their weapons to progress through the story.
From what has been shown so far, it appears as if users will have a lot of options when it comes to customizing loadouts and choosing a playstyle that best suits their skills. Combined with the ability to choose different abilities, "Last Vanguard" should offer plenty of value in terms of replayability as well. With some 15 bosses to tackle across three varied dungeons, the game also looks like a frantic and difficult challenge.
9 Years of Shadows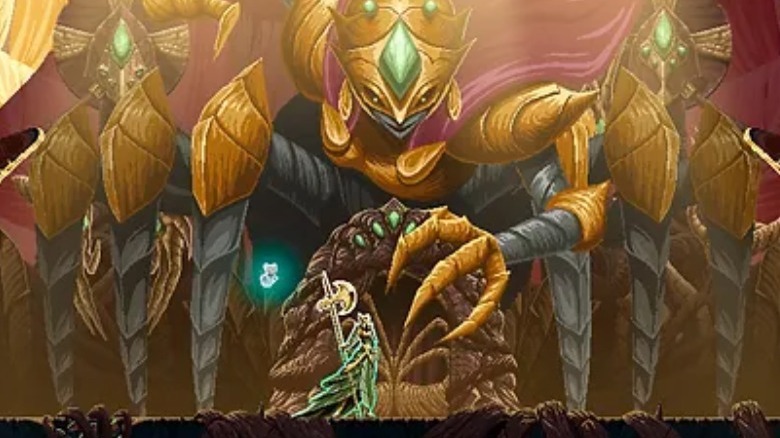 Freedom Games
"9 Years of Shadows" is the first game from Mexican developer Halberd Studios and the influence of the vibrant culture of that part of the world definitely has been showcased in what we have seen so far. In a battle to bring color back to the world, a young warrior known as Europa and her pet companion Apino delve into the depths of Talos Castle in an attempt to break the curse once and for all. Apino is not just a cute buddy, but someone who can lend a hand during the adventure, healing Europa and attacking enemies with magical projectiles.
Where this Metroidvania tries to stand out from the crowd is with some rather unique gameplay mechanics. Players can use the soundtrack to heal and take advantage of elemental armor to provide access to special abilities and allow the player to access new areas by manipulating earth, water, and fire. Switching between different armors during boss battles can open up more combo opportunities and give you a way to surprise enemies. There's still no word on when "9 Years of Shadows" will launch on PC following a previously stated November 2022 date, although it shouldn't be too far away.
Hollow Knight: Silksong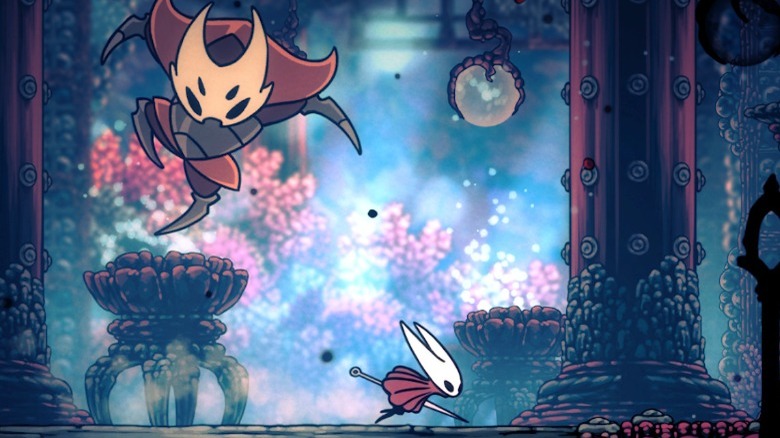 Team Cherry
"Hollow Knight" might well be the best Metroidvania game of the last few years, with the 2017 release winning numerous awards and achieving widespread critical acclaim across all of the platforms it was available on. The game followed a nameless insect knight who travels in the underground environment of Hallownest to rid the land of a curse. Along the way, the warrior fights an enemy known as Hornet, who is now the protagonist of the sequel "Hollow Knight: Silksong."
The fact that the new main character is a faster and more acrobatic figure gives the new game a different feel. Despite the gameplay being largely the same, it will involve gameplay that revolves around speed and platforming. This time around, the action takes place in a new area called Pharloom, a kingdom that Hornet is taken to, and she must climb to the top of the citadel to discover why she is there.
Coming to practically every platform, "Hollow Knight: Silksong" is expected to release in the first half of the year. One of the most eagerly anticipated games of 2023, if it has any of the same qualities as its predecessor, then it is sure to be a hit that will have players enthralled.