Why Some Nintendo Switch Games Force You To Use A microSD Card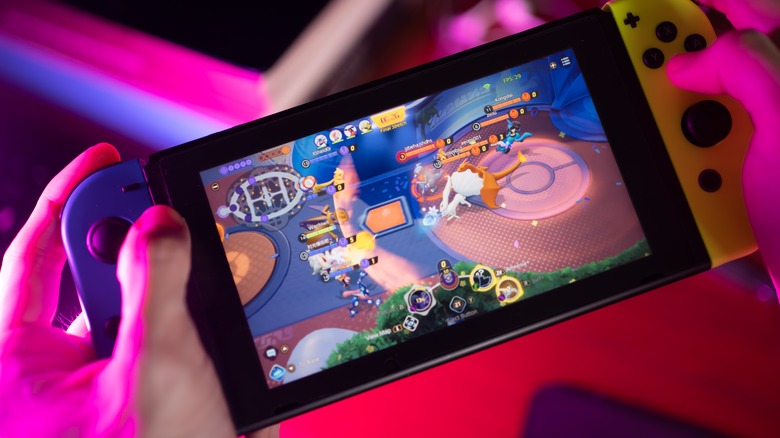 Wachiwit/Shutterstock
We may receive a commission on purchases made from links.
The Nintendo Switch is a fantastic handheld gaming console that comes in at a relatively low cost, but depending on the games you want to play, you may need to spend more to get the most out of it. One of the main culprits behind that necessity is its paltry internal storage.
For instance, you only get 32GB of storage on the original Nintendo Switch and Switch Lite. Even if you go with the Switch OLED, which offers 64GB of storage, the number is meager compared to the 500GB standard set by traditional consoles like the Xbox Series X|S and PlayStation 5. Factor in the slice your console takes for the OS and other system needs, and you can run out of usable storage quite quickly.
Though many game developers try their best to keep game file sizes petite enough to fit on the tiny cartridges that physical games are installed on, some games are too big and still need to supplement that data by downloading additional files to the console's storage. If that's not enough of a downer, some of these games, like NBA 2K22, also require you to have a microSD card, and Nintendo makes that clear on the box. We'll explain why.
Why some Switch games require a microSD card
As mentioned, the Nintendo Switch doesn't offer much storage space out of the box. This is fine if you only play one or two games, but the more you buy, the more you'll use. If you're keen on downloading your games digitally from the Nintendo eShop, you'll run out of internal storage space much faster.
But even if you're the type to stay locked in on one game that can fit entirely on the 32GB Switch, you might be forced to use a microSD card, regardless of whether or not you have a physical copy. This is especially true for games that are regularly fattened with additional content, either through routine updates or premium downloadable content.
Those games need somewhere to put new experiences, and if your internal storage is full, the microSD card is the only refuge available. In the case of the aforementioned NBA 2K22, it's so big that the required storage after the mandatory download eclipses the base Switch model's out-of-box maximum, thus necessitating the requirement.
Thankfully, these cards are increasingly inexpensive and nearly as fast as the chips built into the console. The Nintendo Switch supports microSD cards up to 2TB, which may be overkill. The sweet spot tends to be either 128GB or 256GB, depending on how many games you buy digitally. You can find Nintendo-branded cards from SanDisk in that range at very affordable prices.