This Futuristic Honda Motorcycle Concept Blended Timeless Design And New Technology
As the assembled masses walked by Honda's booth at the 1995 Tokyo Motor Show, they were treated to a concept motorcycle that would have a direct impact on bikes Honda had yet to make. The Zodia is the natural ancestral parent to both the mythical Valkyrie Rune and the entire series of VTX bikes (via Honda).
The Zodia was a Honda, but it was very much a departure from a typical "Honda." This cruiser was designed to look like a classic hot rod that had been blended with some space-age vehicle. While the lower half of the bike — the V-twin engine, exhaust pipes, and wheels — all scream muscle car, the top resembles something from an ethereal future.
We don't know if anyone on Honda's design team was a fan of H.R. Giger, but the bulbous yet oddly sleek curves of the fenders and gas tank, combined with the graceful arching fork and an integrated headlight that slopes back to (what looks like) a sculpted one-piece handlebar sure points to that. Giger was the Swiss artist famous for his distinct "biomechanical" airbrush style and whose 1976 painting "Necronom IV" was the inspiration for the xenomorph we see in the seminal '79 movie "Alien" by Ridley Scott (via Artnet).
But this concept bike's beauty wasn't just skin deep; it housed some genuinely remarkable features beneath its "senuous [sic] body lines" (as Honda put it). A V-twin 1500cc "maintenance-free overhead camshaft" spun the back wheel via an ingenious hydro-mechanical automatic transmission (aka Human Fitting Transmission). Basically, it's a continuously variable transmission (CVT) Honda would later use on its DN-01 cruiser in 2008 (via Motofomo).
From Zodia to VTX to Rune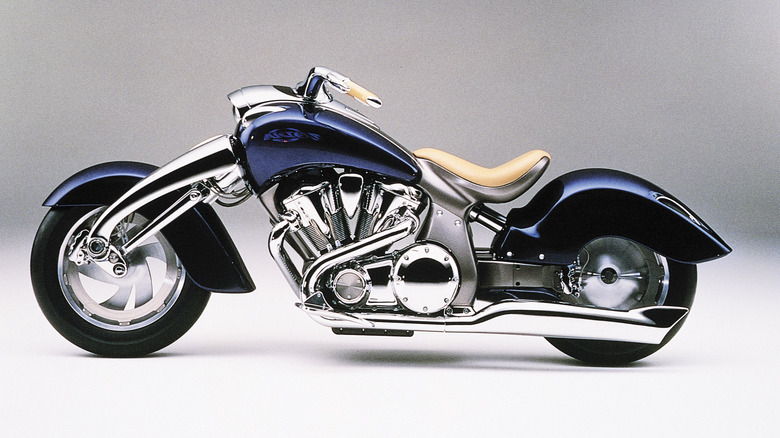 Honda
The trailing-link front suspension on the front of the Zodia is decades-old technology that more or less fell out of favor for the telescoping fork (via National Motorcycle Alliance). It eventually made its way onto the Rune with its incredible 9-inch differential. The single-sided swingarm on the back was tech typically seen on sport and GP-style bikes, but not cruisers.
Another interesting feature was the rim-mounted brake assist, with Honda using its combined Linked Braking/Antilock Braking System (via Honda). A linked braking system engages both the front and rear brakes simultaneously when either one is applied, resulting in better balance and control (via Honda).
As expected, the Zodia elicited "oohs" and "ahs," but since it was a concept bike, no one thought it would ever get made. Three years later, Honda began trotting out additional versions vastly different from each other, starting with the T1 and its Gold Wing flat-six engine in late 1998. In 2000, it showed off three more versions at the Cycle World Show in Long Beach, California (via TopSpeed).
The T2 is what the Rune takes the most design cues from, while the T3 was inspired by drag racing. Lastly, the T4 was explicitly built as an internal "exercise in construction techniques" (via Gold Wing World). Some of the design choices Honda showcased in these eventually made their way into Honda's line of "purpose-built" VTX hot rods beginning in 2001.