The Incredible Car Collection Pelé Was Gifted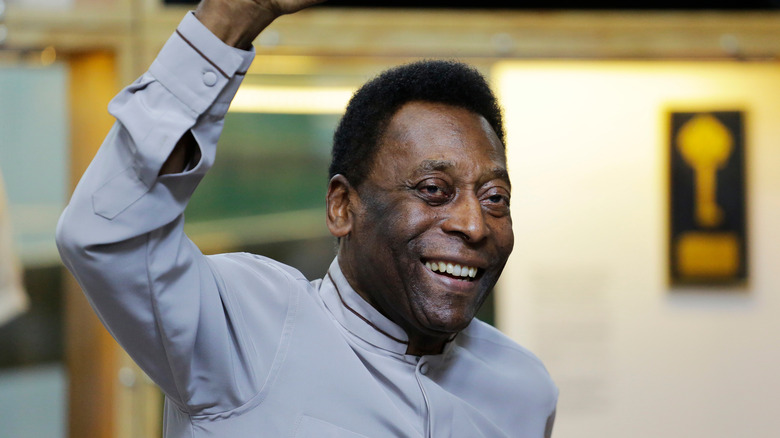 Nelson Antoine/Shutterstock
Brazilian soccer legend Pelé died on December 29, 2022, at the age of 82. The former forward was admitted to the hospital back in November and had been in treatment for cancer for over a year. Many people believe Pelé was the greatest player of all time. This included officials at FIFA who named him the joint player of the 20th century alongside Maradona. Pelé officially scored 643 goals for his club, Santos, though other claims put his career goals total at well over 1,000. Santos and the Brazilian Football Confederation put the total at 1,283 goals across all competitions if non-competitive matches are taken into account, for example. FIFA's official estimate sits at 1,281 goals across a total of 1,366 games (via BBC).
The Brazilian is also the only player to win three World Cups, having lifted the trophy in 1958, 1962, and 1970. He played a major part in Brazil's 1958 win, despite only being 17 years old at the time. The 1970 team he played a major role in is also considered by many to be the greatest international team of all time. Toward the end of his time as a player, Pelé played a short stint in the United States with the New York Cosmos. After he was done playing, he didn't leave the game behind. Pelé was a strong advocate for many causes and a regular feature at many FIFA events. Fame and success come with many perks, and Pelé received a lot of fairly expensive gifts over the years. This included a fair few cars.
Pelé received a couple of special gifts from Mercedes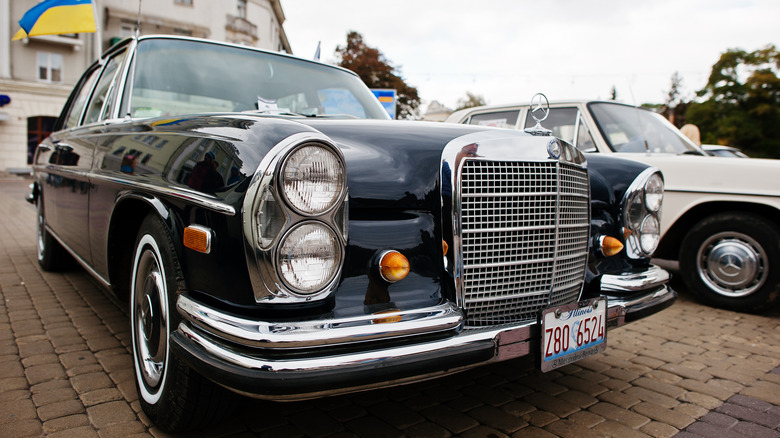 AS photostudio/Shutterstock
At the height of his fame in the 1960s and 1970s, Pelé received a couple of special gifts from German car manufacturer Mercedes. The legendary striker was initially gifted a Mercedes 250 W114, and that was followed by a 280 SE W108 (via AutoJosh). The 280 SE W108 is widely considered to be a predecessor to the Mercedes S Class, which has been pushing the boundaries of luxury and technological advancement for decades. 
Paul Bracq was responsible for the design of the highly spacious luxury vehicle, which made its debut in the late 1960s. The vehicle was available with a six- or eight-cylinder engine and buyers could choose between a model with a standard wheelbase or something longer. The vehicle also features single-joint swing axle suspension made from steel, and a luxurious leather interior (via Mercedes-Benz).
Pelé's Mercedes 250 W114 wasn't quite as luxurious as an S-Class, but was still a pretty nice saloon car back in the day; it boasted a 2.5-liter straight-six engine capable of producing 128 horsepower and hitting a top speed of 112 miles per hour. While Pelé's pace on the pitch may have been game-changing, the car he was gifted was a bit different. The 250 W114 took a pretty pedestrian 12.8 seconds to hit 60 miles per hour — but it was the 1960s and this isn't a sports car (via Ultimate Specs).
Other German manufacturers showered the star with gifts, too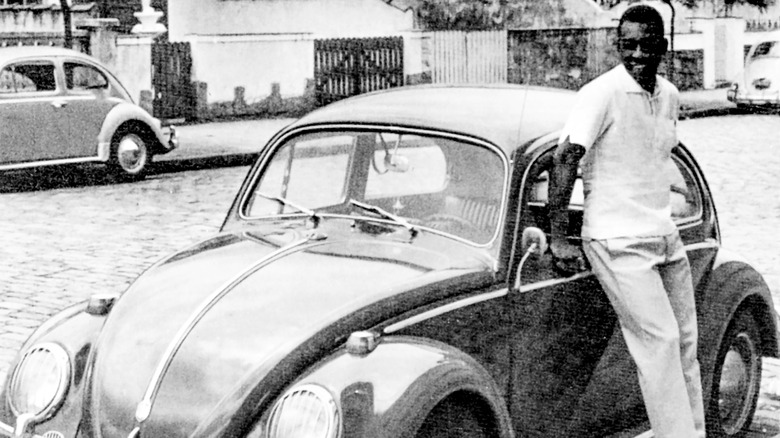 4imagens/Getty Images
Mercedes wasn't the only German vehicle manufacturer to put a car in Pelé's garage. The Brazil legend also received a BMW at one point, and Volkswagen gave him one of the most iconic cars it has ever produced. While other sports stars might be spotted in a Ferrari or a Lamborghini, Pelé spent his prime years bombing around in a Volkswagen Beetle. The Beetle is one of the best-selling cars of all time, though it has since been discontinued. 
The model's origins go back to 1938 when it sprung from a strange collaboration between Adolf Hitler and Ferdinand Porsche. It was immensely popular during Pele's 1960s heyday before sales declined in the 1970s. VW brought it back in the late 1990s before killing it for good in 2019. The megastar's relationship with Volkswagen didn't end with the Beetle he was driving back in the day. Pelé later signed on to be a brand ambassador for Volkswagen and even drove a Beetle as part of a promotional event that featured other Brazilian icons like Lucas and Neymar (via AdGully).
Not all of the cars in Pelé's collection were German. He also had an Aero Willys 2600 gifted to him in the 1960s. A large number of Aero Willys 2600s were manufactured in Brazil at the time. Nothing lasts forever, and as El Futbolero explains, Pelé eventually had to give up his collection of vehicles. As he hit his 80s, the former athlete was no longer in a position where he could drive himself around. Pelé instead relied on his personal driver to get him from place to place and parted ways with his car collection.