The Most Expensive Cars In Beyoncé And Jay-Z's Collection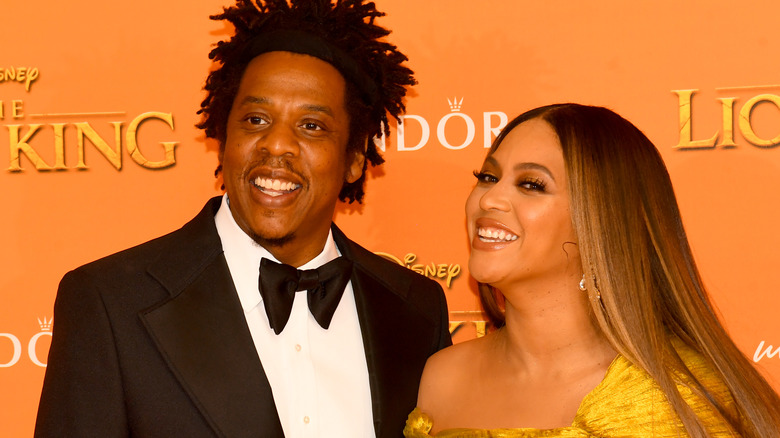 Dave J Hogan/Getty Images
Jay-Z and Beyonce are known the world over as a power couple, as well as being two of Hip-Hop and R&B's top-selling solo artists. They have 52 Grammy Awards combined and are tied for most Grammy nominations. Beyonce and Jay-Z continue to raise the bar in R&B and Hip-Hop, both amassing an impressive music catalog. But there's another catalog they've amassed that's equally wows — their car collection.
Jay-Z often raps about the topic, with cars being a huge part of his life. In his song "Empire State of Mind," Jay-Z says, "Cruisin' down 8th Street, off-white Lexus," referencing his 1993 Lexus GS 300, and how he distributed his debut album "Reasonable Doubt" out of the trunk of his car. Jay-Z featured his GS 300 in his music video for "Dead Presidents," and on the 10th anniversary of "Reasonable Doubt," he drove a Lexus GS 300 onto the stage at Radio City Music Hall in 2006.
In Beyonce's music videos, meanwhile, she tends to destroy cars. Her garage, however, consists of a collection of classic and exclusive luxury cars. Together, Jay-Z and Beyonce have a car collection estimated to be worth over $23 million.
Exclusivity is the name of the game for the Carters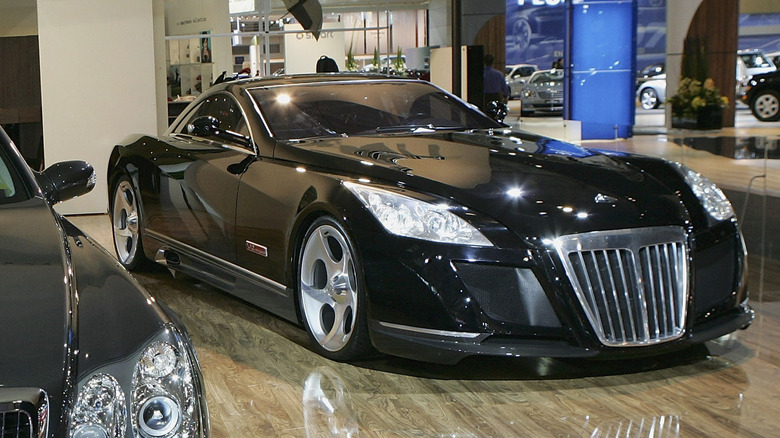 Cameron Spencer/Getty Images
Having a nice car collection is nothing new or unusual when it comes to celebrities. However, Mr. and Mrs. Carter have a collection of cars that includes some of the most exclusive models in the world. One such car is their 2004 Maybach Exelero. The Exelero was a collaboration between Italian manufacturer Stola and DaimlerChrysler. They only manufactured the Exelero once globally, making it one of the most expensive cars in the world at $8 million.
In addition to supercars and luxury limousines, the couple also owns the most expensive armored SUV in the world, the 2012 Dartz Prombron, priced at $1 million. According to Top Gear, the Dartz Prombron has a V8 engine and is made of Kevlar, carbon, and a special hexagonal carbon fiber. Dartz Prombron is based on the Hummer H2 and was built by the Latvian military-spec SUV manufacturer for the film "The Dictator." Jay-Z ordered a special edition Dartz Prombron to protect his growing family.
In Jay-Z's "No Hook" from his "American Gangster" album, he raps, "Rolls-Royce, keep my movements smooth while maneuvering, through all the manure in the sewer that I grew up in." Rolls-Royce may well be the couple's favorite auto brand, as they own three, including the 2017 Rolls Royce Phantom VIII valued at $450,000. The Phantom is a 4-door limousine with a top speed of 155 mph, according to Automobile Catalogue.
Beyonce and Jay-Z bought each other these expensive cars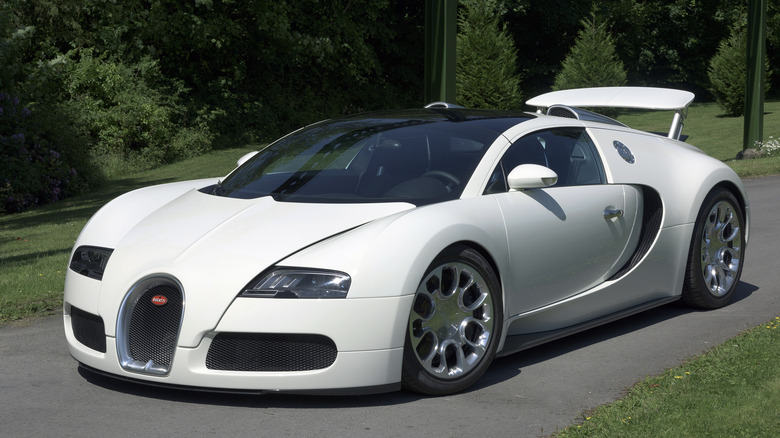 Heritage Images/Getty Images
Jay-Z and Beyonce both have an affinity for expensive and rare vehicles, and one of the ways the hip-hop royalty expresses their love is to buy each other exclusive cars. Jay-Z bought Beyonce a baby blue 1959 Rolls-Royce Silver Cloud II for her 25th birthday, for example. The 2 door convertible was built with a 6.2-liter V8 engine; it has a 4-speed automatic transmission and is capable of 200 horsepower. When Jay-Z gifted Mrs. Carter this Rolls in 2006, it was valued at over $1 million.
In turn, the "Lemonade" songstress bought Mr. Carter a 2010 Bugatti Veyron Grand Sport valued at $2 million for his 41st birthday. The 2-door, 1,001-horsepower hypercar relies on its quad-turbocharged 64-valve W16 engine in order to hit 200 mph in just 14 seconds, according to MotorTrend.
That, though, could be a drop in the ocean compared to a more recent purchase. Since the summer of 2021, rumors have circulated that Jay-Z bought Beyonce the most expensive car in the world, a Rolls-Royce Boat Tail. Valued at $28 million (before taxes), Rolls-Royce only plans to make three examples of the Boat Tail, with lucky owners hand-selected by the automaker itself. Jay-Z and Beyonce are reportedly one of three invited to commission a model to be custom-built for them, with lavish features of the drop-top including dual refrigerators for champagne and a custom umbrella.