Amazon's Jeff Bezos Just Gave Dolly Parton $100 Million: Here's Why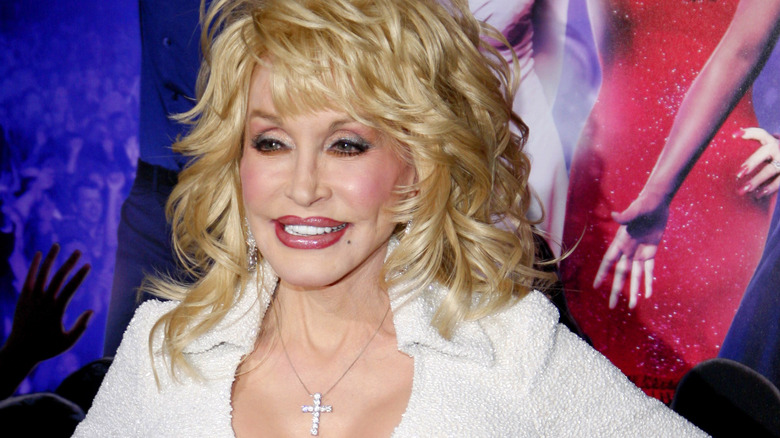 Tinseltown/Shutterstock
Amazon founder Jeff Bezos has handed a nine-figure sum to legendary country singer and charity enthusiast Dolly Parton. Bezos, who once held the title of world's richest man, currently sits third on the list (via CNBC). Amazon isn't the only company Bezos is associated with, he also took one step into the world of commercial space travel with Blue Origin. Blue Origin made headlines when Bezos stuck Captain Kirk on an unfortunately-shaped rocket and blasted into orbit, and now the billionaire is in the news again for his actions Earthside.
Since stepping down as CEO of Amazon, the Bezos has put a heavy focus on philanthropy and charity work — giving away hundreds of millions of dollars of his vast personal wealth. While the billionaire has backed a variety of causes, including the establishment of a $10 billion fund to fight climate change, his name is a notable omission from Bill Gates and Warren Buffet's "Giving Pledge" list. Dozens of the world's richest people have signed the pledge, through which they've promised to give away the majority of their wealth to "address some of society's most pressing problems." While Bezos isn't on the list, his ex-wife Mackenzie Scott is, as is Facebook founder Mark Zuckerberg and Bezos' space race rival Elon Musk. Despite not putting his name down, Bezos is still donating large amounts of money to good causes, and that includes putting a large check to the care of one of the world's best loved country singers.
Parton gets $100 million to spend on good causes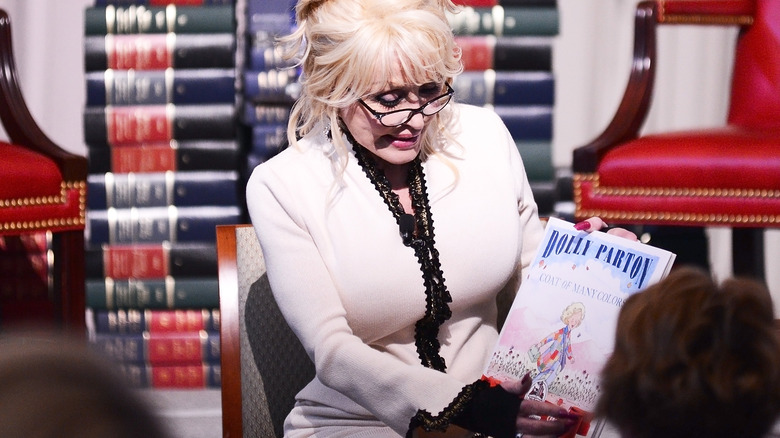 Shannon Finney/Getty Images
Bezos described Parton as someone who thoroughly embodies the ideals of his Bezos Courage and Civility Award. "She gives with her heart, what she's done for kids, and literacy, and so many other things is just incredible," he said. Bezos co-presented the award with his girlfriend, former reporter and helicopter pilot Lauren Sanchez. Describing the award, Sanchez claimed it "recognizes leaders who aim high, find solutions, and always do it with civility."
We've just announced a new Courage and Civility award recipient â€" @DollyParton, who leads with her heart, and will put this $100 million award to great use helping so many people. She joins prior awardees, @VanJones68 and @Chefjoseandres. Congrats, Dolly! pic.twitter.com/dzTuoGVp3G

— Jeff Bezos (@JeffBezos) November 12, 2022
When accepting the award, Parton started her brief speech saying, "Wow, did you say $100 million?" She added, "When people are in a position to help, you should help. And you know I've always said that I try to put my money where my heart is, and I think you do the same thing. I will do my best to do good things with this money. Thank you Jeff."
The country singer has yet to reveal exactly what she plans to do with the funds, but Parton has an extensive history of working with good causes, and that may give us a clue about how the rest of the $100 million will be spent. The two previous Bezos Courage and Civility Award winners are Van Jones of Dream Corps and José Andrés of World Central Kitchen, who were each given the prize during the inaugural ceremony held last year. The money is meant to be distributed to charities and good causes of the recipient's choosing.
Parton has a long history of charitable giving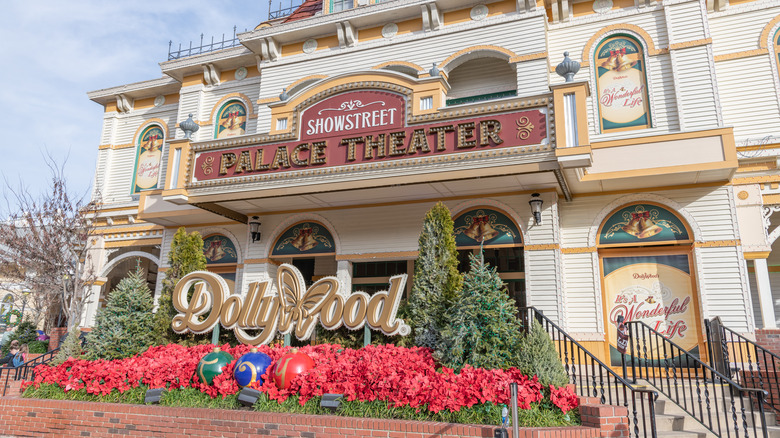 Michael Gordon/Shutterstock
Parton's main charitable efforts once centered around the "Dollywood Foundation," which shares its name with the theme park she owns in Tennessee. Her efforts help disadvantaged children "achieve educational success." It evolved into a local effort to a worldwide book distribution program called the "Imagination Library," which provides books to pre-school children around the globe free of charge (via YardBarker).
Although some of her charity work has gone global, many of Parton's efforts focus on her home state. Notable acts of giving include scholarships to high school student in Sevier County. Each year, students from the county receive $15,000 towards their college education courtesy of the country singer. Teachers can also qualify for a treat from Parton, with one inspiring educator per year receiving a week-long Dollywood vacation. She has also helped fund hospitals, victims of wildfires, vaccine research, a former manager, veterans, diabetes charities, and many other causes (via YardBarker). While you may think you can make an educated guess on where the money is going, Parton's decades of dedicated charity work makes it difficult to narrow down. One thing is for certain though, she is pretty well qualified when it comes to giving.