Rocket Lab Will Try To Catch Another Reusable Rocket Using A Helicopter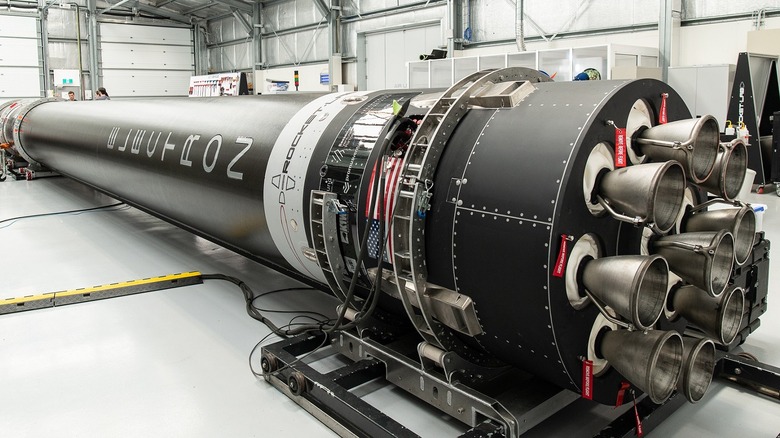 Rocket Lab
In May 2022, California-based space upstart Rocket Lab wowed the world by catching a rocket's first stage booster mid-air using a helicopter. It was a huge step toward achieving the holy grail of reusable rockets, an accomplishment only the likes of Musk-led SpaceX and Jeff Bezos-backed Blue Origin can brag about. Rocket Lab will attempt a second launch-and-recovery mission involving its in-house Electron rocket and a helicopter on November 4, 2022 (via Business Wire).
"We're eager to get the helicopter back out there and advance our rocket reusability even further by bringing back a dry stage for the first time," notes Rocket Lab founder and CEO Peter Beck. Once recovered, the Electron stage will be transferred to Rocket Lab's Auckland facility where it will be checked for reusability. The mission, dubbed Catch Me If You Can, will deliver the Mesospheric Airglow/Aerosol Tomography and Spectroscopy (MATS) satellite on behalf of the Swedish National Space Agency (SNSA).
We're bringing back the helicopter.

Catch Me If You Can – our next recovery mission to catch Electron in the sky with a helicopter – is set to launch in just three days' time. More info: https://t.co/v7D79w9tv6 pic.twitter.com/N4LWirEAZf

— Rocket Lab (@RocketLab) November 1, 2022
The MATS science research satellite will help the experts over at SNSA study the wind and weather dynamics in the upper layer of the atmosphere. During the first helicopter-assisted rocket recovery mission back in May, Rocket Lab's Electron launch vehicle injected 34 satellites into orbit. Notably, Rocket Lab has also been selected by NASA for delivering the CAPSTONE mission to the moon and it is also working with Japan's JAXA space agency to handle the space debris problem.
How do you catch a rocket mid-air?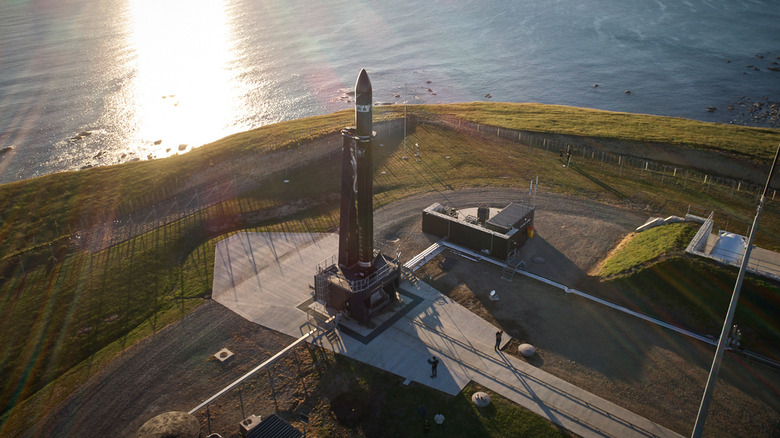 Rocket Lab
The Electron rocket launch system is capable of delivering payloads weighing up to 330 pounds at a peak altitude of around 310 miles. The second stage, which pushes the payload, relies on a Rutherford Vacuum Engine for propulsion, while the reusable first stage packs nine Rutherford Sea Level Engines, with each unit generating 5,600 LBF pound-force.
Just over two minutes after the launch, the Electron rocket's second stage will separate and continue its ascent to the orbit with the payload inside. The first stage, which is going to withstand a temperature of up to 4,352 degrees Fahrenheit as it falls down with a speed of over 5,150 miles per hour, will deploy its parachute system five minutes after separation. The parachute will slow down the fall speed to a much more manageable 22 miles per hour, at which point a helicopter will swoop in at the same speed to catch it mid-air. The catching part is handled by a customized capture hook attached to a Sikorsky S-92, which is a twin-engine helicopter that is capable of flying at a speed of 190 miles per hour and carrying huge payloads.
The company says its first "There And Back Again" mission was successful, as the recovered and refurbished Rutherford engine passed all the pre-launch quality tests. The ultimate goal is to capture the engine assembly in such a shape that it can be used for repeat missions without requiring much work.