Logitech G FITS Review: A Steep Price To Be Underwhelmed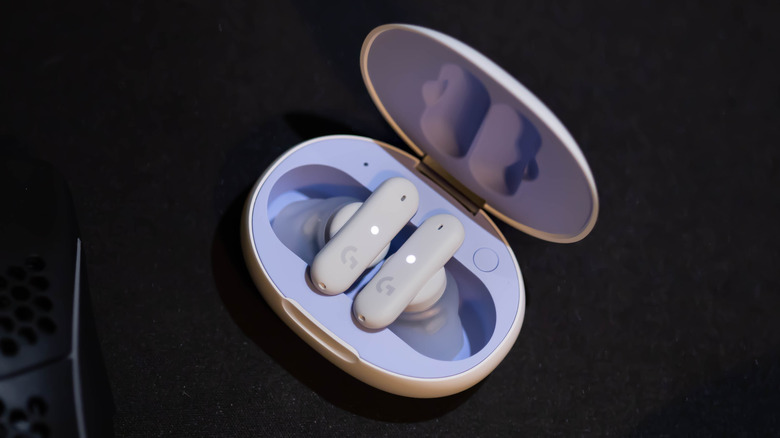 S.G. Howe/SlashGear
A recent launch in the Logitech G Series caters to gamers on the go. The G FITS true wireless earbuds are meant to satisfy your audio and microphone needs whether they be on a PC, a console, or portable platforms like laptops, Switches, and mobile phones.
The earbuds utilize reduced latency Bluetooth to achieve this adaptability, but Logitech didn't stop there. The brand implemented its LIGHTSPEED connection technology through a USB-A dongle for clearer, faster microphone and audio capabilities. And that's all well and good, but the biggest point of interest in these earbuds (in my opinion, at least) is the inclusion of LIGHTFORM ear tips, which use UV light to harden the gel-filled earbuds into a mold customized to your inner ear. The seal is meant to provide optimal comfort and stability as well as unbeatable noise cancellation.
It is an impressive rap sheet of features for sure. Logitech G provided me with some earbuds to make this review possible.
What's in the package, specs, and system requirements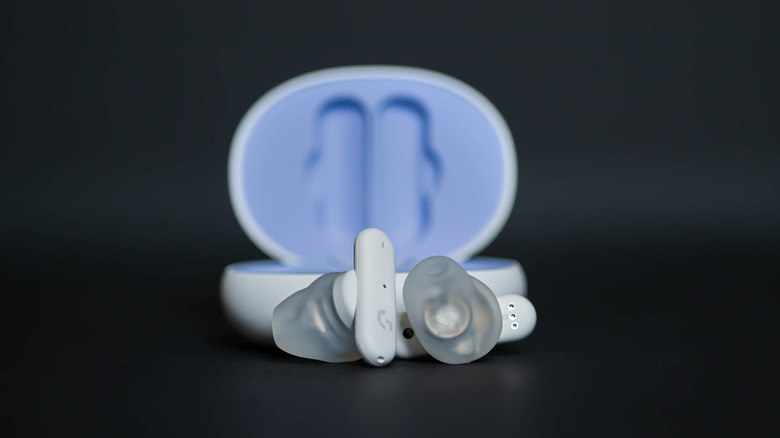 S.G. Howe/SlashGear
The G FITS come in two color options: white (with a white and lavender case) or black (with a black and neon yellow case). The package includes the earbuds and case, one set of LIGHTFORM ear tips, the LIGHTSPEED dongle, a USB-C adapter, and the case's USB-C charging cable.
To utilize LIGHTSPEED, the earbuds require Windows 10 or later on PC, 10.14 or later on macOS systems, Playstations 4 or 5, and Android 9 or later. Any device with Bluetooth capabilities can connect to the earbuds via Bluetooth.
Dimensions and specs for the G FITS are as follows: 0.25 ounces each in weight, 35.0 x 22.8 x 0.96 inches, a 20Hz-20KHz frequency response, 16 Ohms impedance, and dual beamforming microphones.
Print instructions in the package are scarce, but I get more into my frustrations surrounding setup and instructions next.
My setup and connection woes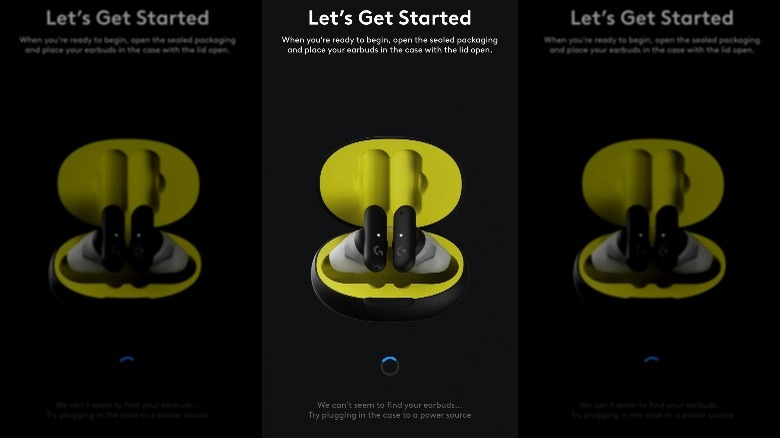 S.G. Howe/SlashGear
The package comes with a QR code for downloading the earbuds' corresponding app — but the code is on the back of the instruction booklet and the sheath it comes in, with no mention of the app in the instructions themselves. So, since any logical person reads from front to back, I didn't think to check for an app to download until later, which I think contributed to my issues.
The headphones will likely arrive with no battery charge, so you'll want to plug them in right away. Getting the headphones connected via Bluetooth is breezy, as long as you follow the specific sequence of events listed in the instructions. However, when I finally downloaded the G FITS app, getting the app to recognize the earbuds was a struggle. 
The app will prompt you to connect your product via Bluetooth, but they were already connected to my phone — I could see that in my iPhone's Bluetooth menu — but the app seemed insistent that there was nothing there. We were at an impasse, the app and I. I ended up having to forget the earphones entirely on my phone and go through the process again. If following the print instructions before the app is pointless, why didn't you tell me to download the app earlier?
A concerning inconsistency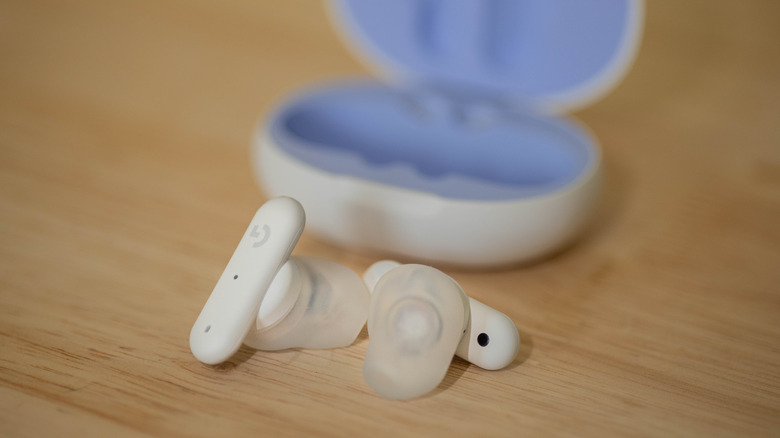 S.G. Howe/SlashGear
Here's the other problem. Let's say you, for whatever reason, don't have the print instructions. You accidentally threw them away, you got the earbuds secondhand, whatever the case may be. The instructions in the app are not the same as the print instructions. Remember that I said there's a specific sequence of things you must do to pair the earbuds? You have to put them in the case, close the case, open it again, and push a button — it's a whole ordeal.
But the app doesn't describe the same steps and doesn't mention the button at all. I gave the earbuds to a second person and asked them to attempt to connect them with only the app instructions, and they ended up having to go to Logitech's FAQ for help with connecting since the steps were obviously missing.
All in all, the Bluetooth connection and app setup process took maybe 15 minutes, so it's not a world-ending inconvenience, but it's a lot more complicated than your average set of earbuds.
The LIGHTFORM molding technology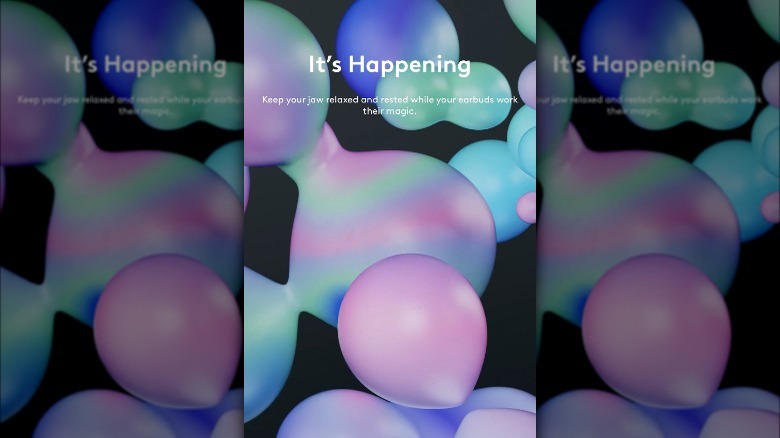 S.G. Howe/SlashGear
Once your earbuds are connected, you'll be prompted to create your custom fit. This is an easy enough task — you just put the headphones in, fidget with them until they feel right, and start the molding on the app. You have to sit still while the embedded LED lights do their things and the photopolymer ear tips heat up and harden, about a minute in total.
The earbuds didn't really feel any different after the molding, but perhaps I was expecting this monumentally improved feeling. I switched to some JBL earbuds I had on hand, though, and could definitely tell that the G Fits sat in my ears better.
If you deep dive into Ultimate Ears (developers of LIGHTFORM) and Logitech (parent company of Ultimate Ears) support tickets and FAQ, you'll discover that the earbuds should be protected from other light until they are ready to be molded. I think the amount of exposure needed to cause premature molding is probably pretty significant, but it still would have been nice to know.
It's also only by research that you learn the tips are single-use, meaning they can't be remolded. You can trigger another molding on the app, but it won't do anything. A new fit can only be achieved by purchasing new tips. 
At the time of this review, Logitech and UE suggest that they'll have replacement tips available for purchase soon — likely when the buds themselves become available for sale. At the moment, a pair of comparable tips can be found in the Ultimate Ears store online for $30. These comparable tips are meant to be used with the earbuds called UE FITS, otherwise known as Ultimate Ears FITS — earbuds that look nearly identical to the Logitech G FITS. The differences (as we discuss near the end of this review), lie in their version of Bluetooth and the inclusion of LIGHTSPEED.
What's up with the case and charging?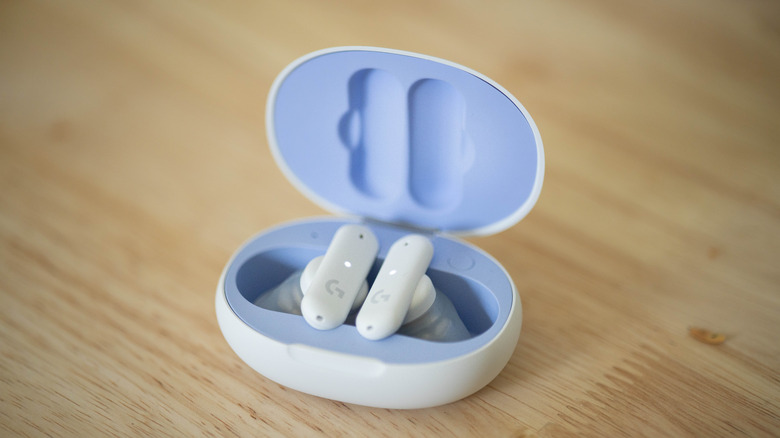 S.G. Howe/SlashGear
I am truly baffled by this feature of these earbuds. With their touted six-hour-minimum battery life, it was perplexing to use the earbuds for an hour, put them in the case overnight (with the case not plugged in itself), then find them dead as a doornail when I took them out to use again. But if I leave the earbuds out of the case on my desk overnight, they're still charged up and ready to go when I come back to them.
The only conclusion I can come up with is that the case, for some reason, keeps the earbuds on, draining power from both. There's no obvious way to turn the earbuds off, but it seems like they go idle and eventually power off if left alone, independent from the charging case. If you keep the case itself docked, you shouldn't have a problem, but that seems counterintuitive. 
Sound profiles and audio quality: Good for gaming, average for music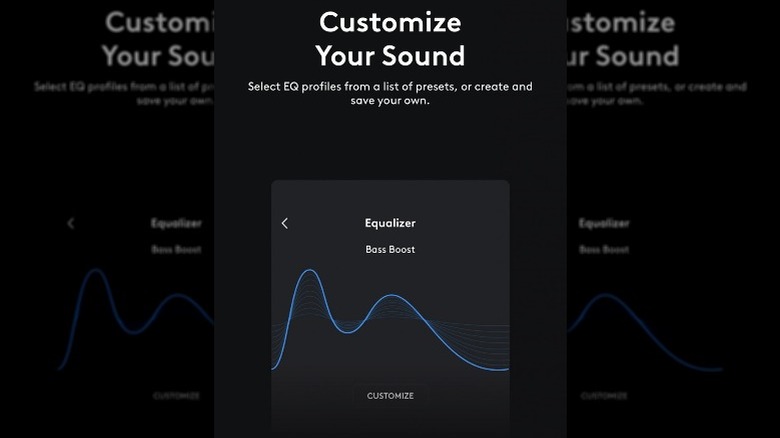 S.G. Howe/SlashGear
While it may seem that the earbuds have been nothing but a struggle so far. But the audio profiles and customizability really are nice. The equalizing features are perfect for tailoring the sound experience to your needs. I wouldn't describe the audio output as immersive or life-changing, and there are earbuds out there that are more tailored for a music-listening experience, but the freedom in sound profiling and prebuilt configurations that optimize shooting, RPG, and esports gaming make the audio good enough.
The default sound profile was, in my opinion, a little on the tinny side, but again, this can be easily changed. We also have similar feelings on the passive noise cancellation — it's not the best (my Airpods cancel noise better when doing so passively, with no white noise or anything) but it'll do for sealing out distractions while gaming.
The Discord dismay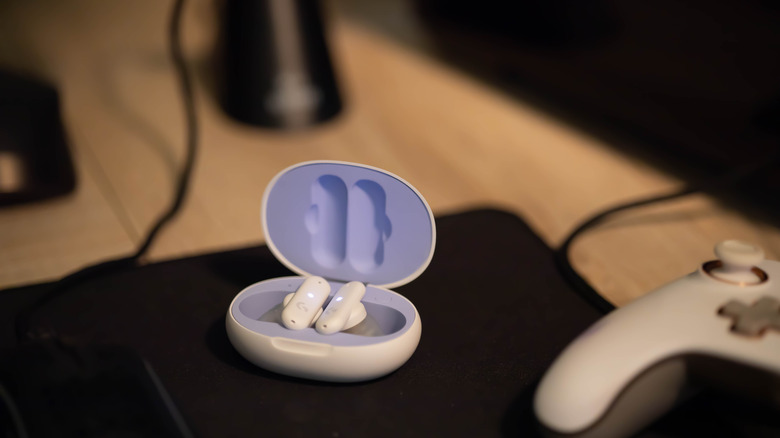 S.G. Howe/SlashGear
Another bizarre occurrence with the earbuds happened when I attempted to use them with Discord. I connected them via Bluetooth to a PC and attempted to hold a Discord voice lounge and launch a game at the same time, quickly finding out that I could have Discord audio or game audio — not both. The problem seems exclusive to Discord integration; I could stream music or sound from any other source along with the game audio, but as soon as I joined a Discord voice lounge, everything else was muted.
So if there are in-game voice chat options, you're fine. But if you rely on Discord for conversation while gaming, you're in trouble.
Maybe I missed something in terms of the G FITS app (you can get it on the PC too) and its integration with Discord. But (and I feel like a broken record here) if there's a special circumstance with Discord, why wasn't that stated anywhere?
Microphone is so-so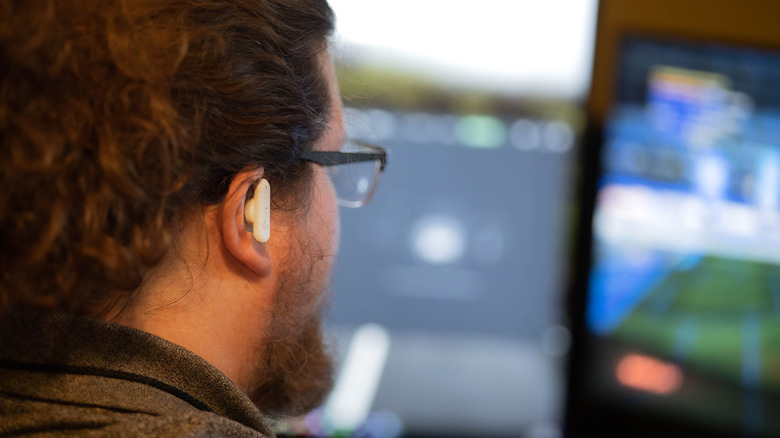 S.G. Howe/SlashGear
The ability to hold clear, uninterrupted conversations is a major selling point for putting LIGHTSPEED into audio tech (this is the first model that Logitech built the tech into, after all). I tested out being on the receiving end of a Discord voice lounge where the other participant was using the earbuds. The audio I was receiving was clear and didn't experience any fuzziness, but I definitely realized how much of an echo there was from the G FITS' microphone after the speaker switched to another microphone.
If you've felt like holding a decent conversation with earbud mics has historically been an issue, the G FITS will definitely improve that. If you're looking for distinctly high-quality output, you won't quite get that with these. The mic seems to perform about (in terms of sound quality for those on the receiving end) as well as any brand of earbuds on the same tier.
The G FITS vs. other Logitech products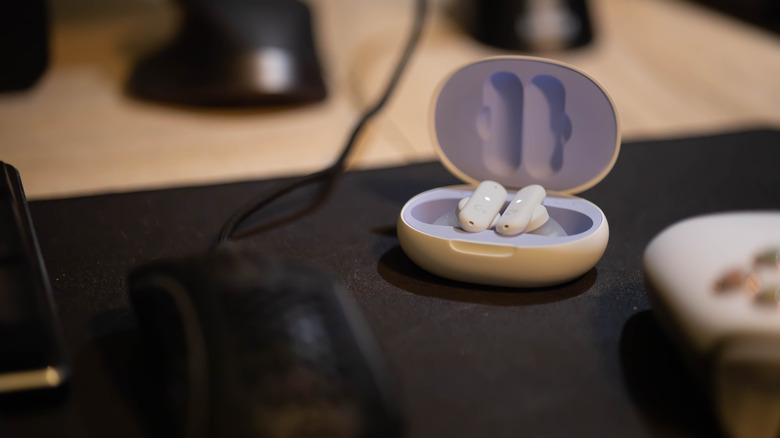 S.G. Howe/SlashGear
I'm partial to gaming headsets, but enjoy a quality set of earbuds too. I feel like the sound is better, the wear is comfier, and the mic is clearer. Logitech has extensive headset options across a number of price points and desired features, so I'd have a hard time recommending these over a decent wired headset.
But, since there are no other options yet, neither headset nor earbud, with LIGHTSPEED technology, it's hard to say what the value of the G FITS is vs. other Logitech audio products. I think the LIGHTSPEED tech carries a very niche appeal; it shaves only milliseconds off the mic and playback, which is great to pros, but negligible to the majority.
If we look at the whole custom fit thing instead, then yes, the G FITS are the most valuable among the whole lineup. As I described, it's something you'll only grasp the full benefit of if you compare them to other earbuds. However, if you're just someone who's always found earbuds to be uncomfortable, I don't think there's any new innovation or groundbreaking tech that'll change your mind.
The G FITS vs. other earbud options for gaming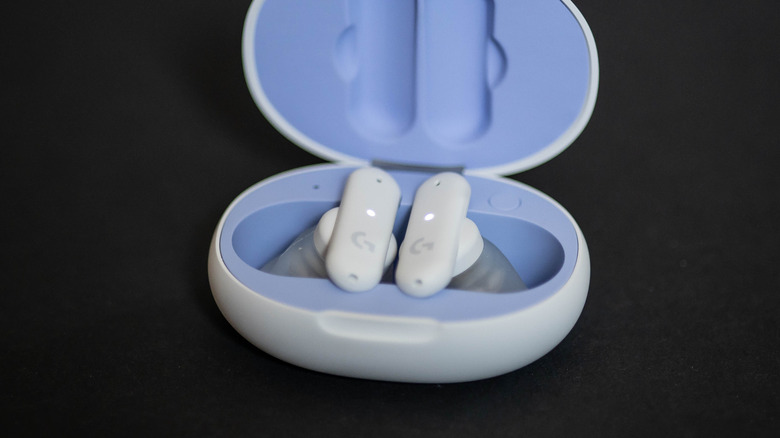 S.G. Howe/SlashGear
Budget is going to be first and foremost here. The G FITS will run you $206 (according to the Ultimate Ears store when this review is set to be published), but for $300, a comparable set of Bose earbuds (Bose QuietComfort Earbuds II) will bring you that next-level audio needed for music and truly immersive experiences. Bose has the same EQ customization features, comparable if not better noise cancellation, and a custom fit technology of its own that uses sonar-like chirps to map out your ear canal and create a unique EQ that optimizes listening, no gel tip replacements needed.
Meanwhile, Ultimate Ears have a very similar set of earbuds called UE FITS. They look nearly identical to Logitech G FITS and come in more colors — so what's the difference? UE FITS work with Bluetooth 5.0, 8 hours of battery on the buds, or 20 hours with the case. Logitech G FITS work with Bluetooth 5.2 (with both game-mode and classic connectivity), and LIGHTSPEED. Without LIGHTSPEED enabled, Logitech G FITS get 10 hours of battery on the buds or 24 hours with the case. With LIGHTSPEED enabled, G FITS get 7 hours of battery time on the buds, or 15 hours with the case. UE's earbuds are $179 (in the UE store online), and as far as we can tell, the sound quality (without LIGHTSPEED) should be effectively the same as G FITS.
Are the Logitech G Fits worth it?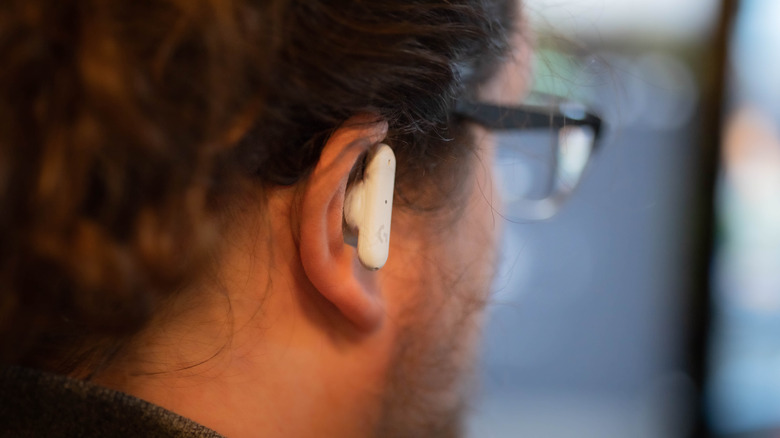 S.G. Howe/SlashGear
I really, really wanted to love these earbuds. If you're in the market for new gaming audio, I'd direct you to one of Logitech's quality wireless headsets instead of these buds. The G FITS app integration was glitchy and weird, online support was spotty, the mic and sound quality were underwhelming, and a nearly identical option is available for around $20 less.
I think serious gamers will find a lot of appeal in LIGHTSPEED being built into audio devices after enjoying it in all of Logitech's other gear, and the LIGHTFORM tech is really quite cool. If the sound quality on the G FITS had blown me out of the water, I would have reached a more positive conclusion here. But since UE sells its tech on a more affordable set of earbuds and LIGHTSPEED doesn't do anything for actual mic quality, I'd encourage you to evaluate the seriousness of your own gaming — and, consequently, how much you value a millisecond or two — before taking the plunge.