Acer Aspire Vero (2022) Review: Eco-Friendly First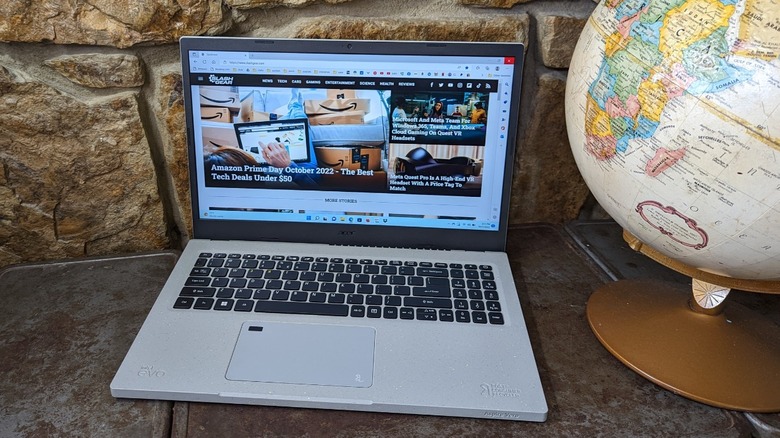 Justin Owen/Slashgear
For computer buyers who take environmental concerns into account, Acer wants to speak to you regarding their new Vero laptops. The Acer Aspire Vero is a computer crafted with as many recyclable and environmentally friendly manufacturing practices as possible, resulting in a modern laptop with performance and features that are not lacking from the commitment to sustainability.
With the amount of e-waste piling up in landfills and the toxic metals used in the construction of electronics, consumers are finding it appealing to purchase equipment that helps to mitigate these factors. Evidence that this issue is in the consumer market is the existence of LeafScore and its grading system rating the eco-friendly degree of consumer products. The Acer Aspire Vero receives a perfect 5-leaf rating among 2022 laptop models. Other contenders with top marks include Lenovo TCO-certified laptops and the Apple MacBook.
While it is good to know that our devices can provide some level of conscious environmental practices in their use and manufacture, they still have to perform. No matter how much anyone wants to do right by the environment, only the most dedicated eco-warriors will sacrifice base-level performance for sustainability. Is the Acer Aspire Vero up to the task?
The Aspire Vero by the numbers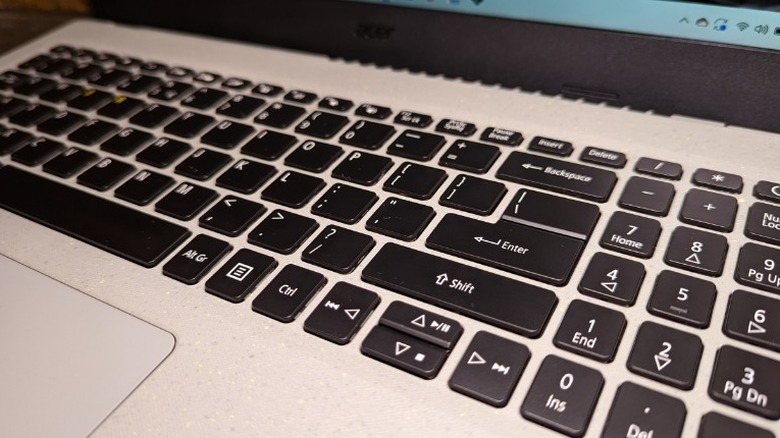 Justin Owen/Slashgear
The Acer Aspire is a full-function laptop computer with modern internals and a large display. Processing is handled by an Intel i7-1255U with an impressive ten cores. The factory-installed RAM is 16 GB and is expandable up to 24. The display is a 15.6-inch IPS. It is not a super-brilliant 4K resolution, but the Full HD 1920 x 1080 spec is sufficient for most people's video viewing. It also includes three high-speed USB type-A ports and a single USB-C, which can be used for data or charging with the included charger. This laptop has a standard full-sized HDMI port for video output, and it also has a wired ethernet connection. Unlike some of its competitors, which have eliminated most or all ports but USB-C, this computer can handle older equipment setups that don't have the latest cable connections.
This computer is pretty well-equipped for what it is and what it is trying to be. It is not trying to be a gaming computer nor is it attempting to do 3D modeling and video production. What it is trying to be is a computer for general usage with the latest components while attempting to have a minimal impact on the environment. It does not have a groundbreaking graphics card or a 5G connection but does include components that should be competent for most uses at a reasonable price, $899.99, the Acer MSRP.
An eco-friendly machine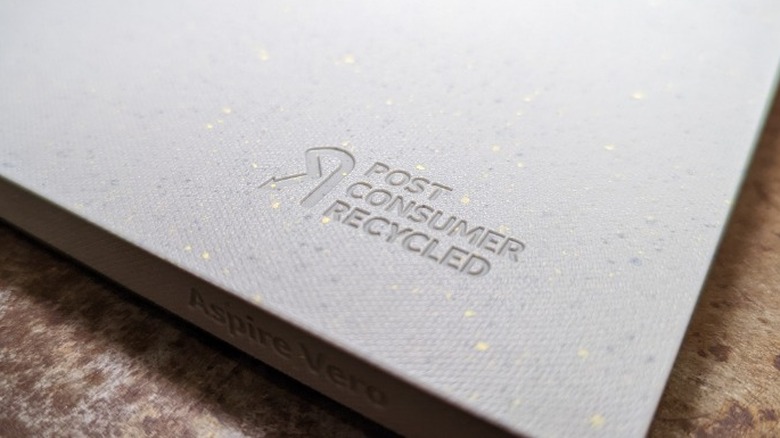 Justin Owen/Slashgear
A huge selling point of this machine is its commitment to the environment. Acer says it is made from 30% post-consumer recycled plastic (PCR), and that includes the top and bottom cover and screen bezel. The chassis is also paint-free and comes in what appears to be the natural color of the plastic. The keycap details are also said to be 50% PCR. OceanGlass is Acer's branding for the touchpad, which is made from ocean-bound recycled plastic.
Often overlooked as a source of waste is the packaging, which is said to be made from 100% recycled materials with 90% being recycled material, and uses water-based ink. The recycled packaging is top-notch. Included are suggestions on other uses for the box and, given the quality of construction and design, keeping it around is not an unreasonable idea.
Eco-friendliness also goes beyond recycled materials. Many laptops are sealed units with no access to consumers at all. Acer addresses this by making it easy to upgrade or repair to extend its useful service life and makes the upgradable components accessible by using regular Phillips screws instead of tamper-resistant fasteners or glue. Power management has also been interwoven into the function of this computer and Acer uses something called Verosense to control power usage with four possible modes. Acer also claims a 21% reduction in carbon emissions with this computer, although I haven't seen anything to explain exactly how that is calculated.
Hardware design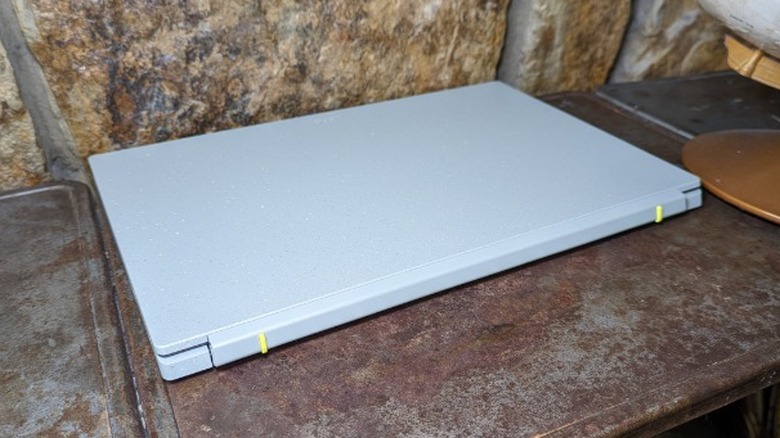 Justin Owen/Slashgear
Acer proudly displays the eco-friendly materials and highlights of this computer with several names and phrases debossed around the plastic case. It boasts of the Intel EVO processor and includes a post-consumer recycled logo on either side of the touchpad while the back shows a dashed line ending with an arrow pointing at a globe with a leaf. On the back along with the legal descriptions and whatnot is "FOR PLANET EARTH" printed in bold letters. Otherwise, the brand and model names embossed in other parts are attractive touches.
The unit I had for review is a light gray color with little flakes of pale yellow and a faint blue that appear to be a result of using recycled plastic. It results in an attractive device and also has a fairly rough texture which is helpful to prevent it from slipping out of your hands when carrying. The screen is large and bright and the keys are also brightly backlit. 
Unique to this computer is the curious choice to reverse the R and E letters on the keyboard, a reminder from Acer to reduce, reuse, and recycle. It also has pale yellow rubber bumpers on the bottom with two small ones at the back hinges to provide a bit of protection and offer a nice contrasting detail.
User experience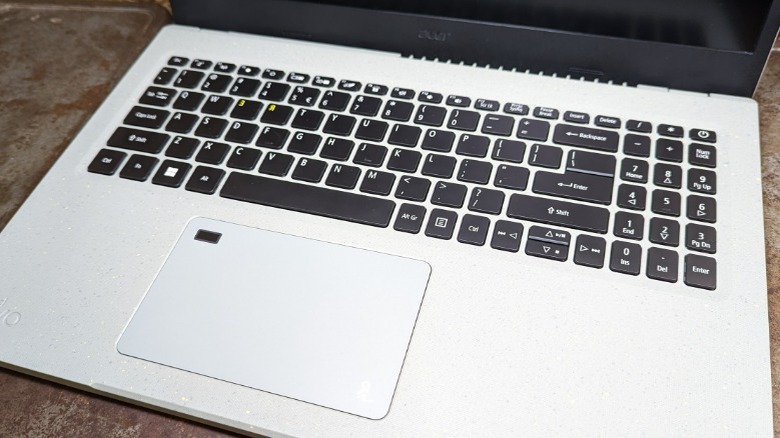 While some eco-friendly products leave something to be desired during actual use, like recycled toilet paper, the Acer Aspire is a more pleasant experience. Powering up introduces a "VERO, for the earth" startup screen and, about 30 seconds later, a familiar Windows 11 sign-in page follows. After setting up accounts in Windows, the familiar sign-in options of password or PIN are available and the large touchpad includes a small fingerprint sensor that works rather well. My attempt to set up facial recognition was greeted by an error message claiming this computer to be incompatible with that feature.
The keyboard backlighting is bright, illuminating the letters and symbols along with a generous amount of light shining from under the keys. I am partial to mechanical keyboards, finding typing on laptops prone to mistakes. The reversed E and R keys are a bit unnerving at first, but I got used to them quickly. These keys were the most stand-out feature of the keyboard I encountered during our review — the rest was smooth sailing.
In contrast to the average keyboard, the quality of the OceanGlass touchpad stood out in a positive way. Navigating any screen is made effortless thanks to the large size of this touchpad, and its smooth surface is pleasing to the touch.
Sound and vision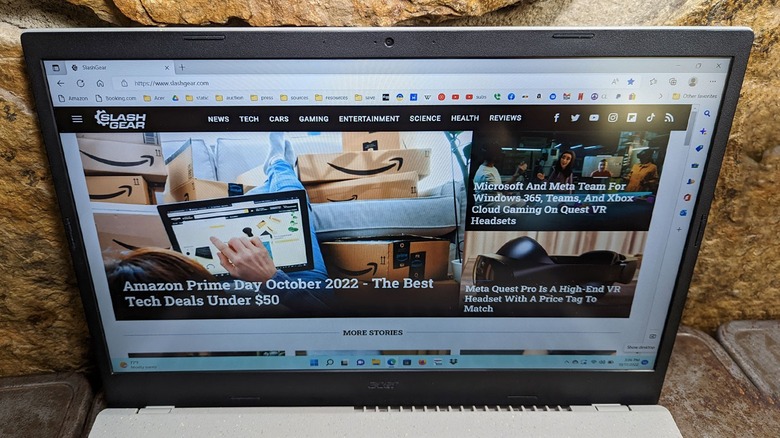 Justin Owen/Slashgear
The ability to video conference is key for working people, especially since the pandemic. The Aspire Vero comes equipped with a large IPS display capable of full HD 1920 x 1080 resolution and it is sharp, bright, and clear. The specs also indicate an FHD webcam of 1920 x 1080 resolution with Acer Temporal Noise Reduction that is supposed to produce clear images, even in low light. I found the images to be above-average quality, but they had trouble with low lighting. This camera should be fine for joining virtual meetings, but I would not recommend it for any content creation or an interview meant for public distribution.
The Vero also comes up short with its sound. The speakers are small and located at the bottom of the computer. It looks as though they are meant to use a hard desk surface to help resonate for more volume, but it does not seem to do the job. The sound is tinny and the volume is weak. If anyone were to use it for a video conference, any background noise could quickly present difficulties in hearing anything clearly. Laptop speakers are generally not expected to do any heavy lifting as the space is limited, however, there are plenty of other machines that do better than this.
Battery and charging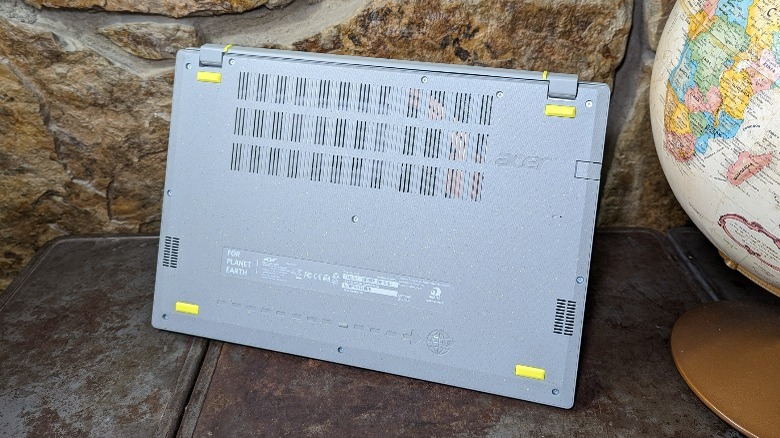 Justin Owen/Slashgear
Extended battery life is a prime component of this Vero computer's green credentials. The Intel Evo chip's architecture is designed for a computer with superior performance and long battery life. Acer claims a battery life of up to 10 hours with the ability to regain four hours with only a 30-minute charge. My experience is consistent with these claims. 
While I did not set out to specifically time the battery usage, I was able to use it all day without any concern about needing to have a charger close by. It held a sufficient charge for use for over a week with occasional charging.
Included with my review unit was an adaptive charger with a USB-C connection but the laptop also includes a traditional charging port, too. You may find a different charger in the box with your Acer Aspire Vero (2022) purchase depending on your region. It may be advantageous to have another charger when the single USB-C port is needed for some other purpose, although that is likely a rare scenario.
Final impressions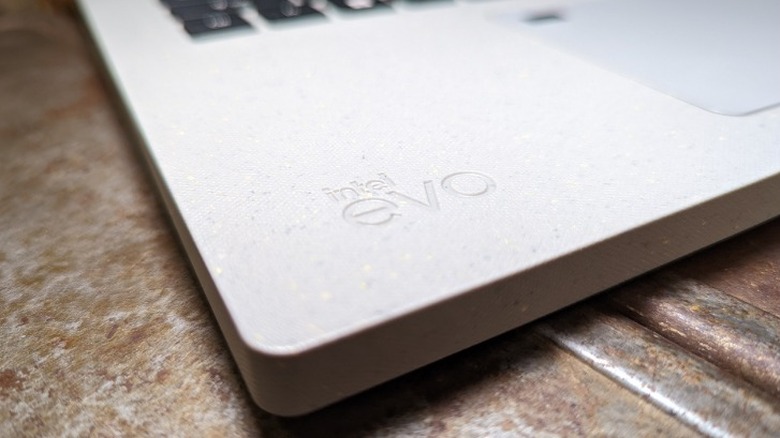 The idea of buying a product that is made with specific efforts to rescue its environmental impact is appealing to many — and I, personally, appreciate the effort. It is also nice to see such care taken in producing such a product without expecting the consumer to make sacrifices on quality or usability. The Acer Aspire Vero accomplishes this task. It is a competent machine with above-average specifications that should be able to handle most of what anyone would want from it. It won't be a high-end gaming machine but it also does not come with that sort of price.
Compared to other computers with similar equipment, its price actually comes in on the low side of $899.99. Laptops from competitors with 16 GB RAM, 1 TB of storage, a high-resolution display, and a 12th-generation, 10-core processor can easily exceed $1,200. While it is not itself aiming to appear to be a value product, it is a good value. 
It also has the good fortune of being packaged in an eco-friendly recycled plastic case that is attractive and appears to be just as durable. In my estimation, it looks to be a good general-purpose computer with an added appeal to environmentally conscious consumers that holds just as much appeal to those who just need a capable laptop.