Valve Launches Steam Deck Dock, Drops Waitlist For New Orders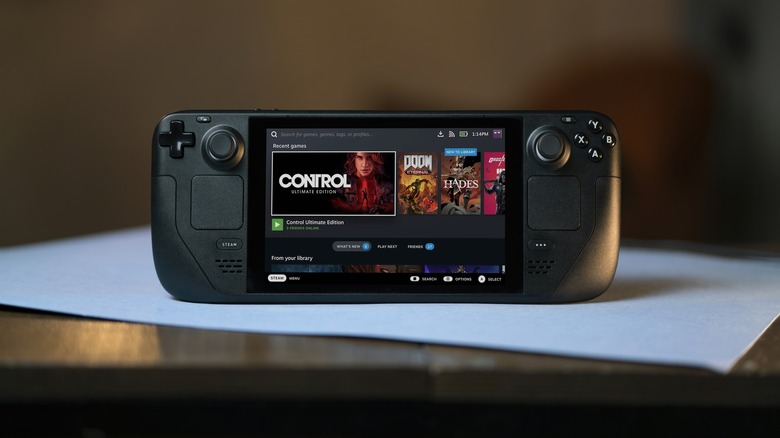 Mr.Mikla/Shutterstock
After months of delays, waiting lists, and every other supply chain issue you could possibly think of, Valve finally has some good news for people hoping to get their hands on a Steam Deck. You can, in certain regions. The company has announced that its handheld console is now available to order without a waiting list. The Steam Deck is available in three models, with the difference being the amount of internal storage the console has available.
The most basic model, a 64GB Steam Deck, will set you back $399 and features eMMC storage. The mid-tier model sports a 256GB NVMe SSD and costs $529, while the top-range model has a 512GB NVMe SSD and costs $649. If you opt for the more expensive models, you do get some goodies bundled in and the $649 version comes with a more glare resistant screen. The storage itself can be expanded via microSD card. There is no difference in frame rate or graphics quality across the three models.
In terms of content, fans of Steam as a platform more than likely already own a lot for it. One of the Steam Deck's key selling points is its ability to play games from a user's Steam library. Not everything has Steam Deck support, but it's easy enough to check what is guaranteed to work and what isn't. In terms of raw specs, the console has a 2.4-3.5GHz CPU, a 1.0-1.6GHz GPU with 8 RDNA 2 CUs, and 16 GB LPDDR5 on-board RAM. If you need that part translated into English, Steam says it's enough to play recent AAA titles "really well."
Valve has more Steam Deck news
The handheld console itself features a large screen in the center, controls at the side, and can operate on its own via an internal battery. But that doesn't mean your Steam Deck is just a portable device. You can use it like a regular console too, because at long last, Valve has launched the Steam Deck Dock for $89.
BIG NEWS today!
✨ Steam Deck is now available without a reservation! Order one, we'll ship it to you: https://t.co/uVdBCpJVuX
📺 The Docking Station is available, too! Connect to peripherals and displays in style: https://t.co/QqLoKsvASs
💾 Plus, lots of new software features: pic.twitter.com/64VzQeisuZ

— Steam Deck (@OnDeck) October 6, 2022
The station offers somewhere to store and charge your device, but its usefulness goes far beyond that. A number of ports are available on the docking station, including a HDMI port and a Display Port 1.4. This means your Steam Deck can be easily connected to a TV or monitor. There is also a gigabit ethernet port in the back, and three USB 3.1 ports so you can connect a keyboard, mouse, or whatever else you need. The dock itself is designed to securely hold the deck, preventing any scratching or damage. The dock is powered via a USB C port. Steam says it can be used without a power supply, but the USB ports will have a reduced output as a result.
According to the official website, the Steam Deck is now shipping to the United States, Canada, the European Union, and the United Kingdom. Users in Japan, South Korea, Taiwan, and Hong Kong will still need a reservation and some tightly crossed fingers. If your particular locality isn't on the list then you're stuck waiting for an announcement from Valve. The long-awaited Steam Deck Dock, meanwhile, is available today for $89, with Valve estimating a wait of 1-2 weeks for delivery.