Google Stadia Shutdown Took Employees, Game Devs By Surprise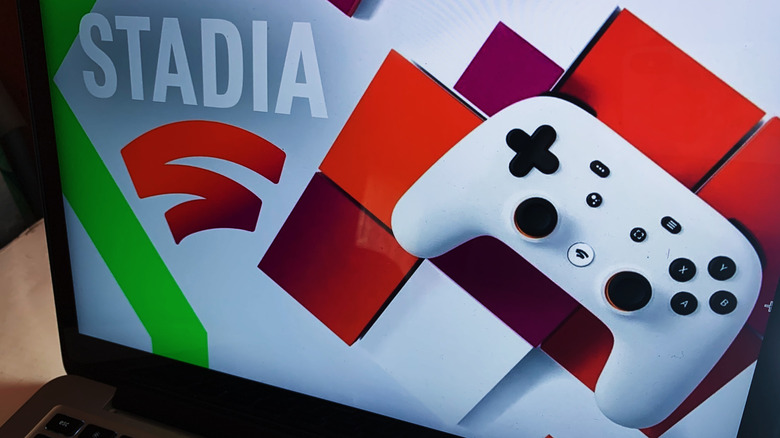 Daniel Constante/Shutterstock
Google's decision to abruptly bring down the curtains on Stadia, its cloud-based game streaming service, took the entire gaming industry by surprise. Stadia wasn't exactly a universally beloved service, but it was a trailblazer for cloud computing in its own ways. Community members, of course, were distraught, especially players worried about spending money on games that will soon be lost and hardware turned obsolete in a few months.
Luckily, Google revealed that it will be reimbursing the costs to gamers that put their faith in Stadia. Moreover, labels like IO Studios and Ubisoft announced that they will port the games purchased on Stadia to other platforms at no extra cost. However, it appears that players were not the only ones blindsided by the decision, because Google also kept its developer and publishing partners in the dark about the decision to put Stadia on cold ice.
Hours later and I still have no email from Stadia, and no clarity on what's happening with our games, deals, anything

Really would have been nice if they'd told partners, or even got in contact with us by now?

— Mike Rose (@RaveofRavendale) September 29, 2022
Ever since the news broke out, folks from the game development industry took to Twitter, revealing that they got the shocking news from publications covering Google's announcement. SFB Games' Tom Vian tweeted that the studio was slated to release a game on Stadia two days later, but only came to know about the development from a news article. But Vian wasn't the only one with a game that was supposed to arrive on Stadia in the coming days.
A lose-lose situation for developers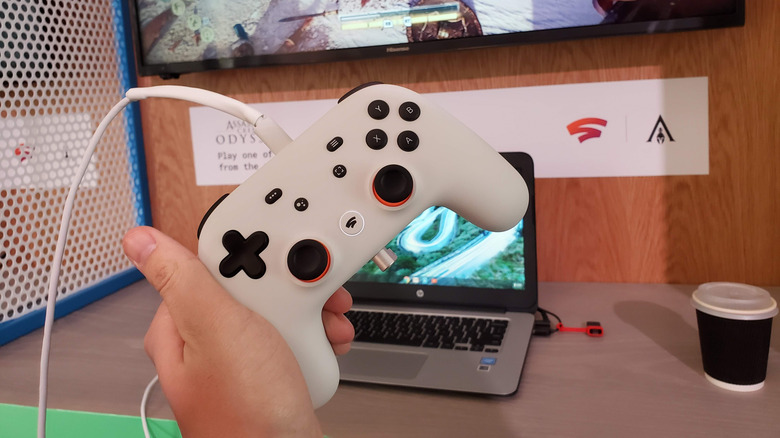 Cody Engel/Shutterstock
Video game designer and founding member of multiple game studios, Rebecca Heineman shared on Twitter that her company was lined up for a Stadia game release on the first day of November, but instead got heartbreak. Indie developer Simon Roth mentioned that neither did he receive any warning in advance from Google, nor did the Stadia division reach out to him via email or phone well after the news broke out.
That's really bad news and also a big surprise for us. Now we wasted a lot of time porting and developing for Stadia, money we never get back (for EW1, not sure what happens with Tri6). https://t.co/Oabv2hHlqV

— Clockwork Origins (@CWO_Games) September 29, 2022
But it was not just indie developers that Google kept in the dark. Even heavyweights like Bungie, which brought users "Halo" and "Destiny" games, were apparently unaware of the Stadia bombshell dropping out of nowhere. Plaion, which owns multiple publishing units and ten game studios, also pointed out that it wasn't informed in advance. Publishers Goldfire Studios and No More Robots told Kotaku that they each had a game coming out on Stadia next year.
I know everybody is having a great time laughing at this but stadia had the best dev revenue of any streaming service, and launching Hyper Gunsport there was going to recoup our dev costs. We were launching there in November and are now in a much tougher situation. https://t.co/ZM8MfKrc5A

— brandon sheffield (@necrosofty) September 29, 2022
Pixel Games shared that it finalized the deal to bring no less than three games over to Google's cloud gaming service just a day earlier. Google, on the other hand, is reportedly working with the affected studios with schemes like reimbursing the costs of development and porting existing games to its platform. According to an Axios report, Stadia reps are reaching out to publishing and development partners with reimbursement deals.