Logitech G Pro Racing Wheel Has Racing Sims In Its Sight And A Price Tag To Match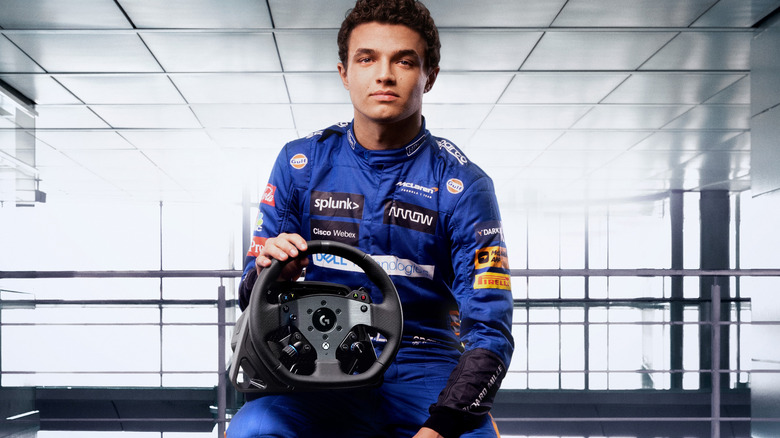 Logitech
Gaming is a broad category with a varied user base; part of it is about escapism and living out your fantasies, and sometimes it takes more than a game and a console to do that. That's where accessories come in, and racing wheels are a common way to take a gaming experience to the next level. Entry-level wheels are available for a few hundred dollars and simply clamp to a table. However, some people spend thousands of dollars on their racing rigs, aiming to make the tactile side of their driving experience as accurate as possible. 
Those are the kind of people Logitech is targeting with its upcoming G PRO Racing Wheel and PRO racing pedals. The company is trying to get as close as possible to the feedback and feel a real car would provide, while also releasing a product its users can set up in their living rooms. Two variations of Logitech's new wheel will be available, one configured to work with PlayStation consoles and another geared towards Xbox. Both variants work with PCs, so PC gamers should opt for their favorite button configurations if they have no intentions of ever plugging their wheel into a console.
As with many high-end products, Logitech has landed a celebrity endorsement for the PRO Racing Wheel in the form of Formula One driver Lando Norris. In a statement, the McLaren racing star said, "Logitech's PRO Racing Wheel makes the sim racing experience incredibly realistic. I'm able to feel the conditions of the track and how the car changes during the race, which is game-changing. When using this wheel at home, I feel like I'm right there on track."
Logitech promises high-end performance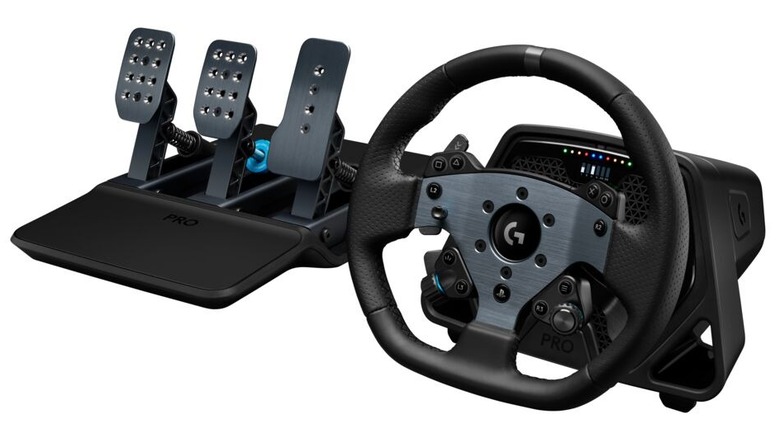 Logitech
A motor capable of producing 11-newton meters of force pairs with Logitech's in-house high-definition force feedback technology to provide players with realistic feedback in a number of driving conditions. The wheel itself features magnetic shift panels that should provide an accurate mechanical feel instead of the spring-loaded plastic flap sensation you get with cheaper wheels.
The wheel also has a set of customizable dual clutch paddles that can either be used in a double clutch configuration if you want an edge on the starting grid or set to control features like the handbrake. There is also a quick-release mounting system available for people who want to just clamp the wheel to a table instead of bolting it to a racing rig. The button layout is designed so players can stay in control without taking their hands off the wheel. The controls are also designed with customization in mind, so players can tailor their racing wheels in whatever way works best for them.
Customizing the pedals is a little bit more hands-on. Each set comes with a selection of springs that can be used to provide different levels of resistance. A modular system has been used so the pedals themselves can be moved around and spaced out in accordance with a user's needs. A pressure detection system has also been incorporated, which Logitech claims will improve the impact muscle memory has on gaming. Braking is one area this new level of precision should make a real difference.
You could have your hands on the wheel this month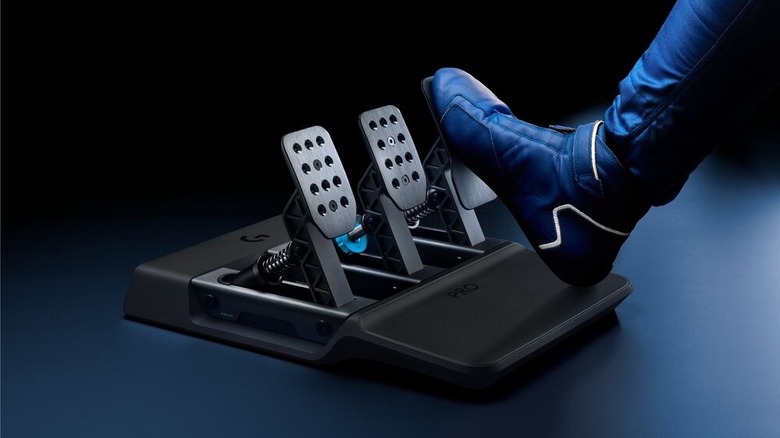 Logitech
Logitech's new wheel is not cheap, costing $999 plus tax in the United States and €1,099 across the Atlantic. The accompanying set of pedals isn't particularly cheap either, selling for either $349 or €349 depending on which continent you're on. For your money, you should expect some top-of-the-line features, and that's exactly what Logitech says it is providing with the PRO wheels and pedals. Logitech also says the pedals will be available on its website and in stores around the world at some point this month.
The price suggests a high-end piece of kit, and the features Logitech has promised seem to suggest the PRO wheel and pedals are exactly what racing game enthusiasts will need to take their rigs to the next level. Looking good on paper and actually offering that level of performance in real life are often two different things. Logitech is sending SlashGear both the wheels and the pedals to try out, though, so we'll know for certain if they're worth the price tag in the next week or two.