The Video Game Even Queen Elizabeth II Couldn't Resist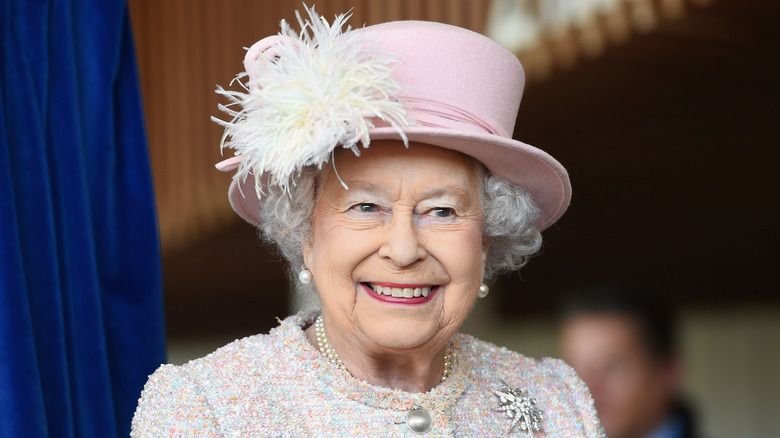 Stuart C. Wilson/Getty Images
As the world bids its last goodbyes to Queen Elizabeth II ahead of her royal funeral, accounts from her lifetime extolling her virtues are all over the internet. However, a side of her personality that rarely gets much attention is one that paints a Nintendo-loving picture of the deceased British monarch. The U.K. tabloid Mirror published a somewhat strange but amusing story back in 2008, claiming the queen was smitten by the Nintendo Wii game console after she witnessed her grandson Prince William having fun with it.
And it looks like her enthusiasm was only matched by her supposedly — and, if true, unexpectedly — sharp skills on the now-discontinued console, at least when it came to playing the Wii Sports bowling game that was popular at the time. "And although she is 81 the Queen's hand-eye co-ordination was as good as somebody half her age," the outlet reported, citing an unnamed source allegedly from the royal palace. In fact, the source went so far as to claim that the monarch was closing in on the edges of Nintendo addiction. 
The queen reportedly played a 10-pin bowling game and exhibited somewhat of a natural skill at it. There aren't any further stories that could elaborate on whether Her Majesty played other Wii games, too. It also seems quite fitting that gamers are immortalizing the queen in Nintendo's latest shooter game "Splatoon 3." Moreover, gaming juggernauts like Rockstar Games and Frontier have also shared their heartfelt tributes owing to her gaming connection and status of global importance.
A console fit for her Her Majesty
Impressed by her alleged love for the iconic console, THQ — the now-defunct American video game company behind franchises like "Darksiders" and "Saints Row" — went ahead and sent over a 24-carat gold-plated Nintendo Wii as a gift straight to Buckingham Palace. Talking about the extravagant gift fitting for royalty, THQ product manager Danielle Robinson said in a 2009 press release, "the Queen wouldn't want to play on any old console, so an extra-special gold one was commissioned."
Interestingly, it appears that the blingy Nintendo Wii never actually reached the queen due to security rules that prevented the palace from signing for and accepting the package. Instead, a couple of years later, it landed in the hands of a collector named Donny Fillerup who put it up for auction on eBay last year, as detailed in an interview with Console Variations. Back then, the device was listed with a starting bid of $300,000. Unfortunately, the auction ran into an eBay policy roadblock and the listing was soon removed without finding a buyer willing to splurge on the collector's item.
It subsequently switched home and eventually landed at Goldin, where it was finally sold for a much lower winner's bid of $30,000. However, it appears that luxe consoles draped in the precious metal are not a Nintendo exclusive. If you've got deep enough pockets, luxury brand Caviar will make you a custom PlayStation 5 adorned with crocodile leather and solid gold plates and another design variation with ornately crafted solid 18K yellow gold.