$100k TyphoonHD4 camera shoots world-first barrel wave slo-mo [Video]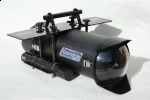 The BBC have released footage filmed with their $100,000 high-speed HD camera, a modified TyphoonHD4, in advance of their new documentary South Pacific.  The camera – which is capable of filming in super slow motion and high definition at 20 times the speed of a normal HD camera – was used to record big wave surfer Dylan Longbottom in a 12 foot monster barrel, the first time such footage has ever been filmed.
Check out the video clip after the cut
It's unclear exactly what modifications the BBC's Natural History Unit made to the HD4, but we do know it now has a special housing unit designed and built by German specialist high speed cameraman and technician Rudi Diesel.  Stock, the HD4 can shoot at 1280 x 1024 resolution at 1,000fps.
The clip is embedded below, but for maximum effect you'll want to click it to full-screen in HD.  South Pacific itself will begin screening in the UK on Sunday May 10th.
[Thanks Adam!]