Why You Won't See Selfies At Queen Elizabeth's Lying In State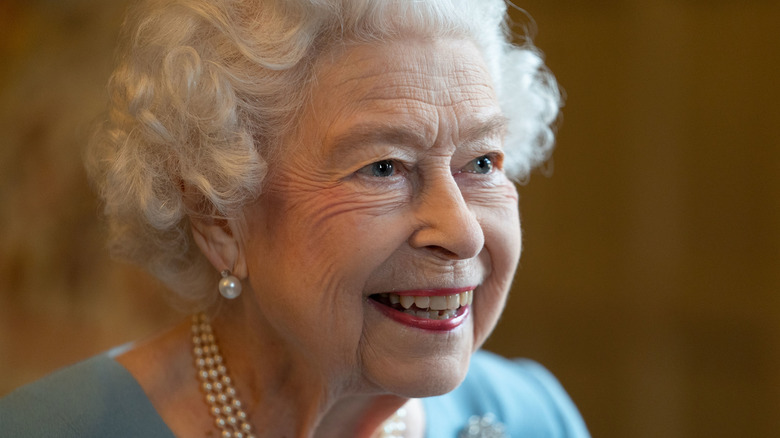 Wpa Pool/Getty Images
Queen Elizabeth II passed away on September 8, 2022, sending the United Kingdom into a 10-day period of national mourning. Starting on September 14, the Palace of Westminster in London opened its doors to the public. Locals and tourists alike can now queue to see Queen Elizabeth's lying-in-state, meaning Her Majesty's coffin, placed on a raised platform and accompanied by guards. 
The U.K. government has detailed the full lying-in-state period and the rules that apply on its official website. From September 14 until the early morning of September 19, the day of Queen Elizabeth's funeral, the Palace of Westminster will remain open for 24 hours a day, allowing people from all corners of the globe, to see the coffin of Queen Elizabeth and pay their respects. Although the queue has only just begun, it's already 2.4 miles long as of 6 p.m. U.K. time on September 14. The U.K. Department for Digital, Culture, Media & Sport will maintain an ongoing livestream showing the current queue status and where it starts.
Local officials planned out a full route for the queue, which is expected to take many hours. The U.K. government warns that queueing to see the lying-in-state could take hours and may last overnight, with very little opportunity to sit down due to the fact that the queue is constantly moving. Thousands of people are expected to attend, however, you won't see any selfies or photographs from the event outside of what the media publishes.
Photographs are strictly prohibited
According to the "Conduct and behavior" section of the guidelines, there are many things to be mindful of when visiting the lying-in-state of Queen Elizabeth II. Dressing for the occasion, putting your phone on silent, and behaving in a respectful manner are just some of the things that have been listed. Selfies are strictly prohibited, and according to the guidelines, "You must not film, photograph, or use mobile phones or other handheld devices in the security search area at the Palace of Westminster." 
We should not be seeing any selfies from the location. However, those who want to see the lying-in-state but can't make it in person can watch the 24-hour livestream from the BBC embedded above.
The lying-in-state period will come to an end on the day of Her Majesty's funeral. Not all of the details have been revealed, but thanks to the BBC, we do know that the service will take place at Westminster Abbey and it will be followed by a military procession across London.