Royal Watchers Are Convinced Meghan Markle Is Wearing A Wire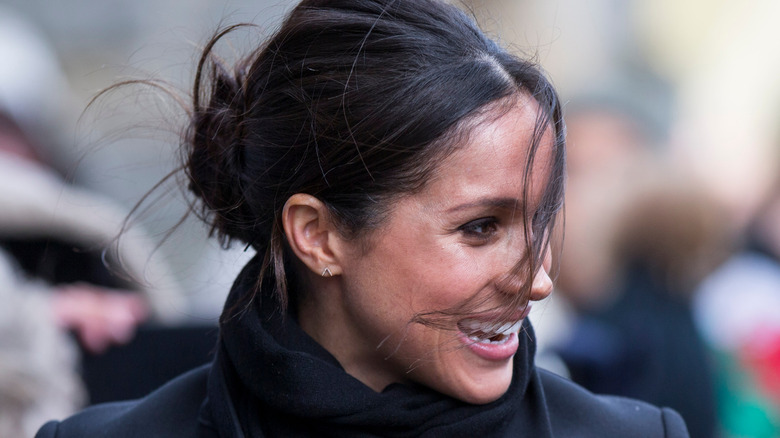 ComposedPix/Shutterstock
As the entirety of the United Kingdom remains in mourning following the demise of Queen Elizabeth, the tabloids and conspiracy theorists have gone full throttle at fanning outrageous claims surrounding Prince Harry and his wife Meghan Markle, the Duchess of Sussex. The duo, who have been a target of scathing criticism even since they distanced away from the royal family, now find themselves the subjects of a bizarre conspiracy theory involving supposed hidden recording equipment. 
Images of Meghan Markle are making rounds among conspiracy theorists who claim folds and creases visible on her dress are actually hiding a recording device and wires. Journalist Otto English compiled some of those claims and shared them on Twitter.
Welcome to the Meghan Markle conspiracy theory – where believers think the Duchess is secretly wired up and filming and recording everything. pic.twitter.com/DO7knA4TAL

— Otto English (@Otto_English) September 13, 2022
There are also wild conspiracies suggesting that Markle, who rose to fame with the legal drama "Suits," was hiding the recording gear with her hair spread deftly across her shoulders. Angela Levin — biographer for Camilla, the Duchess of Cornwall — tweeted an unsubstantiated claim that the beleaguered duo actually planned to bring with them a USA TV station's crew to record the whole ceremony and that those plans were foiled by Prince William inviting his brother to a walkabout. 
Harsh times, cruel speculations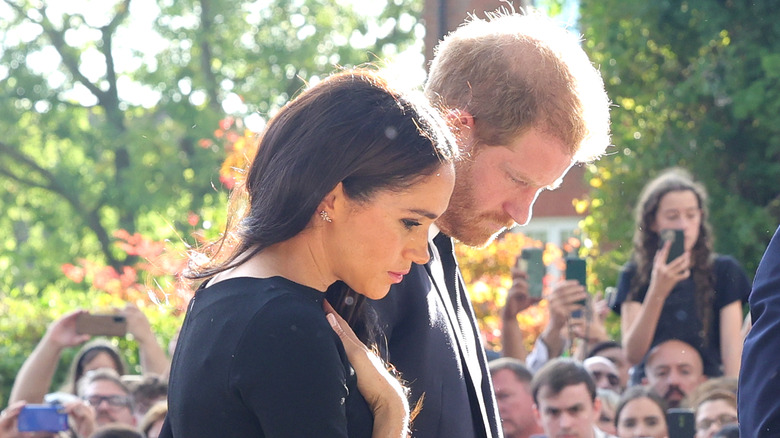 Chris Jackson/Getty Images
Australian tabloid 7News claims to have traced one of the pictures used by conspiracy theorists back to a photographer named Chris Jackson. The media outlet seemingly fuels the flames by also claiming to have chatted with a "video expert," who supposedly remarked that in an age of wireless recording gear, the suspicions might turn out to be true. More sensible individuals have pointed out that the supposed wire was likely just a bra strap and that the square object visible beneath her skirt's fabric may have been part of the outfit or even a medical device.
This isn't the first time that such rumors about Harry and Meghan have surfaced online, and there's no shortage of other — often more bizarre — claims about the couple. In September 2021, DailyMail UK also published an article with photos in which a device alleged to be a wired recording gadget was seen in Prince Harry's pocket. Back then, it was rumored that the pair were recording their visit to a famous food outlet so that it could be used as part of their content production commitments with Netflix and Spotify.
But it appears that mass sentiment towards the couple, who now live in the U.S., hasn't really mellowed since then — and, in fact, past research has found that social media is deliberately being used to stir up drama about them. Markle was recently lambasted for her alleged conduct at one of the public processions following the queen's death. Moreover, Duchess Kate's allegedly cold demeanor towards Markle is also being presented by the local media as a sign of bubbling tension. Oprah Winfrey, who recently conducted a blockbuster interview with the couple, told Extra that the queen's demise might help bring the family closer.