The 5 Most Unexpected Cars In Queen Elizabeth's Surprisingly Epic Collection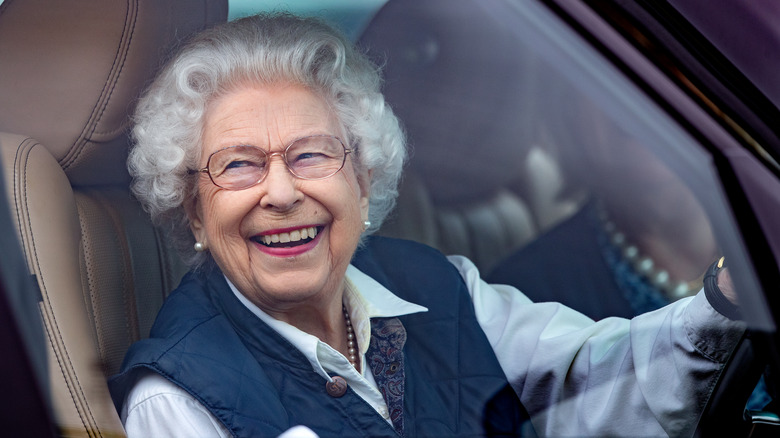 Max Mumby/indigo/Getty Images
Queen Elizabeth II leaves behind her a stellar legacy of monarchy spanning seven decades, one that witnessed the United Kingdom go through a post-war upheaval, the shift away from an empire to a commonwealth state, the chills of the Cold War, and a hot geopolitical drama around an exit from the European Union. Lauded as a gracious personality by leaders across the world, the late British monarch was also known to be a fan of fancy rides, which is quite evident from her illustrious collection that includes some rare beauties from the past decades.
From vintage Rolls-Royces and fast Aston Martins to custom Bentleys, the royal car collection was quite a fascinating mix of rides. According to a 2017 estimate by Car Keys, the queen's collection of cars was worth around $11.5 million — of note, that's also said to be around the value of two very special Bentley cars used by the royal family. However, the rides she has been seen driving in her royal estate (or being driven around in) represent a mix of vehicles owned by her and official state cars. 
Per the British Motor Museum database, the queen owned a 1966 Land Rover Series IIa, a 1983 Land Rover One Ten, and both 1971 and 1974 Rover P5B model years. For decades, the Rolls-Royce Phantom was the preferred car for the royal family as well as high-ranking state officials, but diversity slowly crept in during the later years. By the start of the 21st century, Bentleys had arrived, and soon, even hybrids and custom limousines, too. Here are the top five surprising cars from her collection.
A mix of class and power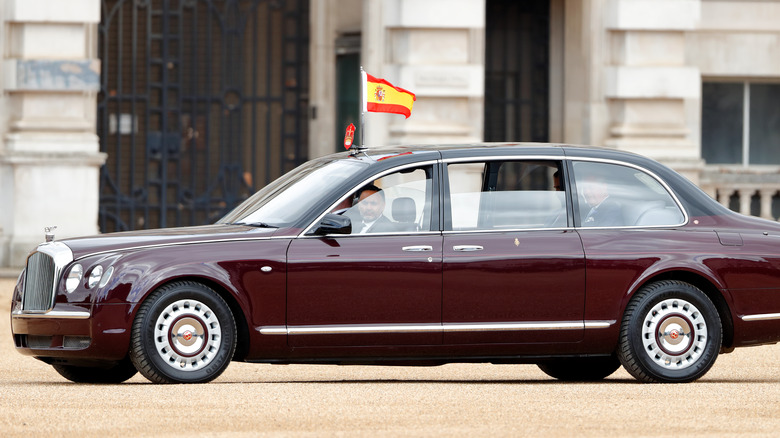 Max Mumby/indigo/Getty Images
According to The Telegraph, the aforementioned Bentley State Limousine that was often seen chauffeuring the queen is roughly worth $11 million and was the second most expensive car in the world. A present from Bentley to mark the queen's Golden Jubilee, this twin-turbo V8 machine is armored as well as fittingly luxurious.
Bentley scored another royal victory when the very first unit of its debut SUV, the Bentayga, was delivered to the queen. Touted to be one of the most powerful and fastest SUVs in the world upon its debut, the model sent to the queen was further refined to her needs.
Next in line is the majestic Aston Martin DB6 Volante, which the queen reportedly bought as a present for Charles, who is now King of the United Kingdom. Famously, it was modified upon King Charles III's request to run on a wine-based green fuel.
She had a hybrid car, too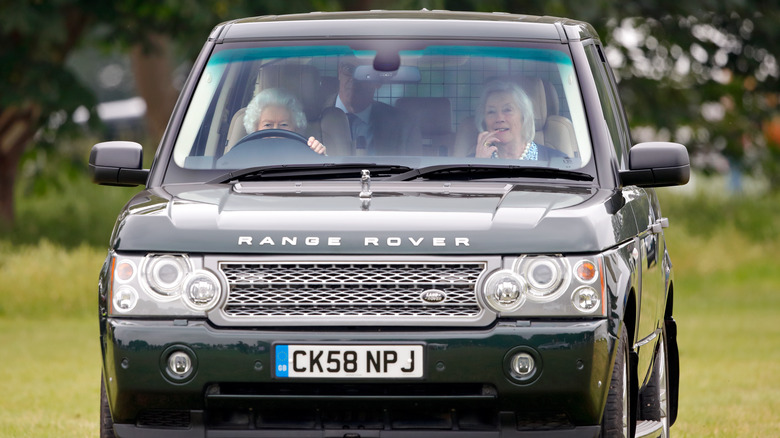 Max Mumby/indigo/Getty Images
The queen is also said to have had a soft spot for the Land Rover Defender and was often seen driving a custom model tuned to her specifications which was clad in a signature royalty green paint job. Not all of the vehicles that made their way to her collection were older classics, though. In 2015, Land Rover presented the queen with a one-off electric hybrid named State Review, which features an open roof and dazzling maroon color scheme. The long-wheelbase SUV was supposed to be deployed as a parade vehicle and made its debut at a Royal Welsh Regiment in Cardiff.
In addition to these vehicles, there's the armored Bentley State Limousine, which features an impressive mix of security and luxury features. The car can withstand driving over sharp objects, blasts from explosions, and even gas attacks, but that hasn't compromised its style. Bentley says on its website that it designed the special limousine with details influenced by the queen herself, including a rear seat made to her height, a tall cabin height, and even a custom spot to store her favorite handbags.