1.6% of apps incompatible with Nokia Lumia 610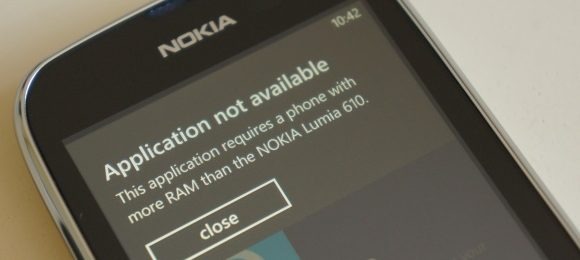 Over the past few days we've heard more information about limitations that 256MB of RAM brings to the Windows Phone platform, with various reports coming in of the apps that won't run on the Nokia Lumia 610. All About Windows Phone has taken a closer look at the numbers with regards to such apps, noting that while Microsoft has said that around 5% of apps are incompatible with 256MB devices, the actual number is closer to 1.6%.
The numbers do start to change as you look at different categories. The 10,000 most popular apps, for example, reveals a number closer to what Microsoft said: 4.6%. Games seem to be the most widely affected, however, making up 22% of the total number of incompatible apps. When it comes to Xbox Live games, 30 out of 119 won't work with 256MB devices, with titles such as Angry Birds, Assassin's Creed, Monopoly, Need for Speed: Hot Pursuit, Plants & Zombies, and The Sims 3 all proving incompatible. Not a good sign when gaming is a crucial part of any mobile ecosystem.
It's not all bad news, though. Nokia has already confirmed that a tweaked version of Angry Birds to run on 256MB devices such as the Lumia 610 is coming. What about other developers, though? While the overall percentage of incompatible apps may be low, it does seem to be affecting quality apps that people would look to when coming to the platform for the first time.
The problem should be resolved going forward as Microsoft asks developers to test new apps against 256MB RAM guidelines to ensure full compatibility, but as All About Windows Phone notes, there may be apps that can't be updated or would require a major rewrite. In the meantime, the site has compiled a full list of incompatible apps in this PDF. Take a look if you're especially curious.
[via The Verge]