Zynga's Running with Friends has you bolting off for dear life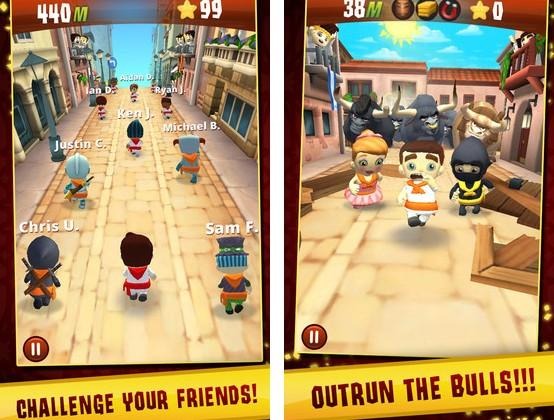 While Zynga is continuing to go through a little bit of a rough patch financially, the studio continues to deliver with new games, the latest one being Running with Friends, which is yet another installment to the company's popular line of "with Friends" titles, only this time you compete with your friends to avoid a stampede of raging bulls.
This is certainly a unique one from Zynga, as all their past "with Friends" games have been very casual and usually involve some sort of turn-based strategy component, while this one is in the endless-runner genre of sorts, similar to that of Temple Run, which has been a big hit in the App Store for both iOS and Android.
On top of trying to outrun the bulls, players also try to avoid other obstacles that get in the way, and gamers are required to duck and jump over various objects. As with any endless-runner game, it gets harder and harder the longer that you stay alive, but once you eventually hit an obstacle and slow down, it's game over.
The game was actually developed in collaboration with with Eat Sleep Play (the game studio behind the Twisted Metal video game series and Warhawk), which probably explains the change in tone of this game compared to past Zynga games. However, the graphics are still very reminiscent of classic Zynga games from yesteryear. Running with Friends is only available on iOS currently, but you can grab it at no cost.