ZScanner 600: World's most affordable 3D scanner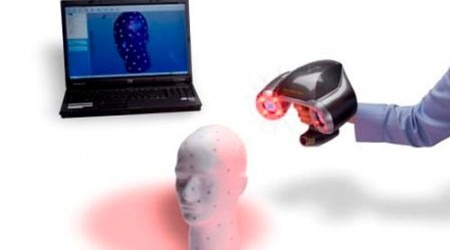 Z Corporation has unveiled its latest 3D scanner that claims to be the world's most affordable 3D scanner. It may well be the world's most affordable, but it is still hugely expensive with an MSRP of $28,900. The scanner is designed to capture 3D data and put the data into a computer.
The scanner is designed for reverse engineering, product design, and other applications. The ZScanner 600 has a resolution down to 0.1mm and XY accuracy of up to 80 microns. The scanner is handheld and very portable and can scan an object in one continuous scan rather than in multiple shots that require lots of post processing to form a cohesive scan.
The scanner also includes the ZScan Lite software that produces a .stl file automatically for importing into a 3D CAD software package and output to a 3D printer. The scanner "paints" the object being scanned with a laser crosshair and the surface is then scanned by the binocular cameras. The software the scanner runs on generates a mesh of the surface on the computer screen in real-time. The object being scanned can be moved during the scanning process. The scanner is available to purchase now.