Zotac Zbox Mini-PC offers VIA Nano X2 dual-core power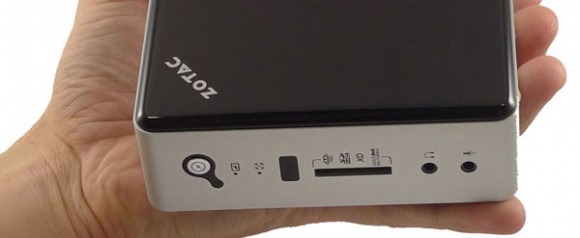 In March, we talked about the Zotac Zbox HD-ID11 nettop that was packing in Intel Atom power and more. A new Zbox nettop was unveiled last week during Computex 2011 that is interesting. Unlike the one from March, the new machine packs in a VIA Nano X2 dual-core processor. The little mini computer is aimed at the HTPC user that can get by with less performance than traditional computers and mostly wanting to stream digital content.
The dual-core CPU inside the new Mini-PC will be offered in two versions with one running at 1.2GHz and another that runs at a faster 1.6GHz speed. Both of the processors offer native 64-bit support and are pin-to-pin compatible with VIA Nano, C7, C7-M, and Eden processors for future upgrades. The little machine is very compact measuring in at 12 x 12 x 4cm. That compact size will make the machine very easy to fit into a cramped entertainment center.
"The ZOTAC ZBOX is a great example of the kinds of innovations in form factor design that are possible on our low power VIA Nano X2 dual-core processor platform," said Richard Brown, Vice President of Marketing, VIA Technologies, Inc. "It provides an excellent solution for home and office users seeking a premium computing experience in an ultra compact size." There is no word on pricing or availability on the VIA powered machines right now.
[via Akihabaranews]