ZOTAC puts a ZBOX in a backpack so you can VR anywhere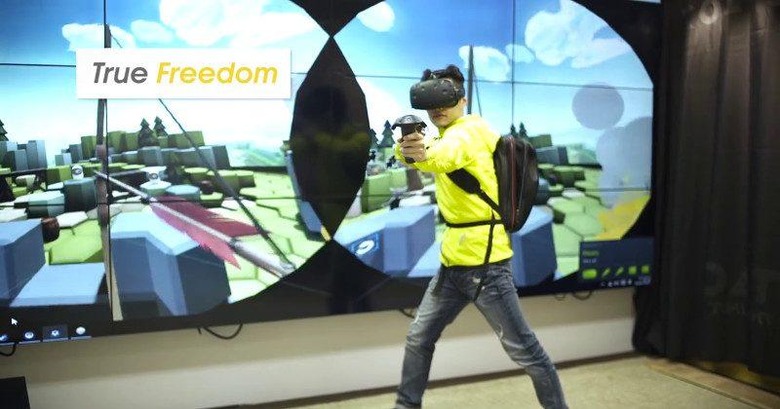 Some products seem meant to be paradoxes. On the one hand, the idea is so ingenious you wonder why no one has thought of it before. On the other hand, it also sounds, more often looks, ridiculous that you wonder if it's just an elaborate and very late April Fools' joke. ZOTAC's newly revealed Mobile VR is one such product. It creatively solves the problem high-powered VR headsets have with wires. But it also does so by simply stuffing a mini PC inside a backpack, shortening the wires needed to connect headset to PC.
OK, so this is practically a "PC in a backpack" setup, but since you can't put a desktop-grade PC inside a backpack, ZOTAC is suggesting its own PC box instead. Sure, you can probably get away with a laptop too, but the ZOTAC ZBOX comes closer to desktop PC specs needed to drive the likes of the HTC Vive. ZOTAC isn't saying which ZBOX exactly, but there are a few possible candidates which pair fast Core i5 or i7 CPUs with NVIDIA's GTX 960 cards, for example, in one small, portable package.
The idea is that with a ZBOX in a backpack powering your VR experience, you won't need lengthy cables that will tether you to an unmoving box or, worse, cause you to trip and fall. All the cables can be easily stowed away inside the ZOTAC-branded backpack while you go about and around your virtual world. Of course, your vision of the real world is still totally occluded, so this isn't an excuse to use your VR gear outside. You can, however, at least take it anywhere with you if you want to use it in a safe place elsewhere.
Other than the teaser announcement, ZOTAC isn't saying much about an actual retail product. Based on the video, the ZOTAC Mobile VR will probably come with a branded backpack. It will also hide a portable battery inside, which is also essential to a cable-free VR experience. The HTC Vive is, of course, not included.
SOURCE: ZOTAC